Globally Positioned Partners: Ceracoat push into US

Globally Positioned Partners launched in December 2014 and are headed up by CEO Ken Howard.
No location information is provided on the Globally Positioned Partners website, however the company's website domain lists a contact address in the US state of Florida. Presumably this is where the company is based.
On the MLM side of things Howard (right) doesn't appear to have any corporate MLM experience. His Globally Positioned Partners bio does however credit him with 'having served in the Mechanical Trades over 37 years'.
Ken retired from Steamfitters Local 602, Washington DC in 2013, after a 37 year career and has since sold his HVAC Company, Ken Howard Mechanical in Northern Virginia in 2014.
Globally Positioned Partners has come about following a partnership forming between Howard and CeraCoat Direct founder Elio Keller.
CeraCoat Direct primarily concentrate on marketing the company's products in Europe, with Howard looking to establish the brand in the US.
Ken recently acquired the Global Exclusive Master Distributor Marketing License for a revolutionary nano technology ceramic coating, invented and manufactured by a 26 year old debt free Swiss Nano Tech company called Ceracoat Ceramic International.

Since acquiring the Global Exclusive Master Distributor Marketing License for this revolutionary nano technology ceramic coating, Ken Founded Globally Positioned Partners.
Read on for a full review of the Globally Positioned Partners MLM business opportunity.
The Globally Positioned Partners Product Line
Globally Positioned Partners market CeraCoat Direct's product range, however at the time of publication what they will be offering specifically or at what price is not mentioned.
CeraCoat Direct products are available for sale in Europe at a retail level, so presumably Globally Positioned Partners will adopt a similar model and range in the US (see BehindMLM CeraCoat Direct review for more information).
The Globally Positioned Partners Compensation Plan
The Globally Positioned Partners compensation plan revolves around the sale of CeraCoat products, with commissions paid out via a binary compensation structure.
A binary compensation structure places an affiliate at the top of two binary teams, left and right: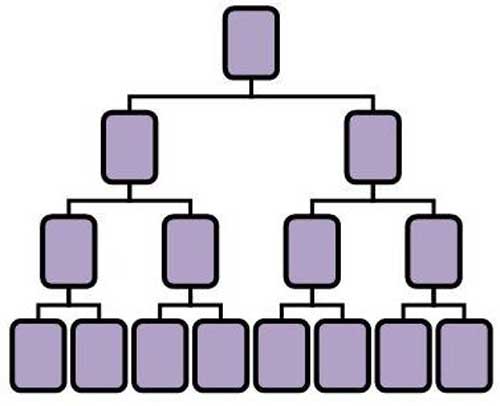 Sales volume of CeraCoat products is tracked through both binary teams, with commissions paid out based on "Customer Points" generated within both teams.
Customer Points are generated when a CeraCoat product is sold, with each product's generated Customer Points being equal to or greater than 50% of the cost of the product.
At the end of the commission run (weekly), an affiliate is paid 20% of the Customer Points generated on their weaker binary side (the side with less generated sales volume).
Note that an affiliate must themselves recruit at least two affiliates (one on either side of the binary) in order to initially qualify for binary commissions.
Joining Globally Positioned Partners
Affiliate membership with Globally Positioned Partners is free.
Conclusion
Ken Howard, the CEO of GPP (Globally Positioned Partners, LLC) says that GPP could easily grow to $100 Million Dollars their first year.

Ken thinks GPP could easily achieve and sustain triple digit annualized growth of over 100% per year for the next ten years, which could potentially see GPP grow up to $50 Billion Dollars in annualized sales in just 10 years!

Ken Howard has an aggressive growth strategy for his company, GPP and it`s sales force, to become the very first MLM Company to grow to $50 Billion dollars over the next 10 years!
To say the above are rather lofty ambitions for an MLM startup is a bit of an understatement, but I suppose if you're going to aim for something why not go all out.
What concerns me is that, despite CeraCoat Direct offering retail commissions, there's currently no mention of retail commissions on the compensation plan section of the Globally Positioned Partners website. Nor is there any mention of retail in the accompanying four and half minute compensation plan video.
As it stands, you join Globally Positioned Partners, recruit others and then earn on your collective efforts. Left unsaid is who will be purchasing the products.
Retail could exist if it's counted as binary volume, but with a name like "Globally Positioned Partners" and mention only of "member product orders" on the company website, retail doesn't appear to be a focus, if at all currently possible.
If this is the case, then you're going to wind up with a binary full of recruited affiliates purchasing product and getting paid on this volume alone.
One thing I'll note is that I didn't see any minimum product volume requirements for commission eligibility. Infact Global Positioned Partners explicitly state they have 'NO MONTHLY AUTO SHIP' and 'NO Commission QUALIFIER' on their website.
That is great to see as it means there's absolutely no incentive for affiliates to purchase product other than a genuine desire to make use of it.
It doesn't address the issue of only affiliates buying the product though, which leaves us in a sort of grey area without commission qualifiers (minimum monthly volume requirements).
What I'd suggest is Globally Positioned Partners making retail more attractive. Provide your affiliates some incentive to go after retail sales as 20% of 50% or more of the sale of a product is pretty diluted unless you've got a large team generating a ton of sales activity.
I'm not saying that that's impossible, just that I don't see how it's going to organically happen with the Globally Positioned Partners opportunity in it's current state.
Update 10th April 2015 – Ken Howard has been in touch and informed me that GPP "officially launched on April 7th".
I thought they'd already launched, but in any event there's been enough changes made to the compensation plan to warrant a separate update.
As such I've flagged this review for an update (which I'll link to here once it's written).
Update 23rd April 2015 – I've now published an updated review of the Globally Positioned Partners compensation plan.