Global Success 365 Review: 8-11 month Ponzi investment

As per the Global Success 365 website:
Our CEO is Mike Hastings from France and we are registered in Seychelles, UK, UAE and Bahamas.
The above is presented as fact on the Global Success 365 website, with no supporting evidence or documentation.
Mike Hastings meanwhile doesn't appear anywhere on the internet in relation to MLM, outside of the Global Success 365 website.
The Global Success 365 website domain ("globalsuccess365.com") was registered on the 8th of July 2015, with Hastings listed as the owner.
An address in London, England is also provided, however further research reveals the address belongs to "Made Simple Group". Made Simple Group offer virtual office services for £15.00 GBP a month.
As such it appears Global Success 365 have no physical presence in the UK, existing in name only.
Furthermore Alexa currently estimate that some 48% of all traffic to the Global Success 365 website originates out of India.
Global Success 365 thus fits the criteria of the opportunity likely being run out of India by individuals unknown.
The hallmarks of Indian-run schemes are a generic Anglo-Saxon named admin with no verifiable history, a virtual office address (typically in the UK, can be elsewhere) and Alexa statistics showing visitors to the site are predominantly based in India.
Global Success 365 meets all three of these criteria.
As always, if an MLM company is not openly upfront about who is running or owns it, think long and hard about joining and/or handing over any money.
The Global Success 365 Product Line
Global Success 365 has no retailable products or services, with affiliates only able to market Global Success 365 affiliate membership itself.
The Global Success 365 Compensation Plan
The Global Success compensation plan sees affiliates invest up to $9999 on the promise of advertised weekly ROIs.
How much of a ROI is paid out is determined by how much a Global Success 365 affiliate invests:
Light ($180) – $9 a week for 44 weeks ($396 total ROI)
Starter ($450) – $24.75 a week for 44 weeks ($1089 total ROI)
Silver ($900) – $54 a week for 44 weeks ($2375 total ROI)
Gold ($1980) – $128.70 a week for 44 weeks ($5663.80 total ROI)
Platinum ($4320) – $302.40 for 40 weeks ($12,096 total ROI)
Premium ($9999) – $749.90 for 36 weeks ($26,996.40 total ROI)
In order to qualify for a weekly ROI payout, affiliates must view a set number of company-supplied advertisements each week.
Referral commissions are also paid out at a rate of 5% of funds invested by personally recruited affiliates.
Residual Commissions
Residual commissions in Global Success 365 are paid out using a binary compensation structure.
A binary compensation structure places an affiliate at the top of a binary team, split into two sides (left and right):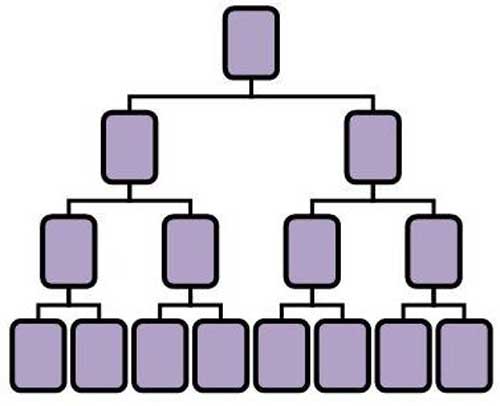 Positions in each side of the binary are filled through direct recruitment of new Global Success 365 affiliates.
Commissions are paid out when one newly recruited affiliate on the left side is matched up on the right (1:1 ratio, irrespective of how much matched affiliates invested).
Once a match is recorded, a Global Success 365 affiliate is paid 10% of the funds invested by the matched affiliates.
Withdrawal fees are set at 8% and all Global Success 365 affiliates are capped at $1000 a day in binary commission earnings.
Joining Global Success 365
Affiliate membership with Global Success 365 is free, however affiliates must invest funds in order to earn commissions through the income opportunity.
As such, the defacto cost of Global Success affiliate membership is between $180 (Light) and $9999 (Premium).
Conclusion
With nothing being marketed or sold to retail customers, the only source of revenue entering Global Success 365 is that of affiliate investment.
New affiliate investment is used to pay off existing investors, revealing Global Success 365 to be a Ponzi scheme.
And a pretty stock-standard Ponzi scheme at that. The Indian Ponzi frontend, binary backend is a well-worn scam schematic, having enjoyed considerably less success in years of late (was far more common 3-5 years ago).
In Global Success 365 anonymous individuals in India solicit investments with a large maturity period, in this instance 36-44 weeks (9 to 11 months).
During that time Global Success 365 affiliates will be provided numbers on a screen, to create the illusion they are getting paid.
If nobody invests at the upper tiers, the scheme will play out till around the ten month mark, where upon the admins do a runner with everybody's money.
If some poor sod is unfortunate enough to invest $4320 or $9999, expect this to happen around the 8 or 9 month mark instead.
At that point those who have invested find out Mike Hastings doesn't exist, their money's long gone and Global Success 365 has collapsed.