Global NFT Group Review: Kari Wahlroos' latest Ponzi (2023)

Global NFT Group Community operates in the cryptocurrency MLM niche.
The company also goes by GNG and appears to be based out of Malaysia.
On the corporate side things Global NFT Group is incorporated as "Global NFT Group B.V.", a Curacao shell company.
Heading up Global NFT Group is Tony Berntsen, Tony Sandberg and Saima Chaudhury.

Tony Berntsen is a Dutch national BehindMLM came across in 2017. Berntsen was CEO of First United Capital Group, purported parent company of the EarlyBird Academy pyramid scheme.
Both First United Capital Group and EarlyBird were/are also incorporated as Curacao shell companies.
First United Capital Group still has a website up. Tony Berntsen is still cited as CEO.
Tony Sandberg is First United Capital Group's COO. Saima Chaudhry is its Executive Business Manager.
According to their respective social media profiles:
Tony Berntsen is based out of Curacao
Tony Sandberg is based out of Norway
 Saima Chaudhry is based out of the UK
First United Capital Group is "the Next Generation Global Investment Company" that brings our people together connecting capital and expertise with great ideas and products.
Although First United Capital Group isn't mentioned on Global NFT Group's websites, it appears to be another project from the group.
Global NFT Group operates from two known domains:
"gng.community" – privately registered on November 29th, 2022 and
"gngtoken.com" – privately registered on November 23rd, 2022
Update 26th March 2023 – The .community website cited above is still up, but "gngtoken.com" has been pulled offline.
Global NFT Group now goes by "Global NFT Group Investment Management".
This reboot operates from "gngim.com", privately registered on December 29th, 2022. As of February 2023, SimilarWeb tracks negligible traffic to the domain.
As per comment #6 left below this review, GNG token has been rebooted as PNGVN token.
This otherwise appears to just be a cosmetic reboot. /end update
Read on for a full review of Global NFT Group's MLM opportunity.
Global NFT Group's Products
Global NFT Group has no retailable products or services.
Affiliates are only able to market Global NFT Group affiliate membership itself.
Global NFT Group's Compensation Plan
Global NFT Group affiliates invest in GNG tokens.
invest $50 and receive 500 GNG tokens
invest $100 and receive 1000 GNG tokens
invest $250 and receive 2500 GNG tokens
invest $500 and receive 5000 GNG tokens
invest $1000 and receive 10,000 GNG tokens
invest $2000 and receive 20,000 of GNG tokens
Reverse math provides us an initial 10 cent GNG token value.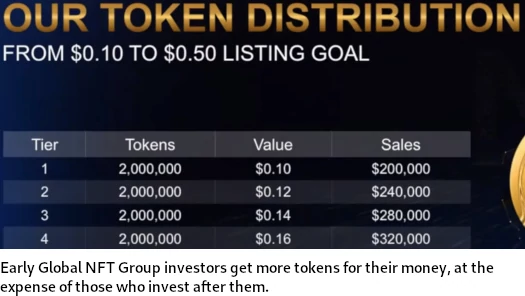 Global NFT Group affiliates invest in GNG tokens on the promise of projected "dividend" returns: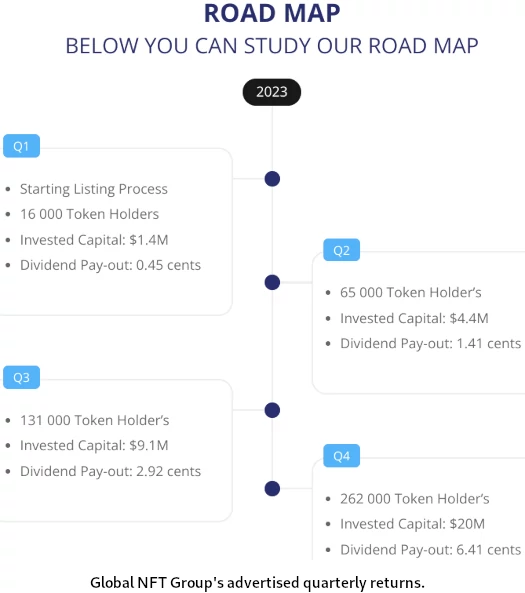 By the end of 2023, Global NFT Group represents it will have paid out 6.41 cents per GNG token.
The MLM side of Global NFT Group pays on recruitment of affiliate investors.
Referral Commissions
Global NFT Group affiliates earn a 10% referral commission on invested funds.
Residual Commissions
Global NFT Group pays residual commissions via a 2×12 matrix.
A 2×12 matrix places a Global NFT Group affiliate at the top of a matrix, with two positions directly under them:

These two positions form the first level of the matrix. The second level of the matrix is generated by splitting these first two positions into another two positions each (4 positions).
Levels three to twelve of the matrix are generated in the same manner, with each new level of the matrix housing twice as many positions as the previous level.
Positions in the matrix are filled via direct and indirect recruitment of Global NFT Group affiliates.
Residual commissions are paid as a percentage of funds invested by these recruited affiliates.
Global NFT Group caps how many matrix levels an affiliate can earn on based on how much they've invested:
$50 tier affiliates earn $1 per position filled on their first and second matrix levels, $2 on the third level and $3 on the fourth and fifth levels
$100 tier affiliates earn $2 per position filled on their first and second matrix levels, $4 on the third level, $6 on the fourth and fifth levels and $1 on the sixth level
$250 tier affiliates earn $5 per position filled on their first and second matrix levels, $10 on the third level, $15 on the fourth and fifth levels, $2 on the sixth level and $1 on the seventh level
Residual commission rates for the $500, $1000 and $2000 tiers weren't provided. The pattern however is increased commission rates the more an affiliate invests and more payable matrix levels.
This caps out at twelve matrix levels at the $2000 investment tier.
Global NFT Group affiliates are encouraged to invest at each tier to unlock more levels of the matrix, paid with earnings generated in lower tiers.
Because of this I believe each investment tier might correspond to its own matrix. This would mean in practice there would be six individual matrices corresponding to the six investment tiers – each with its own commission rates.
If that's the case, it's assumed investing at the higher tiers automatically unlocks lower investment tier matrices and commissions.
E.g. if a $1000 tier affiliate recruits a $50 tier affiliate, they're still only paid up to five levels through the $50 tier commissions details above.
Joining Global NFT Group
Global NFT Group affiliate membership appears to be free.
Full participation in the attached income opportunity requires a minimum $50 investment.
Global NFT Group solicits investment in tether (USDT), bitcoin (BTC) and ethereum (ETH).
Global NFT Group Conclusion
Global NFT Group is your typical MLM crypto Ponzi scheme, dressed up in NFT marketing.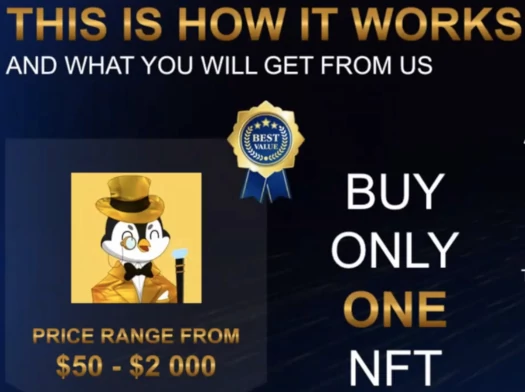 We have combined our own brand building NFT with Community Marketing, a lucrative Community Bonus plan, and a Dividend Token (GNG Token) which creates an explosive and unique investment and earning opportunity – the first of its' kind.
Global NFT group could have picked any cartoon animal to slap on their NFTs, it doesn't matter.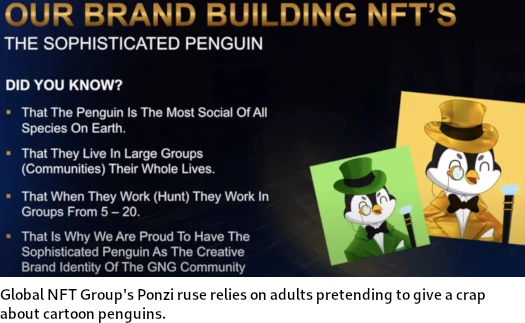 The only reason affiliates invest in GNG token is because of the promised returns, which Global NFT Group confirms are paid out of invested funds:

This makes Global NFT Group a Ponzi scheme. Additionally with nothing sold or marketed to retail customers, the MLM side of Global NFT Group is a pyramid scheme.
Reflecting the type of marketer Global NFT Group's fraudulent business model attracts, we have serial Ponzi promoter Kari Wahlroos.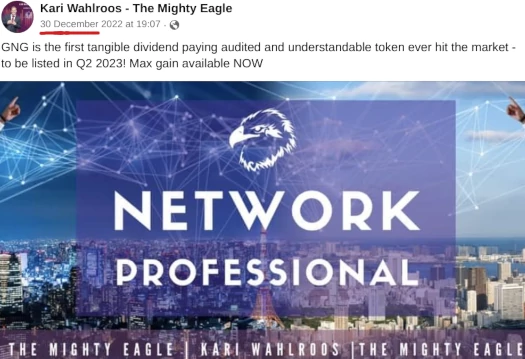 Wahlroos, a former top earner in the notorious OneCoin Ponzi scheme, was looking to launch his own Twitter clone as of early December 2021.
Attached to "Freedom Republic" was of course "freedom token", the real grift behind the project.

In the span of a month Freedom Republic was abandoned and replaced with Global NFT Group.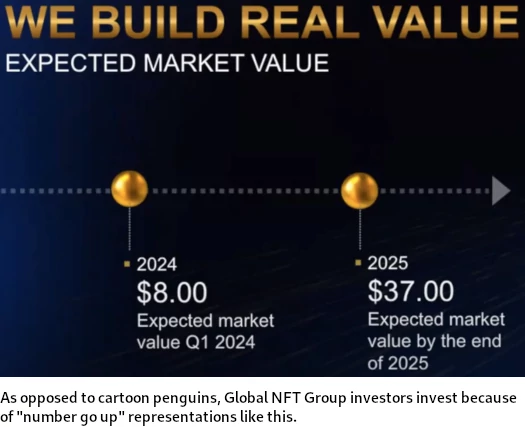 Getting back to Global NFT Group, other points of interest that are worth noting but don't need explanation include:
Curacao is a Dutch Caribbean island known for being a tax haven with no regulation of securities fraud;
GNG token being an ERC-20 token, which takes a few minutes to set up at little to no cost
Global NFT Group funnelling investors into other potentially fraudulent investment opportunities (see below)
From Q2 in 2023 YOU will be invited to our monthly investment webinar. Where we will share the investments GNG will be making and how you can invest with us and take advantage of our business strategies and due diligence. This is also Free for ALL Token holders in GNG.
As with all MLM Ponzi schemes, once affiliate recruitment dries up so too will new investment.
This will starve Global NFT Group of ROI revenue, eventually prompting a collapse.
The math behind Ponzi schemes guarantees that when they collapse, the majority of participants lose money.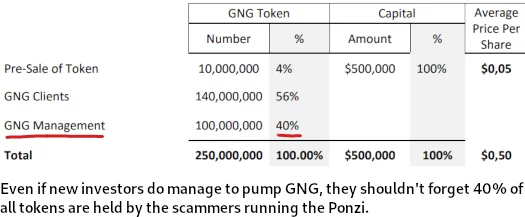 Global NFT Group's collapse will likely go down with GNG token being dumped on public exchanges, and/or withdrawals switched to GNG.
Either of those scenarios signals withdrawals exceeding new investment, which concludes with the majority of investors bagholding yet another worthless Ponzi token.