EarlyBird Academy Review: Engineered app marketing spam
EarlyBird Academy operate in the financial services niche and provide a corporate address in Curaçao on their website.
Further research reveals EarlyBird Academy's provided corporate address actually belongs to Intertrust Group.
Intertrust Group offer jurisdictional fiduciary services in Curaçao, which includes "off the shelf" incorporation. As such it appears EarlyBird Academy exists in Curaçao in name only.
The EarlyBird website identifies Kalpesh Patel as CEO of the company.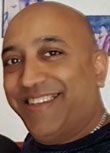 Kalpesh Patel (right) first popped up on BehindMLM's radar in 2015, as a named net-winner in the Zeek Rewards Ponzi scheme. As alleged by the Zeek Rewards Receiver, Kalpesh stole $140,842 from Zeek Rewards victims.
Later in 2015 Patel reemerged as co-founder of Xip4Life. By all appearances, Xip4Life was an attempt to relaunch the Zeek Rewards' penny auction Ponzi model from within the UK.
The Xip4Life website is still online today, however Alexa traffic statistics suggest the company has long since collapsed.
In 2008 the UK's Mirror referred to Patel as a "habitual purveyor of crackpot get-rich-quick schemes".
Patel is based out of the UK, which is presumably where EarlyBird Academy is actually being operated from.
EarlyBird Academy presentations name First United Capital Group as their parent company. Tony Berntsen is identified as CEO on the First United Capital Group website.
Prior to it being set up as a shell company in Curaçao, Bernsten registered the First United Capital Group website through an address in Østfold, Norway.
No specific information about Bersten is provided on the First United Capital Group website. Possibly due to language barriers, I myself was unable to find any additional information.
Regardless, it appears EarlyBird Academy is being run out of the UK, with ties to Norway through First United Capital Group.
Read on for a full review of the EarlyBird Academy MLM opportunity.
EarlyBird Academy Products
EarlyBird Academy has no retailable products or services, with affiliates only able to market EarlyBird Academy affiliate membership itself.
Bundled with EarlyBird Academy affiliate membership is access to marketing, finance and personal development courses.
Kalpesh Patel claims EarlyBird Academy's courses "will teach you everything you need to know to be successful with" the company.
The EarlyBird Academy Compensation Plan
EarlyBird Academy affiliates invest in "First Units", which the company claims correspond to shares in First United Capital Group once it goes public.
Entrepreneur Academy – invest $150 and receive $60 in First Units
Investment Academy – invest $500 and receive $250 in First Units
Leadership Academy – invest $1000 and receive $600 in First Units
Wealth Academy – invest $2500 and receive $1750 in First Units
Life Academy – invest $5000 and receive $4000 in First Units
EarlyBird Funding
Through their EarlyBird Funding account, EarlyBird Academy affiliates are able to invest in IPOs the company launches.
Entrepreneur Academy affiliates receive $15 in their EarlyBird funding account
Investment Academy affiliates receive $25 in their EarlyBird funding account
Leadership Academy affiliates receive $50 in their EarlyBird funding account
Wealth Academy affiliates receive $125 in their EarlyBird funding account
Life Academy affiliates receive $250 in their EarlyBird funding account
Recruitment Commissions
The specifics of EarlyBird Academy's recruitment commissions are murky, but here's what I was able to ascertain from the company's various presentations.
EarlyBird Academy's recruitment commissions appear to be paid out via a unilevel compensation structure.
A unilevel compensation structure places an affiliate at the top of a unilevel team, with every personally recruited affiliate placed directly under them (level 1):

If any level 1 affiliates recruit new affiliates, they are placed on level 2 of the original affiliate's unilevel team.
If any level 2 affiliates recruit new affiliates, they are placed on level 3 and so on and so forth down a theoretical infinite number of levels.
EarlyBird Academy cap payable unilevel levels at four, with commissions paid out as a percentage of funds invested.
Entrepreneur Academy – 15% on level 1 (personally recruited affiliates), 5% on levels 2 and 3 and 7% on level 4
Investment Academy – 20% on level 1, 5% on level 2, 7% on level 3 and 10% on level 4
Leadership Academy – 20% on level 1, 5% on level 2, 10% on level 3 and 12% on level 4
Commission percentages for the Wealth and Life Academy levels are not disclosed.
As you can see though, the trend between the more expensive levels is an increased percentage payout. Presumably this follows through at the Wealth and Life Academy levels.
Joining EarlyBird Academy
EarlyBird Academy affiliate membership is tied to investment in one of six offered packages:
Entrepreneur Academy – $150
Investment Academy – $500
Leadership Academy – $1000
Wealth Academy – $2500
Life Academy – $5000
The primary difference between the packages in income potential via the EarlyBird Academy compensation plan.
Conclusion
Curaçao is a known tax-haven with strong corporate protection laws. There is no compelling reason for a legitimate MLM company to be incorporated in such a jurisdiction.
It's a great jurisdiction to incorporate in if you plan to launder money around the world though.
As far as I can tell, neither First United Capital Group or EarlyBird Academy are registered with a securities regulator in any jurisdiction.
Much is made of First United Capital Group's "funding license" to create IPOs, however which market this is for is not disclosed. I suspect it's a some dodgy market in a small jurisdiction that's lax with regulation.
In any event, in order to solicit investment funds from the public a company has to be registered with securities regulators. None are provided on either the EarlyBird Academy or First United Capital Group website.
Funds invested into EarlyBird Academy are laundered through Swedbank AS in Estonia and a Netherlands branch of Maduro & Curiel, a bank based out of Curacao.
EarlyBird Academy and First United Capital Group have no public operations in Estonia or the Netherlands, begging the question of why they are banking there.
Leave aside the fact that a financial services MLM only accepting bank wires itself is a huge red flag that draws into question the legitimacy of the company.
Moving onto the business model, EarlyBird Academy affiliates invest in app ideas, open to public, public listing, develop app, affiliates download and start spamming the app.
As Kalpesh Patel explains in an Early Bird Academy marketing video;
[3:55] Our community now gets behind the app.

First of all we download it. Imagine tens of thousands of us all over the world creating instant downloads on day one.

And then we share the app, game or software with others through social media, making it go viral. Reaching millions of people, instantly.

Can you imagine? We push our apps to the top of the ranks in the big stores.

This attracts PR and viral marketing for free. The possibilities here are endless.

The bigger our community gets, the more impact we have on Apple Store and Play Store dominating the leader boards.
Here's the things though, both Apple Store and Google Play have policies in place that prohibit this kind of behavior.
Apple Store issue the following warnings to developers and businesses;
If you attempt to cheat the system (for example, by trying to trick the review process, steal user data, copy another developer's work, or manipulate ratings) your apps will be removed from the store and you will be expelled from the Developer Program.

If we find that you have attempted to manipulate reviews, inflate your chart rankings with paid, incentivized, filtered, or fake feedback, or engage with third party services to do so on your behalf, we will take steps to preserve the integrity of the App Store, which may include expelling you from the Developer Program.
And here's Google Play's stance on the matter;
Developers must not attempt to manipulate the placement of any apps in the Store. This includes inflating product ratings or reviews by illegitimate means, such as fraudulent installs and incentivized, paid, or fake reviews and ratings.
A company getting affiliates who have a vested financial interest in the app to manipulate app store rankings is most certainly going to see it flagged for removal.
So where does that leave EarlyBird Academy affiliates?
Despite Patel's assurances that affiliates are "co-owners" of the company, the reality is outside of recruitment there is no revenue generation if the apps flop.
That will see EarlyBird Academy and First United Capital Group collapse, without any input from its "co-owner" affiliates.
Part of the reason EarlyBird Academy, EarlyBird Funding and First United Group have been set up in the shady jurisdiction of Curaçao, is because Intertrust Group are providing the real owners with "asset protection".
The bigger picture sees EarlyBird Academy operated from one jurisdiction, whilst incorporated and banking in separate jurisdictions again.
This will make it particularly difficult for EarlyBird Academy victims to track down wired funds when the time comes.
Meanwhile the lack of a retail offering makes EarlyBird Academy a pyramid scheme on top of everything else.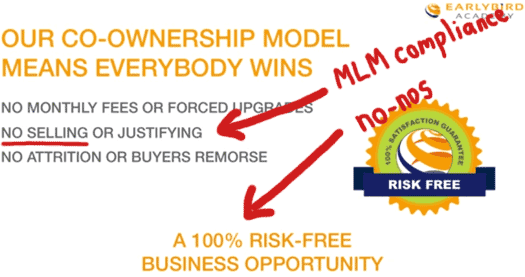 Without new affiliates signing up and investing, existing EarlyBird Academy affiliates don't get paid.
As with all pyramid schemes, once affiliate recruitment slows down EarlyBird Academy will collapse.
Whereas the majority of participants in pyramid scheme lose money, here there should be double the concern, as the whole investment game (there is no limit to how much an affiliate can invest) adds another layer of losses.