Frequency Review: FXTV Global Ponzi reboot

Frequency operates in the forex and cryptocurrency trading MLM niches.
The company doesn't provide a corporate address on their website. The company is currently being heavily promoted across South America.
Alexa currently estimates that 55% of traffic to Frequency's website originates from Mexico. Uruguay is responsible for 38%.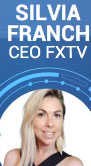 Heading up Frequency is CEO Silvia Franch (right).
According to her social media profiles Franch is based out of Spain. This is likely where Frequency is being operated from.
Franch appeared on BehindMLM a few months ago as CEO of the FXTV Global Ponzi scheme.
FXTV Global appears to have collapsed shortly after launch. Now we have Silvia Franch heading up another suspect scheme.
Read on for a full review of Frequency's MLM opportunity.
Frequency's Products
Frequency has no retailable products or services, with affiliates only able to market Frequency affiliate membership itself.
Frequency's Compensation Plan
Frequency affiliates invest $50 to $100,000 in bitcoin on the representation they'll be paid a monthly return.
Of the packages purchased 50% goes to the different financial systems.

Of the benefit that each one obtains of them, the average of the percentage goes to distribute in the monthly passive bonus.

The benefit is daily, from Sunday to Sunday and is paid monthly
and overdue month.
Commissions are paid on invested funds directly and residually.
Direct Referral Commissions
Frequency pays referral commissions on invested funds down three levels of recruitment (unilevel):
level 1 (personally recruited affiliates) – 10%
level 2 – 3%
level 3 – 2%
Residual Commissions
Frequency pays residual commissions via a binary compensation structure.
A binary compensation structure places an affiliate at the top of a binary team, split into two sides (left and right):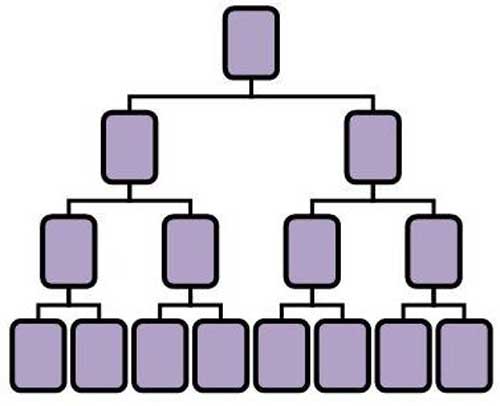 The first level of the binary team houses two positions. The second level of the binary team is generated by splitting these first two positions into another two positions each (4 positions).
Subsequent levels of the binary team are generated as required, with each new level housing twice as many positions as the previous level.
Positions in the binary team are filled via direct and indirect recruitment of affiliates. Note there is no limit to how deep a binary team can grow.
The equivalent of 50% of invested funds are used to calculate residual commissions.
At the end of each day Frequency tallies up 50% of new investment volume on both sides of the binary team.
Affiliates are paid a percentage of matched funds, depending on how much they've invested.
Pack 1 – invest $50 and receive a 6% residual commission rate capped at $500 a day
Pack 2 – invest $500 and receive a 6% residual rate capped at $500 a day
Pack 3 – invest $1000 and receive an 8% residual commission rate capped at $1000 a day
Pack 4 – invest $2000 and receive a 10% residual commission rate capped at $2000 a day
Pack 5 – invest $5000 and receive a 14% residual commission rate capped at $4000 a day
Pack 6 – invest $10,000 and receive a 16% residual commission rate capped at $10,000 a day
Pack 7 – invest $15,000 and receive a 17% residual commission rate capped at $15,000 a day
Pack 8 – invest $20,000 and receive an 18% residual commission rate capped at $20,000 a day
Pack 9 – invest $30,000 and receive a 19% residual commission rate capped at $30,000 a day
Pack 10 – invest $40,000 and receive a 19% residual commission rate capped at $40,000 a day
Pack 11 – invest $50,000 and receive a 20% residual commission rate capped at $50,000 a day
Pack 12 – invest $100,000 and receive a 20% residual commission rate capped at $100,000 a day
Once paid out on matched volume is flushed. Any leftover volume on the stronger binary team side is carried over.
Joining Frequency
Frequency affiliate membership is $25 annually.
Full participation in the attached income opportunity requires a minimum $50 investment.
Conclusion
Frequency represents it generates external ROI revenue via "automated systems".
These systems purportedly engage in forex and cryptocurrency arbitrage trading.
Silvia Franch's only connection to trading is promoting Arbistar, a Ponzi scheme on its second iteration.
Like Frequency, Arbistar's ruse is an arbitrage trading bot.
Frequency is basically Silvia Franch's own Arbistar clone. And it's built on FXTV Global's collapse and investor losses:

In case you're wondering, FXTV Global's Ponzi ruse was also forex trading.
Even if you buy into Frequency's trading bot bullshit though, there's still the issue of unregistered securities.
Any MLM company offering a passive investment opportunity is a securities offering.
Securities in Spain are regulated by the CNMV. Neither Frequency or Silvia Franch are registered with the CNMV.
Nor does Frequency provide evidence of having registered with Mexico's National Banking and Securities Commission, or Uruguay's Banco Central del Uruguay.
This means that Frequency is committing securities fraud in its country of operation, and its two biggest sources of new investment.
Beyond that Frequency is illegal in any country it has not registered with financial regulators in.
Despite these regulatory shortfalls, Frequency claims it is "legally constituted".
Frequency is a solid company, legally constituted by the team of FINANCIAL CONSULTANTS AND LAWYERS QUINTANA KINGS who have 50 years of experience, having consolidated millionaire companies internationally.
Out of curiosity I Googled Quintana Kings but nothing came up. Admittedly that might be an auto-translate shortcoming.
In any event, whoever Frequency's lawyers are – if they can't spot a securities fraud Ponzi scheme after fifty years, perhaps they should hand in their legal licenses.
As with all MLM Ponzi schemes, once new affiliate recruitment slows down so too will new investment.
This will starve Frequency of ROI revenue, eventually prompting a collapse.
The math behind Ponzi schemes guarantees that when they collapse, the majority of investors lose money.