Better Globe Review: Planting trees in Africa = profit?

Better Globe provides two corporate entities tied to the company, Better Globe AS (Norway) and Better Globe Forestry Ltd. (Kenya).
Both entities appear to be shell companies operating out of PO Boxes.
On its website Rino Solberg is cited as Better Globe's Chairman of the Board, founder and principal owner. I have also seen Solberg credited as Better Globe's CEO.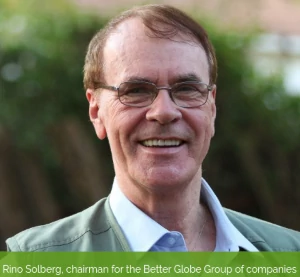 On LinkedIn Solberg cites his location as the "greater Oslo region". This suggests Solberg operates Better Globe out of Norway.
Better Globe began as Green Planet in 2003. The company was founded by Helge Normann, incorporated in the UK but run out of Norway.
Prior to Green Planet, Normann was a promoter of the GreenStar pyramid scheme.
Normann had joined GreenStar in October 2000, and more than 2,000 Nordic members were quickly recruited to the company.

When GreenStar collapsed as a result of prosecution in Australia, Normann saw his move to bring both the business concept and the membership base into a new company he himself controlled.
Green Planet's business model focused on charitable causes in Africa.
Under the slogan Making Money Doing Good , members were recruited with promises to contribute to the reduction of deforestation in Africa in parallel with the opportunity to earn money by recruiting new members.
In 2005 the Norwegian Gaming Board investigated Green Planet and found it to be a pyramid scheme.
That decision was later amended 'it was found probable that a significant part of the company's activities were based on sales of goods or services.'
This sounds like the old "we have products, we can't be a pyramid scheme!" defense, which doesn't hold up today.
Green Planet collapsed in 2006, purportedly resulting in millions in losses.
Towards the end of Green Planet's run the company partnered up with Rino Solberg's company Child Africa.
Solberg was appointed Green Planet's Chairman of the Board.
Following Green Planet's collapse, victims were 'offered membership in Solberg's new company Better Globe.'
Better Globe launched in 2006. It has not been the subject of a regulatory investigation to date.
Solberg himself has been involved in network marketing since the 1970s with the Holiday Magic pyramid scheme.
As a result of his involvement in Holiday Magic, Solberg was charged with fraud and violations of the Norwegian Lottery Act.
Although Holiday Magic was a pyramid scheme, resulted in widespread losses and at least one Norwegian victim committed suicide as a result of said losses, Solberg would go on to be acquitted.
You can read more about Holiday Magic, Green Planet and Better Globe on their respective Norwegian Wikipedia pages.
Read on for a full review of Better Globe's MLM opportunity.
Better Globe's Products
Better Globe has no retailable products of services.
Affiliates are only able to market investment in Better Globe as detailed in the compensation section below.
Better Globe's Compensation Plan
Better Globe affiliates and non-affiliate investors invest in €17 EUR tree positions.
Each tree position pays a €208.25 ROI over twenty years.
Better Globe affiliates can also invest in €59 EUR "donation packages", which come with two tree positions.
Donation packages are more expensive. Better Globe claims this is because leftover funds are put towards water-related projects, the construction and renovation of schools and micro loans.
Affiliates and investors who invest in one donation package and at least twenty tree positions in a single year are rewarded with twenty bonus tree positions.
The MLM side of Better Globe pays on investment by recruited investors.
Qualifying for MLM Commissions
In addition to being up to date with required fees and purchases (see "Joining Better Globe" below), to qualify for MLM commissions Better Globe affiliates must also recruit or enroll two affiliates and/or or non-affiliate investors who invest in at least one donation package.
This is an ongoing annual requirement.
Residual Commissions
Better Globe pays residual commissions via a binary compensation structure.
A binary compensation structure places an affiliate at the top of a binary team, split into two sides (left and right):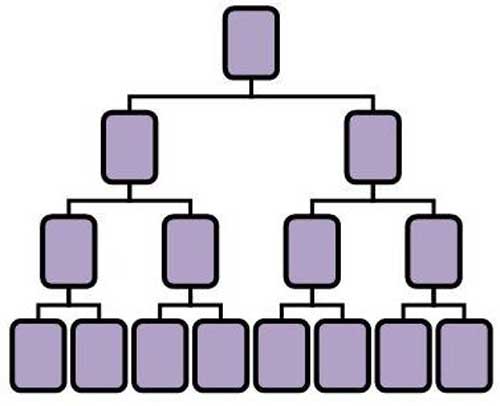 The first level of the binary team houses two positions. The second level of the binary team is generated by splitting these first two positions into another two positions each (4 positions).
Subsequent levels of the binary team are generated as required, with each new level housing twice as many positions as the previous level.
Positions in the binary team are filled via direct and indirect recruitment of affiliates. Note there is no limit to how deep a binary team can grow.
Better Globe splits residual commissions between tree position and donation package investment.
Tree position and donation package investment is separately tracked on both sides of the binary team.
Commissions on tree position investment is calculated using a 2:1 ratio.
So long as this ratio is preserved, which side of the binary team has twice as many tree position or donation package investments as the other side doesn't matter.
Per 2:1 match of tree positions and donation packages:
a €1 EUR commission is paid per 2:1 tree position match
a €2 EUR commission is paid per 2:1 donation package match
Unmatched tree positions and donation package investments carry over for twelve months.
If they remain unmatched to generate a commission for twelve months, they are flushed from the binary team.
Joining Better Globe
Better Globe affiliate membership is tied to an annual €50 EUR affiliate membership plus mandatory investment and purchases:
investment in at least ten tree positions in a single year (€170 EUR)
maintenance of annual subscription to two magazines (€50 EUR)
mandatory monthly donation package investment (€59 EUR a month)
Total costs are €978 EUR for the first year and, assuming no further investment in individual tree positions, €808 EUR each year thereafter.
Note that I've seen a €65 EUR annual affiliate fee also quoted, as well as the ten tree position investment counting as the affiliate fee for the first year.
The magazine subscriptions may also not be in play but it's difficult to be precise.
Better Globe fail to disclose current affiliate membership costs on their website.
Better Globe Conclusion
Better Globe is one of the stranger MLM companies I've reviewed.
Twenty years is a hell of a long time to place trust in any company, let alone an MLM company born from the ashes of a collapsed pyramid scheme.
That said from 2006, here we are fifteen years later and Better Globe are still around.
Better Globe's twenty-year return revenue offered seems reasonable on the surface. €208.25 off of a €17 euro investment over twenty years is certainly doable.
Where things fall apart however is Better Globe's regulatory compliance and forced investment.
There should be no disputing Better Globe's passive investment opportunity constitutes a securities offering.
Securities in Norway are regulated by the Financial Supervisory Authority.
Better Globe provides no indication it has registered with the FSA, or any other financial regulator. This means that at a minimum, Better Globe is committing securities fraud.
This matters because part of regulatory registration is filing of audited financial reports. This is the only way consumers can verify ROI revenue is paid from external revenue.
Better Globe represents it generated revenue from planted trees, that's supposedly what each €17 EUR investment represents. There is some social media marketing (photos/videos of trees supposedly in Africa), but that's not evidence of external revenue being used to pay returns.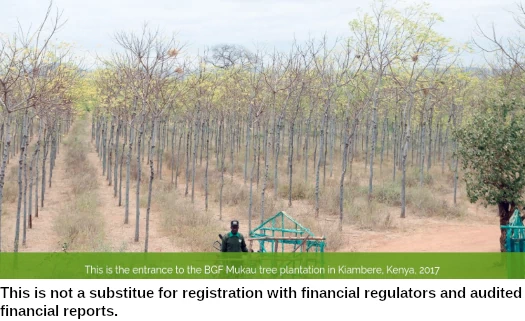 One other factor to consider regarding investment is the bonus positions awarded to investors. If Better Globe is used as a "savings plan" as recommended by the company, over time those bonus positions add up.
Where's that money coming from?
Moving onto forced investment, this practically guarantees Better Globe is operating as a pyramid scheme.
Other than to generate commissions for recruiters, there's absolutely no reason for force affiliates to invest each month.
Forced investment by affiliates is practically guaranteed to dwarf non-affiliate investment. That is if there's any retail investment at all.
I want to stress two things here, an investment opportunity isn't a retail product with respect to regulatory compliance and pyramid schemes. And forcing affiliates to invest is "pay to play", one of the hallmarks of an MLM pyramid scheme.
If Better Globe's business model hasn't changed significantly over the past sixteen years, it boggles the mind they haven't been investigated by the Lottery Board yet (formerly the Norwegian Gaming Board).
The only thing I can think of to explain this is Better Globe isn't big enough to be of concern. As it stands Alexa ranks Better Globe's website at over 5 million – for an MLM company that's as good as dead.
For an investment-based MLM company, that's a one-way street to collapse.
Buying a tree poses a risk, and we can not guarantee a return. We can guarantee that we are doing everything in our power to keep all our promises and agreements in the same way that we've kept them since the start of 2006.

Together with Better Globe Forestry Ltd. (BGF), we are actively monitoring, minimizing, and eliminating potential risks. So far, all customers have been paid as promised, and on time. We intend to keep it that way.
Longtime BehindMLM readers will know that I'm not a fan of charity + MLM. It's slimy and lends itself to guilt-trip marketing.
Throw in securities fraud and the likelihood of a pyramid scheme, pending regulatory compliance Better Globe is a hard pass.