ForsageTron Review: Lado Okhotnikov's 3rd Forsage Ponzi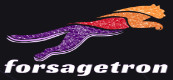 Forsage is an ethereum smart-contract Ponzi scheme put together by Lado Okhotnikov.
According to his Facebook profile, Okhotnikov is based out of Moscow, Russia.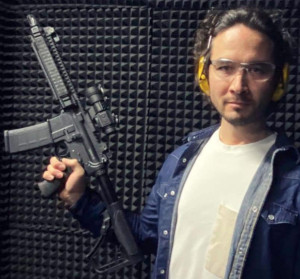 Okhotnikov (right) describes himself as "the king of decentralized MLM".
"Decentralized MLM" being code for crypto Ponzi schemes.
Launched in April 2020, by September or so Forsage had gone into decline.
This prompted Lado to launch Fortron, the same smart-contract Ponzi recycled with TRON.
After publishing our Forton review last September, I figured that was the end of Okhotnikov's smart-contract recycling.
Recently however I was contacted by a reader informing me they'd been pitched on new Forsage spinoffs.
Today we're looking at Okhotnikov's third Forsage company; ForsageTron.
ForsageTron's Products
ForsageTron has no retailable products or services, with affiliates only able to market ForsageTron affiliate membership itself.
ForsageTron's Compensation Plan
ForsageTron affiliates invest 700 TRX into a two-tier matrix cycler.
Dubbed ForsageTron X3 and ForsageTron X4, two two matrix sizes used by ForsageTron are 3×1 and 2×2 respectively.
A 3×1 matrix has three positions to fill.
A 2×2 matrix has two positions on the first level. The second level is generated by splitting the first two positions in to another two positions each (6 positions in total):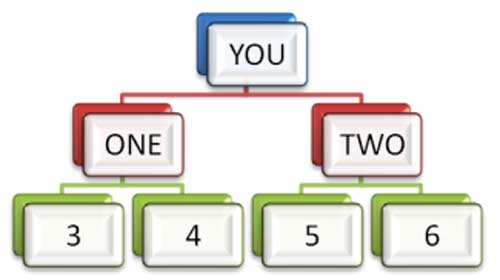 When a ForsageTron affiliate signs up their 700 TRX buy-in is split 350 TRX evenly between the two cyclers.
There are twelve tiers of each cycler. According to ForsageTron's website FAQ;
Each level is exactly 2 times more expensive than the previous and allows you to earn 2 times more.
This would mean the second cycler tier across both X3 and X4 costs 700 TRX to enter, then 1400 TRX and so on and so forth.
For reference I've detailed the first tier for both X3 and X4 below.
In line with the increased positions costs across the twelve tiers, cycler returns paid out also double each level.
ForsageTron X3
Payments in ForsageTronX3 are simple:
an affiliate keeps 350 TRX from the first two positions in the matrix
the third 350 TRX position is used to create a new ForsageTron X3 matrix cycler position
On the first ForsageTron X3 cycler tier, this equates to:
750 TRX kept
350 TRX used to buy a new first tier X3 cycler position
Although the buy-in and payouts increase, the other eleven ForsageTron X3 cycler tiers operate in the same manner.
Forsage X4
Owing to their being two levels, payments in Forsage X4 are a little more complicated.
The two positions on the first level of the matrix pay to the first upline, that is the affiliate who recruited you.
Then on the second line, the first three position payments are kept. The payment from the fourth position is used to pay a new ForsageTron X4 cycler position.
On the first Forsage X4 cycler tier, this equates to
700 TRX passed upline
1050 TRX kept
350 TRX used to buy a new first tier X4 cycler position
Although the buy-in and payouts increase, the other eleven ForsageTron X4 cycler tiers operate in the same manner.
Joining ForsageTron
ForsageTron affiliate membership is tied to a minimum 700 TRX investment in cycler positions.
Conclusion
ForsageTron is more of the same smart-contract Ponzi nonsense from Lado Okhotnikov.
You sign up, people who signed up before you steal your money and, if recruitment keeps up, you steal from people who sign up after you.
Recruitment inevitably dies and ForsageTron collapses, leaving the majority of participants with a loss.
ForsageTron was originally announced in July 2020. Whether it predates Fortron or not I can't be bothered sussing out.
On October 31st a video titled "Launching of Forsagetron Astounding DeFi Platform…Know Why FST DeFi will Grow to 5000X?", was uploaded to the "forsage tron" YouTube channel.
This video details plans to launch two Ponzi shit tokens, FST and USDF.
FST is a token, the value of which is supposedly pegged to how well Okhotnikov's various Forsage Ponzi schemes are going.
Forsage affiliates are invited to invest in FST, on the promise of a 300% ROI:
Supposedly ForsageTron affiliates can buy FST tokens for $2.20 each.
USDF is a stable-coin, costing Okhotnikov nothing to generate on demand but represented as having a $1 value.
The idea here seems to be Okhotnikov hoovering up TRON and leaving affiliates bag-holding worthless shitcoins.
There's no indication whether the FST or USDF plans came to fruition.
As per a February 25th Facebook post by Okhotnikov, Forsage is "coming out with its own Defi". This suggests he hasn't got anything off the ground yet.
Or FST and USDF launched, flopped and was quickly forgotten about.
Whatever the outcome, ForsageTron continues the transfer of money from gullible victims into Okhotnikov's pockets.
Footnote: This review is part of a series documenting Lado Okhotnikov's Forsage Ponzi schemes.
To date that includes:
Forsage – launched Feb/Mar 2020
Fortron – launched Aug/Sep 2020
ForsageTron – launched sometime after Jul 2020
Forsage XGold – launched Sep 2020
Update 5th August 2022 – The SEC has filed securities fraud charges against Vladimir "Lado" Okhotnikov. Ten additional Forsage insiders and US promoters have also been sued.
The SEC alleges Forage and its various together formed a $300 million dollar Ponzi scheme.