eXeR VIP Club Review: Viridi Coin "medical marijuana" pump & dump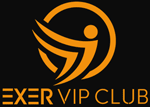 eXeR VIP Club provide no information on their website about who owns or runs the business.
The eXeR VIP Club website domain ("exervipclub.com") was privately registered on May 31st, 2017.
A diagram on the eXeR VIP Club website suggests its parent company is eXeR Canaplus Ltd:

A certificate provided on the eXeR VIP Club website suggests eXeR Canaplus Ltd. was incorporated in the British Virgin Islands on December 28th, 2017.
As the above diagram shows, eXeR Canaplus Ltd. operates as a separate company from its own website domain.
The eXeR Canaplus Ltd. website domain was registered on November 2nd, 2017.
Daniel Pasetti of Fides Invest AG is listed as the owner, through an address in Moors, Liechtenstein.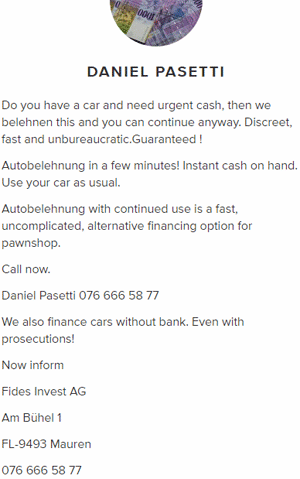 A Google search of the address reveals multiple businesses using PO Box variations of the same address. This suggests Fides Invest AG exists in Liechtenstein in name only.
Again referring to the diagram above, Fides Invest AG is cited as the "financing sister company" of eXeR Canaplus Ltd.
Further research (right) reveals Fides Invest AG to be a pretty shady sounding finance company.
Daniel Pasetti meanwhile also owns "CanaPower KLG", a company incorporated in Switzerland on October 5th, 2017.
CanaPower KLG incorporation details reveal Pasetti, whose full name is Daniel Dragan Lorenz Antunes Pasetti, is working with Radovan Dokic, purportedly a Serbian citizen.
From this it is assumed Pasetti and Dokic own and operate eXeR VIP Club, possibly in partnership with additional persons unknown.
Two possible candidates are Dennies Pettersson and Hans Pettersson.
On their respective Facebook profiles, Dennies Petterson refers to himself as a "Business Development Executive" for eXeR VIP Club and Hans Pettersson a "Business Developer".
Dennies Pettersson is a scammer from Sweden, primarily known for running a porn extortion scheme.
In 2013 authorities estimated Pettersson's various scams over the last ten years had generated over a billion kronor ($119.2 million USD).
I wasn't able to find anything concrete on Hans Pettersson, other than the name possibly being an alias for Dennies Pettersson (unconfirmed).
As always, if an MLM company is not openly upfront about who is running or owns it, think long and hard about joining and/or handing over any money.
eXeR VIP Club Products
eXeR VIP Club has no retailable products or services, with affiliates only able to market eXeR VIP Club affiliate membership itself.
The eXeR VIP Club Compensation Plan
eXeR VIP Club affiliates invest in Viridi coin points on the promise of a "guaranteed" 300% ROI within 36 months.
Q: How much will I earn on an investment in Viridi Coins?

A: Guaranteed 3 times the invested capital, over the running period of 36 months.
Viridi coin points are pre-generated by eXeR VIP Club's admins and sold to affiliates for 0.1 EUR each.
250 EUR package = 2500 Viridi coin points and a 750 EUR ROI
500 EUR package = 5000 Viridi coin points and a 1500 EUR ROI
1000 EUR package = 10,000 Viridi coin points and a 3000 EUR ROI
2500 EUR package = 25,000 Viridi coin points and a 7500 EUR ROI
5000 EUR package = 50,000 Viridi coin points and a 15,000 EUR ROI
10,000 EUR package = 100,000 Viridi coin points and a 30,000 EUR ROI
25,000 EUR package =  250,000 Viridi coin points and a 75,000 EUR ROI
50,000 EUR package = 500,000 Viridi coin points and a 150,000 EUR ROI
Outside of eXeR VIP Club Viridi coin points are worthless.
Recruitment Commissions
eXer VIP Club affiliates pay a 499 EUR sign-up fee.
This fee is commissionable with recruitment commissions paid out via a unilevel compensation structure.
A unilevel compensation structure places an affiliate at the top of a unilevel team, with every personally recruited affiliate placed directly under them (level 1):

If any level 1 affiliates recruit new affiliates, they are placed on level 2 of the original affiliate's unilevel team.
If any level 2 affiliates recruit new affiliates, they are placed on level 3 and so on and so forth down a theoretical infinite number of levels.
eXeR VIP Club cap payable unilevel levels at three, with recruitment commissions paid out across these three levels as follows:
level 1 (personally recruited affiliates) – 40%
level 2 – 15%
level 3 – 15%
Mining Investment
eXeR VIP Club offer affiliates a separate mining investment opportunity.
We mine the currency that is best at any given time, as a user you don't notice any difference.
In addition to a 20% monthly ROI on personal mining positions, eXeR VIP Club affiliates are also paid when recruited affiliates invest in mining positions.
Mining investment position referral commissions are paid out via the same unilevel compensation structure as recruitment commissions (see above).
Whereas recruitment commissions are capped at three levels, mining investment position referral commissions pay down five levels of recruitment:
level 1 (personally recruited affiliates) – 15%
level 2 – 10%
level 3 – 5%
level 4 – 3%
level 5 – 2%
Specifics of mining position ROIs are sketchy.
The eXeR VIP Club states their mining is "totally free & no start fee", which I believe is based on installing software which provides eXeR VIP Club's owners complete access to your computer.
No specific details are provided.
Crypto School Commissions
eXeR VIP Club sell basic cryptocurrency information to affiliates for 99 EUR online or 250 EUR for a live classroom event.
These fees are commissionable, through the same unilevel team used to pay recruitment commissions (see above):
level 1 (personally recruited affiliates) – 40%
level 2 – 15%
level 3 – 5%
Diamond Pool
eXeR VIP Club take 5% of affiliate membership fees and place them into the Diamond Pool.
Paid affiliates who have recruited at least 25 paid affiliates receive a share in the Diamond Pool, which paid out twice annually.
Lottery Game
eXeR VIP Club run a bitcoin lottery for affiliates.
Tickets cost 0.001 BTC and are capped at 1000 tickets per draw.
The winner of the lottery receives 75% of the prize pool. The remaining 25% is distributed "among other winners".
Joining eXeR VIP Club
eXeR VIP Club affiliate membership is 499 EUR.
There is also a free affiliate option, however free eXeR VIP Club affiliates only earn mining position referral commissions.
Note that all payments with eXeR VIP Club appear to be in bitcoin (mining is paid in whatever coin is purportedly being mined).
Conclusion
One of the first things visitors to the eXeR VIP Club website are presented with is this message:
Invest in Viridi!

Guaranteed dividend of 3 times the invested capital!
The ruse is that eXeR Canaplus Ltd. is an external source of revenue, through sale of medical marijuana to Swiss customers.
The problem with this is eXeR Canaplus Ltd.'s website activity is non-existent (Alexa don't even rank the site).
A merchant website with zero traffic is a dead business. Thus whatever external revenue eXeR Canaplus Ltd. might be generations is negligible.
That leaves new investment as the sole verifiable source of revenue entering eXeR VIP Club, and from there we identify the familiar Ponzi points business model.
There is no basis to eXeR VIP Club's 300% ROI promise on Viridi coin investment, other than the expectation they'll continue to receive new investment to pay out early investors.
36 months gives the company plenty of breathing room though, with most online Ponzi scheme collapsing within two years (24 months).
eXeR VIP Club website statistics from Alexa suggest the company only took off in mid January, so no doubt those who invested early will be reporting ROI payments.
As for the "free" mining, I shouldn't have to explain the danger of installing software created by who knows who do to do who knows what.
Among other things, this is how DDOS botnets are created – not withstanding the danger of every device running eXeR VIP Club's software being compromised.
At some point Viridi coin will probably go public. This gives Daniel Passeti, Radovan Dokic, Dennies Pettersson and whoever else they might be working with an out when new investment runs dry.
The typical Ponzi points exit-scam strategy sees scamming admins worthless tokens on gullible investors. These investors cough up real money in exchange for the tokens, which the admins do their best to hoard.
When new investment drops such that continued ROI payments would eat into the admin's stash, they come up with some nonsense excuse and do a runner.
When this happens, investors are left holding a worthless altcoin – Viridi coin in this case.
In addition to a dodgy business model, signs of eXeR VIP Club being a scam are abundant.
There's no legitimate reason for an MLM company to have incorporation ties through multiple shell companies in no less than two tax-havens.
This is how money laundering cartels are set up, which eXeR VIP Club wholly appears to be.
When eXeR VIP Club collapses, don't expect to get anything back – even if authorities manage to shut it down in time.