Elysium Network Review 2.0: €99 a month BTC commentary

BehindMLM's initial Elysium Network review was published in May 2020.
Despite launching in 2019, Elysium Network presentations today still mark the company as a "brand new opportunity".
At the request of a reader, today we're revisiting Elysium Network for an updated review.
In May 2020 Elysium Network was committing securities fraud through Elysium Capital.
The investment scheme was called "Elysium Capital Pinnacle Portfolio". You invested €500 EUR, did nothing and collected a return.
Neither Elysium Network, owner Fred Stege or any of his other shell companies were registered to offer securities in any jurisdiction.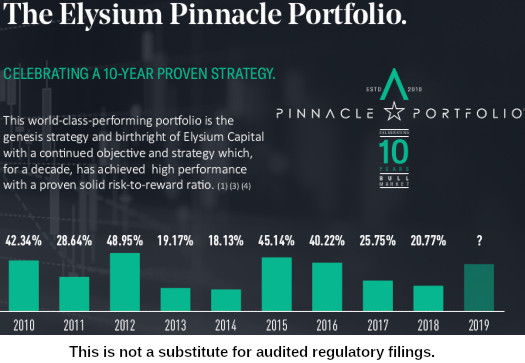 This saw us label Elysium Network an unregistered securities offering.
Elysium Network's securities fraud was conducted in partnership with Equiti Group, who Stege identified as a partner broker in August 2020.
Fast forward to May 2021 and Elysium Network shut down affiliate trading accounts without warning.
How much Elysium Network lost in the collapse is unclear.
Internal emails between Elysium Network affiliates reveal losses upwards of 70% of funds invested. There were supposedly only a few hundred Elysiun Network affiliate accounts set up at the time of collapse.
Upline Equity Network affiliates, who likely earned more than they lost in recruitment commissions, advised their victims to "just accept the loss and move on".
For their part Elysium Capital sent out an email in mid June, advising "it is clear there was an issue that is not related to our systems."
It's clearly visible that the system tried to execute actions after 16:27:49 but that the orders were not executed.

These 'dead' moments cause a lot of drawdown as the EA cannot place the necessary hedges to secure the account and keep the equity under control.

These errors we got a lot from the Equiti account and not from the accounts of our other brokers. So there is definitely a general issue here.
As I understand it affiliates remain caught between Elysium Network and Equity Group blaming each other for their losses.
Stege, without any shame whatsoever, was quick to reboot Elysium Capital as a crypto trading opportunity.
And this is where things get murky.
In early June, about a week after the Equiti Group debacle, the Elysium Network and Elysium Capital websites went down.
Given the timing of the Equity Trading ruse collapse, we put this down to Stege initiating an exit-scam.
Access to Elysium Network was restored on June 10th. Elysium Capital's website remains down.
Attempts to access Elysium Capital's website return a period (.) placeholder.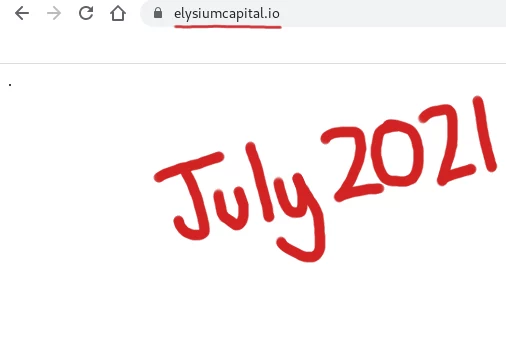 As far as I know Stege has failed to provide any explanation.
In an attempt to suss out Elysium Network's business model, I'm relying on a May 2021 presentation by Fred Stege.
In the presentation Stege represents Equity affiliates and retail customers gain access to Elysium Insider.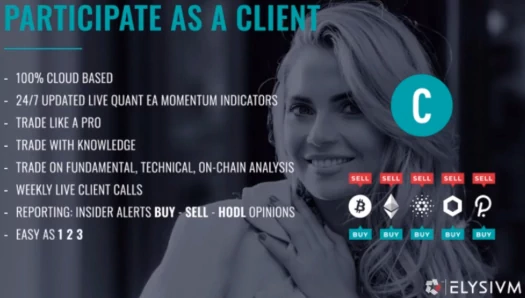 Elysium Insider is purportedly a signals trading service. If there's still an automated trading aspect Elysium Network, that's not disclosed.
I figured seeing as its purportedly pitched at retail customers, Elysium Network's website would provide information about Elysium Insider.
That's not the case. Elysium Insider does have its own website, on which it's claimed
Elysium Insider provides independent and actionable research and analytics to our global subscribers to improve their investment and trading decisions. Everybody can do this!
One example of an Elysium Insider email dated late June has Stege not really knowing where bitcoin will go.
At the time BTC was at ~$34,000. Stege provided general advice for BTC going either way.
In another Elysium Insider tip email, dated July 13th, Stege provided general commentary;
Bitcoin is ranging sideways in the lower $30'000. – $34'000

$31'000 needs to be held. $34'500 needs to be broken to move to the upside around $38'000.

Today there is a Grayscale shares sell-off and that causes the downside pressure. If it absorbs well we might see a significant move to the upside later this week.

I've just bought a tiny bit today at $32,500.

But we could still go lower. Most likely we will find out this week. It's still too early to touch Alt coins.
Stege doesn't seem to be able to predict where BTC will go so much as provide commentary on what's already happened.
All Stege reveals is Elysium Insider costs retail subscribers €99 EUR a month. That was a discounted introductory price in May, good for only a few weeks.
The full cost of an Elysium Insider retail subscription wasn't disclosed.
Elysium Network's website is still advertising "QUANT EA signal portfolios ("Trading bots")."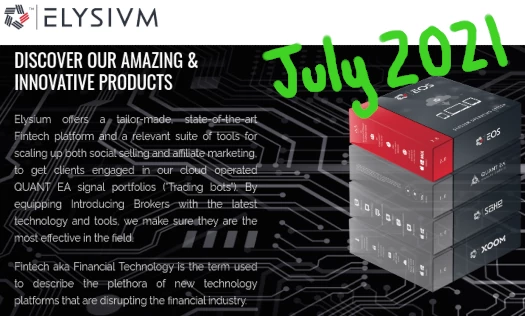 Quant EA appears to be the outdated pre-crypto precursor of Elysium Insider.
Another oddity is Elysium Capital, as a Hong Kong shell company, being referenced on Elysium Network's website.
Elysium Capital hasn't existed since its website went down in early June.
If I had to guess, Elysium Network's website hasn't been updated for some time. This explains why there's no information about Elysium Insider.
Elysium Network as an MLM opportunity focuses on selling Elysium Insider and recruiting affiliates.
Elysium affiliate membership is currently €499 and then €97 a month.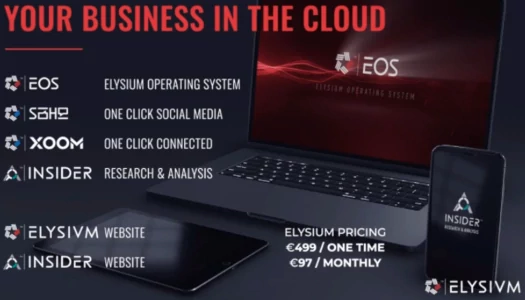 That provides you access to the Elysium Network backoffice, a social media marketing tool, Zoom clone and Elysium Insider.
€25 EUR is paid out on recruitment of new Elysium Network affiliates and/or Elysium Insider retail subscription sales.
Another €25 EUR is paid out in residual commissions, down seven levels of recruitment (unilevel).
Monthly subscription fees paid by both affiliates and retail subscribers generates residual commissions via a binary team.
This is complimented by a 10% matching bonus and bonus pools.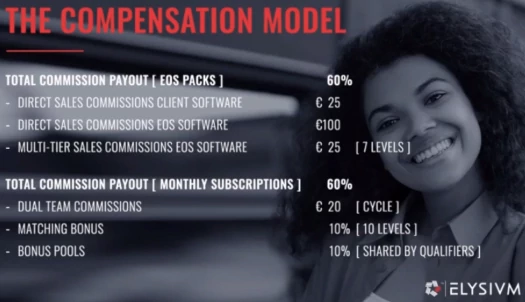 This is pretty similar to what reviewed in 2020. Bearing in mind the euro amounts quoted are out of date, you'll still get the gist of Elysium Network's comp plan there.
On the regulatory front nothing has happened since the Estonian securities fraud warning issued in July 2020.
Prior to the warning, Stege was representing Elysium Network and Elysium Capital were Estonian shell companies.
After the Estonian fraud warning, Stege provided shell company addresses in Hong Kong and Sweden.
As opposed to Elysium Network being any less illegal, there's likely been no new updates because there isn't much going on.
As I write this Alexa ranks Elysium Network's website at 5.4 million. For an MLM company that's as good as dead.
Traffic to Elysium Insider's website is so insignificant that it's not measured.
Overall it's clear the Elysium Network's original business model collapsed. What's now in its place is sloppy and not properly put together.
Not withstanding the Elysium Network website downtime or abandoning of Elysium Capital's website altogether.
For now it seems Stege has recycled existing properties (affiliate membership tools), and is charging people €99 EUR a month for his thoughts on bitcoin's day-to-day price movements after the fact.
Not as bad the securities fraud Elysium Network originally launched with but, at least in my opinion, not worth the price of admission.
Update 14th August 2021 – Equiti Group has disputed Fred Stege blaming them for Elysium Network affiliate losses.
Update 30th October 2021 – As at the time of this update, the May 2021 Elysium presentation by Fred Stege has been deleted from YouTube.
I did have the presentation linked but have disabled the link due to the video's deletion.