Elysium Network websites go down (exit-scam in progress?)

Following a tip-off from a reader, just over a week ago I added Elysium Capital to BehindMLM's review update list.
The review was to be based on a new business model, revealed by Elysium Founder Fred Stege on May 11th.
Three days ago Elysium Network's websites went down. The only explanation thus far is vague "server maintenance", that's supposed to end on June 7th.
What makes Elysium Network's websites going offline, is it happened less than a week after affiliate forex trading accounts were shut.
At the time Elysium Network cited "errors" with its third-party brokerage Equiti.
Also suspicious is the nature in which Elysium Network's websites went down.
BehindMLM reader "Herr D" noticed both "elysiumnetwork.io" and "elysiumcapital.io" went down on or around June 3rd.
There was no announcement preceding the downtime. The websites were throwing up a 502 HTTP error code, suggesting a server misconfiguration.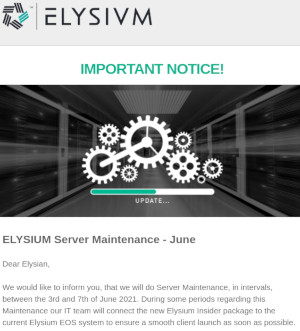 Shortly after Elysium Capital sent out an email blaming "server maintenance".
We would like to inform you, that we will do Server Maintenance, in intervals, between the 3rd and 7th of June 2021.

During some periods regarding this Maintenance our IT team will connect the new Elysium Insider package to the current Elysium EOS system to ensure a smooth client launch as soon as possible.

Please be aware that you will not be able to register new enrolees and/or login to your backoffice at certain times during this Server Maintenance.
Since then Elysium Network's websites have remained down, throwing up a variety of errors at different times.
On June 4th the 502 errors switched to a 500 server error for Elysium Capital, and a 404 not found error for Elysium Network.
Later that same day both websites returned a 503 temporarily unavailable error.
On June 5th the 503 error had switched to a domain DNS error message for Elysium Capital, and a root directory listing for Elysium Network (whatever was on the web server had been deleted).
Over the last few hours Elysium Network is now also throwing up a DNS error message.
This means someone has disabled both domains at the registrar level.
All of this is strange enough on its own. What I can categorically state is that it's not how companies engage in server maintenance.
Even if something goes wrong with a sever, the first thing you do is throw up an error/maintenance page.
If that's not possible with the broken configuration, you roll back a backup and put up an error/maintenance page until you've fixed it.
There's no need to stuff around with DNS configurations and disable websites.
At worst if you pull an all-nighter you should have something back up and running within 24 hours.
I speak of this from experience – and I barely knew what I was doing the last time something like that happened with BehindMLM.

Another factor to consider here is, after closing affiliate forex trading accounts, Fred Stege (right) announced Elysium Network would be transitioning to crypto.
As previously stated, Stege made that announcement on May 10th.
Between May 9th and May 20th, bitcoin plummeted from ~$58,000 to ~$35,000.
At three days of downtime and counting, Elysium Network's "server maintenance" is starting to look an awful lot like an exit-scam.
Supposedly Elysium Network's server maintenance will be over on June 7th. That's less than 48 hours away.
Stay tuned…
Update 7th June 2021 – As at the time of this update Elysium Network's website is back up, albeit without an SSL certificate.
Elysium Capital's website remains down.
Update 10th June 2021 – Elysium Network's SSL issue has been resolved. Elysium Capital's website remains down.
Update 22nd July 2021 – BehindMLM revisited what's left of Elysium Network for an updated review in July 2021.