eDigital Wealth Review: $50 and $150 pass-up commissions

There is no information on the eDigital Wealth website indicating who owns or runs the business.
The eDigital Wealth website domain ("edigitalwealth.co") was registered on the 14th of March 2016, however the domain registration is set to private.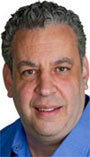 Further research reveals eDigital Wealth marketing videos featuring Steven Seppinni (right).
Seppini is credited with designing eDigital Wealth's compensation plan. Seppinni refers to eDigital Wealth in the possessive, suggesting he owns the company.
Steven Seppinni first popped up on BehindMLM's radar as CEO and Founder of Malibu Mastermind.
Malibu Mastermind launched in early 2014 and marketed monthly online marketing training subscriptions.
Malibu Mastermind flopped shorty after launch and was relaunched as Prosper Everyday earlier this year in February.
A visit to the Prosper Everyday website reveals a parked domain, suggesting the company didn't last long.
Read on for a full review of the eDigital Wealth MLM opportunity.
The eDigital Wealth Product Line
Other than costing $100 and $500, there is no information about eDigital Wealth's products on their website.
The eDigital Wealth Compensation Plan
The eDigital Wealth compensation plan sees affiliates sell a $100 and $500 product.
In order to qualify for commissions, an eDigital Wealth affiliate must either purchase or sell the $100 and/or $500 product to a retail customer.
Both products must be qualified for separately.
Retail & Recruitment Commissions
Retail and recruitment commissions are the same in eDigital Wealth.
Selling the $100 product to a recruited affiliate or retail customer generates a $50 commission
Selling the $500 product to a recruited affiliate or retail customer generates a $150 commission.
Commissions are paid out using a perpetual 1-up plan, paid out via unilevel compensation structure.
A unilevel compensation structure places an affiliate at the top of a unilevel team, with every personally recruited affiliate placed directly under them (level 1):

If any level 1 affiliates recruit new affiliates, they are placed on level 2 of the original affiliate's unilevel team.
If any level 2 affiliates recruit new affiliates, they are placed on level 3 and so on and so forth down a theoretical infinite number of levels.
An affiliate's first sale generates a commission they keep. The second sale commission is passed up to the affiliate who recruited them.
the third sale commission is kept
the fourth sale commission is passed up
the fifth sale commission is kept and
the sixth and every fifth sale thereafter is passed up
 Check Match Bonus
eDigital Wealth affiliates earn a 100% check match bonus on commissions earned by personally recruited affiliates.
To initially qualify for the Check Match Bonus, an eDigital Wealth affiliate must recruit two affiliates.
Check Match qualification is maintained by making one retail sale every 30 days.
Joining eDigital Wealth
eDigital Wealth affiliate membership is $45 and then $14.95 a month.
Conclusion
eDigital Wealth is pretty much the third reboot of Malibu Mastermind, although it's much more closely modeled on Prosper Everyday.
With eDigital Wealth you've got products that don't really matter (as evidenced by information currently available on the eDigital Wealth website), coupled with a pass-up compensation plan.
Legitimacy needs to be defined by retail sales, which are only required if an affiliate wishes to earn the check match bonus.
On its own this is a decent enough effort by eDigital Wealth to drive retail sales. The problem as I see it though is that eDigital Wealth's products are probably not going to be retail viable.
This is something eDigital Wealth shared with both Malibu Mastermind and Prosper Everyday.
The first thing you see when you visit the eDigital Wealth website is the message "who else wants to… make money online".
Directly below this is a stock photo of a guy holding a laptop with money flying out of it. Nowhere on the eDigital Wealth site is there any information about the company's products.
Quite obviously eDigital Wealth are primarily marketing the attached MLM income opportunity.
The good news is ascertaining whether recruitment is taking precedence over retail sales is easy.
What you want to ask your potential eDigital Wealth upline is how many monthly retail sales they've made and compare that to recruited affiliates.
You're looking for a healthy mix of retail and recruited affiliates, ideally weighted towards retail.
If retail activity is non-existent beyond one a month for matching bonus qualification, it's likely eDigital Wealth is operating as a chain-recruitment scheme.