BNB Stake Review: 292% ROI binance coin bandwagon Ponzi

BNB Stake provides no information on its website about who owns or runs the company.
BNB Stake's website domain ("bnbstake.finance") was privately registered on March 4th, 2021.
As always, if an MLM company is not openly upfront about who is running or owns it, think long and hard about joining and/or handing over any money.
BNB Stake's Products
BNB Stake has no retailable products or services, with affiliates only able to market BNB Stake affiliate membership itself.
BNB Stake's Compensation Plan
BNB Stake affiliates invest binance coin on the promise of a daily return.
Plan #1 – receive 8% a day for 14 days (112% ROI)
Plan #2 – receive 6.5% a day for 21 days (136% ROI)
Plan #3 – receive 5% a day for 28 days (140% ROI)
Plan #4 – receive 13.71% a day for 14 days (193% ROI)
Plan #5 – receive 13.1% a day for 21 days (275% ROI)
Plan #6 – receive 10.42% a day for 28 days (292% ROI)
There don't appear to be minimum or maximum BNB investment amounts.
BNB Stake pays referral commissions on invested BNB down three levels of recruitment (unilevel):
level 1 (personally recruited affiliates) – 5%
level 2 – 2.5%
level 3 – 0.5%
Joining BNB Stake
BNB Stake affiliate membership is free.
Full participation in the attached income opportunity however requires investment in BNB.
BNB Stake doesn't appear to have set a minimum BNB investment amount.
Conclusion
BNB Stake is yet another binance coin Ponzi scheme looking to capitalize on the recent pump.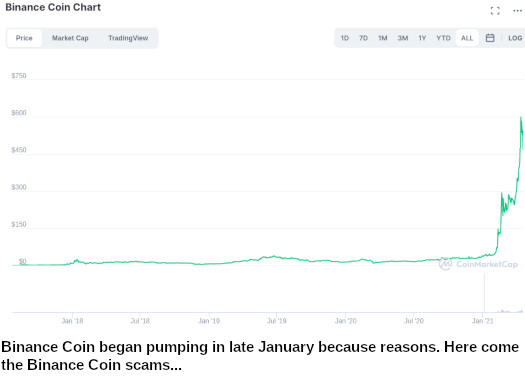 You invest BNB and it gets stolen by those who invested before you. You then hope people invest after you so you can steal from them in turn.
One thing that caught my eye on BNB Stake's website was this message:
Daily Profit for new deposits are increased by 0.5% everyday to incentivize new users to join.
Not sure if that's the advertised return going up 0.5% ever 24 hours or a bonus paid to those who've invested.
Either way it results in BNB invested into BNB Stake being exhausted that much quicker.
As with all MLM Ponzi schemes, once affiliate recruitment dries up so too will new investment.
This will starve BNB Stake of ROI revenue, eventually prompting a collapse.
The math behind Ponzi schemes guarantees that when they collapse, the majority of participants lose money.