BitLine Review: Two-tier bitcoin cash gifting

There is no information on the BitLine website indicating who owns or runs the business.
BitLine is created by very experienced team of it developers and network marketers.

They decided to launch new opportunity for others by giving IT system and educational system. Previously used educational system resulted in bringing over 2000 new people within a few weeks.

That means you have very well tested and proven to work, duplicatable system.
The BitLine website ("bitline.club") was registered on the 25th of September 2016. The domain appears to have been registered with bogus details pointing to a French location.
Mikolaj Grzaslewicz is credited with "consulting" in the registration, with an address in Poland also provided.
As always, if an MLM company is not openly upfront about who is running or owns it, think long and hard about joining and/or handing over any money.
The BitLine Product Line
BitLine has no retailable products or services, with affiliates only able to market BitLine affiliate membership itself.
The BitLine Compensation Plan
The BitLine compensation plan sees affiliates purchase positions in a 2×5 and 2×4 matrix.
A 2×4 matrix places an affiliate at the top of a matrix, with two positions directly under them: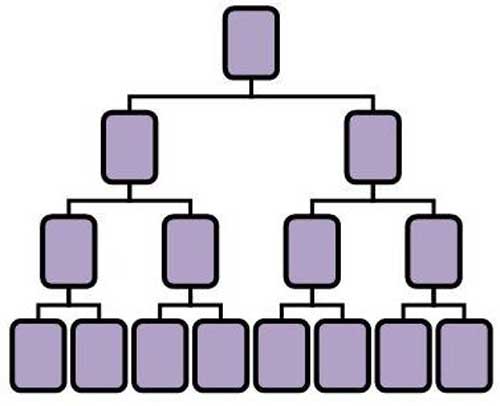 These two positions form the first level of the matrix. The second level of the matrix is generated by splitting each of the two positions into another two positions each (4 positions).
The third and fourth levels of the matrix are generated in the same manner, housing 8 and 16 positions respectively.
In total, a complete 2×4 matrix houses 30 positions.
A 2×5 matrix adds another level to the matrix (32 positions), bringing the total number of positions to 62.
Positions in the matrix are filled via direct and indirect recruitment of new BitLine affiliates.
A BitLine affiliate begins by gifiting funds to the affiliate who recruited them.
This payment then qualifies the affiliate to receiving gifting payments from subsequently recruited affiliates as follows:
Classic Matrix (2×5)
level 1  – gift 0.03 BTC to the affiliate who recruited you and receive 0.03 BTC from two affiliates
level 2 – gift 0.05 BTC and receive 0.05 BTC from four affiliates
level 3 – gift 0.1 BTC and receive 0.1 BTC from eight affiliates
level 4 – gift 0.2 BTC and receive 0.2 BTC from sixteen affiliates
level 5 – gift 0.7 BTC and receive 0.7 BTC from thirty-two affiliates
VIP Matrix (2×4)
level 1 – gift 0.1 BTC to the affiliate who recruited you and receive 0.15 BTC from two affiliates
level 2 – gift 0.15 BTC and receive 0.15 BTC from four affiliates
level 3 – gift 0.45 BTC and receive 0.45 BTC from eight affiliates
level 4 – gift 2 BTC and receive 2 BTC from sixteen affiliates
Note that all payments above are monthly recurring.
Joining BitLine
BitLine affiliate membership is tied to a minimum gifting payment of 0.03 BTC a month.
Full participation in the BitLine compensation plan costs 3.78 BTC a month (currently $2676).
Conclusion
BitLine.club is member-to-member donating system. A platform is basen [sic] on blockchain technology.

It is fully voluntary system, where each user can participate in donation process and get training and information package about crowdfunding, cryptocurrency and blockchain.
BitLine's business model has nothing to do with crowdfunding, donations, cryptocurrency or blockchains.
Anytime you see "member to member" in MLM it's a reference to cash gifting.
BitLine's compensation plan sees affiliates gift bitcoin payments to eachother, with those who join earlier receiving more gifting payments.
This is owing to the tiered nature of the matrices used, which essentially pass up the majority of deposited funds to earlier positions.
The first positions preloaded into BitLine are owned by the anonymous admin(s), who naturally receive the lion's share of deposited funds.
Everyone else receives what's left, with all but a few early adopter affiliates, eventually walking away with a loss.
That loss is triggered by BitLine's collapse, which occurs once new affiliate recruitment dies down.
Are there any refunds?

As you already know all payments are made from member to member, donations don't pass via central system, so only one opportunity to get refund is to ask member, who get your donation about that.
The use of bitcoin will make recovery of funds particularly difficult. Not knowing who the BitLine admin(s) are also means most affiliates won't be able to "ask member" for a refund, as per the above advice (taken from the BitLine website).
By design, BitLine is basically set up to maximize affiliate losses into the admin(s) bank account.