BitHashCycler Review: Nothing to do with BitCoin…

There is no information on the BitHashCycler website indicating who owns or runs the business.
The BitHashCycler website domain ("bithashcycler.com") was registered on the 27th of April 2015, however the domain registration is set to private.
Alexa currently estimates that some 85.4% of traffic to the BitHashCycler website domain originates out of India, strongly suggesting that this is where the BitHashCycler is being run out of.
As always, if an MLM company is not openly upfront about who is running or owns it, think long and hard about joining and/or handing over any money.
The BitHashCycler Product Line
BitHashCycler has no retailable products or services, with affiliates only able to market affiliate membership with the company itself.
The BitHashCycler Compensation Plan
The BitHashCycler compensation plan sees affiliates invest in two offered investment plans or a $25 matrix system.
Investment Plans
BitHashCycler offer affiliates two investments plans as follows:
Yellow Panel ($2-$2000) – 2.15% daily ROI for 60 days
Blue Panel ($50-$40,000) – 2.7% ROI for 70 days
30% of all ROIs paid out must be reinvested back into BitHashCycler, with referral commissions paid out down three levels of recruitment (unilevel):
level 1 (personally recruited affiliates) – 7%
level 2 – 5%
level 3 – 3%
Matrix Positions
For $25, BitHashCycler affiliates purchase matrix positions in three separate matrix systems (one $25 payments purchases one position in each matrix).
BHC Green
The BHC Green matrix is a five-tier matrix cycler, featuring matrices ranging in size from 2×1 (2 positions to fill) to 5×2 (thirty positions to fill).
Commissions are paid once all positions in a tier are filled, which also "cycles" a position into the next tier:
Phase 1 (2×1, two positions to fill) – pays $5 and cycles into Phase 2
Phase 2 (2×2, six positions to fill) – pays $5 and cycles into Phase 3
Phase 3 (3×2, twelve positions to fill) – pays $20 and cycles into Phase 4
Phase 4 (4×2, twenty positions to fill) – pays $450 and cycles into Phase 5
Phase 5 (5×2, thirty positions to fill) – pays $9000 and cycles into a new Phase 5 matrix
Referral commission are paid when personally recruited affiliates cycle out of any of the five-tiers of the matrix as follows:
Phases 1 to 3 – $5
Phase 4 – $100
Phase 5 – $1500
BHC Yellow
The BHC Yellow is 2×4 in size. A 2×4 matrix places an affiliate at the top of the matrix with two positions directly under them (level 1):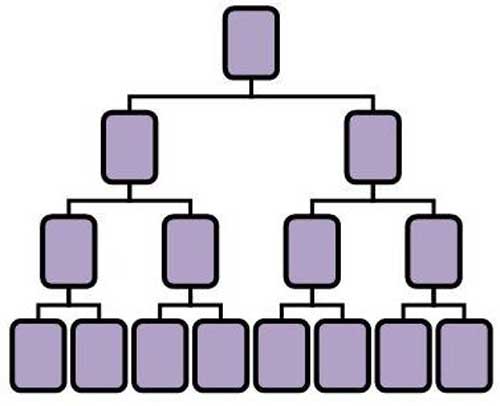 These two positions split into another two positions each, making up the second level of the matrix. The third and fourth level of the matrix are formed by the second and third levels splitting into another two positions each respectively.
Commissions are paid out as positions in the matrix are filled, with $4 paid out per position filled on any level of the matrix.
BHC Blue
The BHC Blue matrix is 5×2 in size. A 5×2 matrix places an affiliate at the top of the matrix, with five positions directly under them.
These five positions then each split into another five positions, making up the second level of the matrix.
Commissions are again paid as positions in the matrix are filled, paying out the same $4 per position filled as the BHC Yellow matrix.
Joining BitHashCycler
Affiliate membership with BitHashCycler is free, however affiliates must either invest or purchase a matrix position in order to participate in the income opportunity.
As such the defacto cost of BitHashCycler affiliate membership is between $2 to $40,000, depending on whether an affiliate wishes to invest or purchase matrix positions.
Conclusion
Despite the copious BitCoin waffle present on the BitHashCycler website, all we're looking at here is a revshare with recruitment-driven matrix backend.
Typically these sorts of schemes are combined with advertising credits, but BitCashCycler have gone the "let us overwhelm you with large amounts of irrelevant information about BitCoin" route.
The business model is otherwise simple, affiliates invest between $2 and $40,000, and are paid daily ROIs out of subsequently invested funds.
The matrix component of the BitHashCycler compensation plan functions as a pyramid scheme, with all three matrix tiers reliant on affiliates purchasing new positions to generate commissions.
Both components are anchored in affiliate recruitment (existing affiliates will only pump so many funds into the scheme), with recruitment drying up causing both the revshare and matrices to stall.
The BitHashCycler compensation plan is such that investors are unlikely to see a collapse coming. The daily ROI is paid out as numbers on a screen, until the time comes for an affiliate to withdraw (60-70 days).
The matrices will slow down as a collapse approaches, but by the time BitHashCycler affiliates realize they've stalled it'll be too late.
Two components does mean the BitHashCycler admin can juggle funds between them to create the illusion of stability, but sooner or later the scheme will ultimately collapse.
You can't beat mathematics, with no amount of cryptocurrency marketing babble countering the fact that you can't pay out more than you take in.