BeOnPush Review: $20-$10,000 investment pack Ponzi

As per a fake news video featured on the BeOnPush website, BeOnPush is purportedly a "UK and Luxembourg based company".
Luxembourg is a known tax-haven and registration in the UK requires little more than a fee and a UK-based address on paper.
No address in the UK is provided on the BeOnPush website, with a search of the Luxembourg address bringing up a number of businesses using it.
This is typical of rented virtual mailboxes, which is probably also the case in the UK.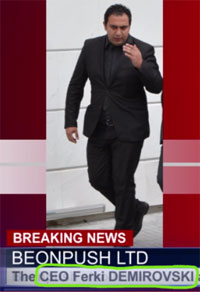 Identified as CEO of BeOnPush in the video is a "Ferki Demirovski" (right).
On his Facebook profile Demirovski lists his location as Brussels, Belgium. Rather than the UK or Luxembourg, this is likely where BeOnPush is being operated out of.
I wasn't able to dig up a concrete MLM history for Demirovski, but according to his LinkedIn profile he's been a Macedonian political adviser, runs his own consulting firm and performed political analysis for the EU.
Demirovski took up his CEO position with BeOnPush in August and is presumably also the owner of the company.
Read on for a full review of the BeOnPush MLM business opportunity.
The BeOnPush Product Line
BeOnPush has no retailable products or services, with affiliates only able to market BeOnPush affiliate membership itself.
The BeOnPush Compensation Plan
The BeOnPush compensation plan sees affiliates invest in "investment packs" of up to $10,000.
BeOnPush affiliates are also paid to recruit new investors into the scheme.
Investment Pack ROIs
BeOnPush offer affiliates invest in eight investment packs, with up to $10,000 able to be invested at a time.
An eventual 150% ROI is advertised on the BeOnPush website, with more funds invested resulting in a higher daily ROI paid out:
$20 investment pack = 1x daily ROI multiplier
$50 investment pack = 1.05x daily ROI multiplier
$100 investment pack = 1.1x daily ROI multiplier
$200 investment pack = 1.15x daily ROI multiplier
$500 investment pack = 1.2x daily ROI multiplier
$1000 investment pack = 1.3x daily ROI multiplier
$5000 investment pack = 1.4x daily ROI multiplier
$10,000 investment pack = 1.5x daily ROI multiplier
From $20 to $10.000 the investment packs expire at 150%.

Each ticket pays daily according to the today's interest + the bonus linked to its value.
BeOnPush advertise a daily interest rate of between 0.5 to 3.5%.
Referral Commissions
BeOnPush pay referral commissions on investments made by recruited affiliates, paid out down two levels of recruitment (unilevel):
investments by personally recruited affiliates (level 1) pays 13% and
investments by affiliates recruited by level 1 affiliates (level 2) pays 2%
Residual Commissions
Residual commissions in BeOnPush are paid out via a binary compensation structure.
A binary compensation structure places an affiliate at the top of a binary team, split into two sides (left and right):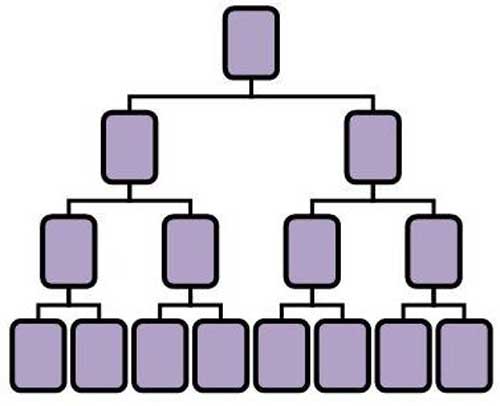 Investment volume is tracked between both sides of the binary, with BeOnPush advertising a 10% commission payout on investment volume.
Whether this is on both sides of the binary or just the side with less investment volume is unclear.
Affiliate Rewards
Based on binary investment volume, BeOnPush offer affiliates the following rewards:
10,000 binary investment volume = a "luxury pen"
30,000 binary investment volume = "VIP night in a club"
80,000 binary investment volume = flight voucher
200,000 binary investment volume = "Apple Pack"
500,000 binary investment volume = "Vertu phone + 1 year luxury concierge"
1,000,000 binary investment volume = Rolex watch
5,000,000 binary investment volume = "luxury company car"
50,000,000 binary investment volume = "sports car, beach apartment and private jet hours"
Joining BeOnPush
Affiliate membership with BeOnPush is free, however affiliates must invest between $20 to $10,000 to participate in the MLM income opportunity.
Conclusion
Beonpush has investment in various sectors of the online marketing and in majority trading positions in the Real Time Bidding.

The profit that the company earns from these sources and investments; is shared among the members, paid members will become stakeholders and will receive profit according to their investment.
…or, BeOnPush simply shuffle newly invested funds around to pay existing investors.
Whatever "real time bidding is", I can guarantee you it doesn't consistently return enough funds to pay out BeOnPush's 150% ROI guarantee, 15% investment referral commissions or residual binary commissions.
Logically speaking, if Demirovski had stumbled upon a proverbial golden goose capable of such returns, why then would he need your money?
Thus the only logical explanation as to where the funds BeOnPush pay out are sourced from is new affiliate investment, making BeOnPush just another Euro tax-haven Ponzi scheme.
As with all Ponzi schemes, once new affiliate investment dries up so too will the daily ROI BeOnPush promise their affiliates.
An imminent collapse will manifest itself by the daily ROI percentage paid out dropping and remaining close to 0.5%.
This will likely go on for a while as BeOnPush continue on in the hopes new investment will pick up.
At some point though Ferki Demirovski or whoever he's working with are going to pull the plug, rather than pay out the funds they themselves have skimmed off the top.
That's when BeOnPush collapses, leaving the majority of investors with a loss.