BeOnTel Review: BeOnPush's half-assed attempt at Ponzi resuscitation

BeOnPush was a Ponzi scheme launched in 2015 by Ferki Demirovski.
Under the guise of having something to do with advertising, BeOnPush affiliates invested up to $10,000 on the promise of a 150% ROI.
After roughly a year of scamming, BeOnPush collapsed earlier this year in June.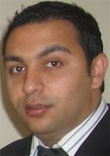 Facing a massive 150% ROI liability on every $1 invested into BeOnPush, Demirovski (right) wiped existing ROIs owed through BeOnPush and converted investment positions into virtual shares.
Demirovski claimed affiliates would be able to recoup their losses in BeOnTel, a yet to be launched reboot scheme.
Today BehindMLM takes a look at and reviews the BeOnTel MLM opportunity.
The BeOnTel Product Line
BeOnTel feature a cell phone on their website as a product.
Named "F1", technical specs for the smartphone are as follows:
OS: Android 5.1
CPU: Quad-Core
DISPLAY: 5.0 Inch Screen HD; 1280 x 720, Double 2.5D Arc Glass
CAMERA: HD; Back 13.0 MP; Front 8.0 MP
RAM: 1GB
ROM: 8 GB
NETWORK: 3G WCDMA
DUAL SIM
AVAILABLE COLOR: Silver
No retail or wholesale pricing for the smartphone is provided on the BeOnTel website.
Budget Chinese phone manufacturer Oppo market an F1 cell phone, however whether or not this is the phone BeOnTel sell is unclear.
The BeOnTel Compensation Plan
The BeOnTel compensation plan revolves around the sale of the F1 smartphone.
Commissions are paid directly through a unilevel and residually through a binary.
Note that percentage commissions are paid out on commissionable volume (CV) generated via the sale of F1 phones.
BeOnTel do not disclose the total CV generated by an F1 phone sale.
Direct Commissions
Direct commissions in BeOnTel are paid out via two levels of recruitment (unilevel).
Phone sales made to retail customers and/or recruited affiliates generate a 19% commission.
Level 2 sales (those made by personally recruited affiliates) generate a 1% commission.
Residual Commissions
Residual commissions in BeOnTel are paid out via a binary compensation structure.
A binary compensation structure places an affiliate at the top of a binary team, split into two sides (left and right):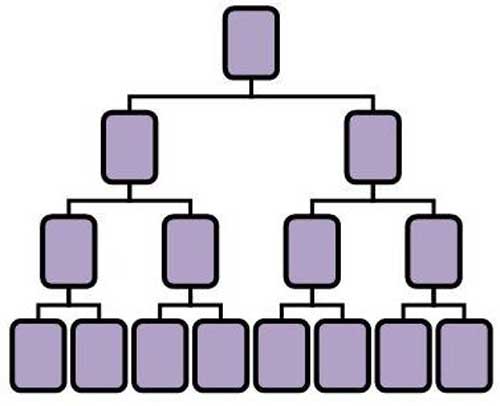 The first level of the binary team houses two positions. The second level of the binary is generated by splitting each of these two positions into another two positions each.
Subsequent levels of the binary team are generated as required, with each new level housing twice as many positions as the previous level.
Each F1 phone sale generates 200 CV in the binary team.
Once a day, week or month (BeOnTel don't specify), BeOnTel tallies up CV on both sides of an affiliate's binary team.
Commissions are paid out at a rate of 10% of CV generated on the weaker side of the binary.
CV paid out on is flushed from both sides of the binary, wherein the process repeats itself for a new set period of time (a day, week or month).
Joining BeOnTel
BeOnTel do not disclose affiliate membership costs on their website.
Presumably the cost of BeOnTel affiliate membership is at least the wholesale cost of the F1 smartphone, which is also not disclosed.
Conclusion
As a stand-alone MLM opportunity BeOnTel is pretty half-assed.
We know the company sells a smartphone, but for how much? No idea.
Want to sign up as an affiliate? Sorry, no information about that either.
Through prior reporting we know that BeOnTel is a reboot of the BeOnPush Ponzi scheme, but if you were to visit the BeOnTel website – none of that is disclosed.
Ditto Ferki Demirovski, who's corporate bio is conspiciously absent on the BeOnTel website.
Considering the whole reason BeOnTel was launched was to make good BeOnPush investors, I think it's safe to say that's not going to happen.
Who in their right mind is going to sign up for a new MLM opportunity, knowing that a significant proportion of revenue will be diverted to victims of the owner's previous scam?
Even if BeOnTel is as simple as sell smartphones and get paid, that's money that could otherwise be used to pay out higher commission rates.
The way I see it BeOnTel is going to generate little interest outside of BeOnPush affiliate circles, potentially leaving those who lost money in BeOnPush with an even bigger loss.