Avalon Life Review v2.0: Dashcoin mining pools & recruitment

Avalon Life launched just under a year ago as an altcoin MLM opportunity.
Based on the non-publicly tradeable AVLX altcoin, Avalon Life affiliates invested in the hope of flipping the altcoin for a profit. Pyramid recruitment was also evident, with Avalon Life affiliates paid directly and residually to recruit new affiliates.
AVLX collapsed and was abandoned about a month after launch. A few months later Avalon Life relaunched itself as a Dashcoin mining opportunity.
Today we take a look at and review Avalon Life's current business model and compensation plan.
Avalon Life Products
Avalon Life claim to "maintain" five Dash mining facilities in Costa Rica and Switzerland.
Retail customers can purchase annual mining packages:
Node 1 – $479 for 50 Mh/s
Node 2 – $880 for 100 Mh/s
Node 3 – $2046 for 250 Mh/s
Node 4 – $3960 for 500 Mh/s
Node 5 – $7700 for 1000 Mh/s
An annual "Nitro" fee of $495 can be paid to boost each of the above mining packages by 10% to 20% in power.
There's also a $890 service called "CryptInsider", which provides access to "chart analysis and tips from experts".
The Avalon Life Compensation Plan
The Avalon Life compensation plan primarily focuses on the acquisition of mining hashpower. Fiat currency commissions are paid via a 3×9 matrix and unilevel team.
Retail Commissions
Avalon Life affiliates receive 10% of purchased hash power by retail customers.
An Avalon Life affiliate can also receive 5% of purchased hash power by retail customers their own retail customers introduce to the company (the customer receives the other 5%).
This hash power bonus is added to the affiliates existing hash power balance.
There is no direct retail commission applied to Nitro and CryptInsider purchases, however commissions on these services are paid residually.
Residual Commissions (matrix)
Avalon Life take monthly affiliate fees and pay out commissions via a 3×8 matrix and unilevel compensation structure (see below).
A 3×8 matrix places an Avalon Life affiliate at the top of a matrix, with three positions directly under them: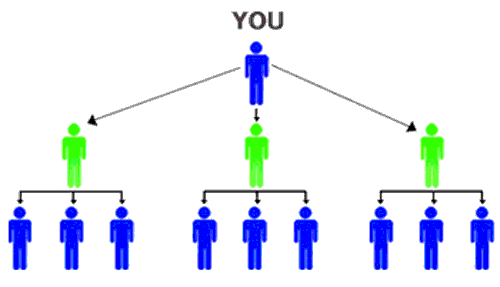 These three positions form the first level of the matrix. The second level of the matrix is generated by splitting these first three positions into another three positions each (9 positions).
Levels three to eight of the matrix are generated in the same manner, with each new level housing three times as many positions as the previous level.
Commissions are paid out as a percentage of sales volume generated by each membership payment (80 GV) as follows:
level 1 – 5%
levels 2 and 3 – 7%
levels 4 and 5 – 8%
level 6 – 10%
level 7 – 20%
level 8 – 35%
Residual Commissions (unilevel)
Avalon Life Take monthly affiliate fees and pay out commissions via a 3×8 matrix (see above) and unilevel compensation structure.
A unilevel compensation structure places an affiliate at the top of a unilevel team, with every personally recruited affiliate placed directly under them (level 1):

If any level 1 affiliates recruit new affiliates, they are placed on level 2 of the original affiliate's unilevel team.
If any level 2 affiliates recruit new affiliates, they are placed on level 3 and so on and so forth down a theoretical infinite number of levels.
Avalon Life cap payable unilevel levels at six, with commissions paid out as a percentage of affiliate fees paid as follows:
level 1 (personally recruited affiliates) – 5%
level 2 – 10%
level 3 – 15%
levels 4 and 5 – 20%
level 6 – 30%
Startup Training Bonus
Avalon Life have what they call "the first three steps", which is a video-based tutorial 'that explain the Avalon Life business structure and concepts in detail'.
There are three online tutorials, the completion of which generates a 50 GV bonus to the recruiting affiliate (paid out via the matrix and unilevel compensation structures).
If ten affiliates or more complete "the first three steps" training within a month, the GV bonus is doubled for that month.
Happy Hash Plan
The Happy Hash Plan rewards affiliates with 1 MHz in hashing power per mining package purchased by affiliates within 16 levels of their unilevel team.
To qualify for the Happy Hash Plan an Avalon Life affiliate must have purchased a Node 2 or higher plan and have recruited three affiliates or acquired five retail customers, each of which have purchased a mining package.
7 Day Run
If a newly recruited Avalon Life affiliate purchases a Node 2 or higher mining package within 7 days of signing up, they are rewarded with bonus hashpower as follows:
Node 2 – additional 5 Mhs
Node 3 – additional 15 Mhs
Node 4 – additional 50 Mhs
Node 5 – additional 100 Mhs
Joining Avalon Life
Avalon Life affiliate membership is $80 a month.
The Avalon Life compensation plan suggests affiliates must pay the $80 monthly fee 12 months in advance:
A monthly license fee of 80 CV (80 USD) payable 12 months in advance.
This would bring the effective initial cost of Avalon Life affiliate membership to $960.
Avalon Life affiliates receive 5000 Kh/s "X11 Mining" as long as their affiliate fees are paid up.
They also receive a 10% discount on purchased mining packages (includes Nitro on any purchased packages).
Conclusion
Although Avalon Life's current compensation is more palatable than the AVLX pump and dump altcoin scam, it's not without glaring regulatory compliance issues.
First and foremost is the unavoidable fact that Avalon Life are offering an investment opportunity.
Affiliates and retail customers sign up and deposit funds on the sole expectation that, over time, they will passively receive back more than they initially deposited.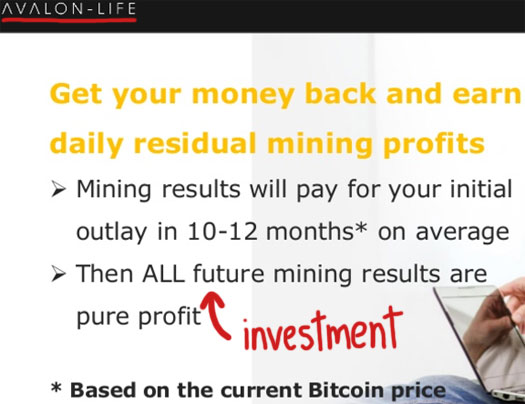 This is a securities offering and requires regulatory registration in any jurisdiction Avalon Life operate in.
There is no indication on the Avalon Life website that the company has registered with a securities regulator in any jurisdiction.
That appears to be because Avalon Life don't see their mining package as an investment. As per the company's website FAQ;
Is mining an investment?

No. Investments are regulated by government bodies set up by countries, which have to decide about the rightful content and their distribution.

Mining is a form of personal production of cryptocurrencies. Since results are subject to mining factors such as number of miners, electricity cost, and transaction fees on the Dash network, a stable forecast of results is not given.
"Stable forecast of results" or not, investing money on the promise of a ROI describes Avalon Life's mining packages – regardless of whether they wish to acknowledge it.
Second is the recycling of affiliate membership fees to pay recruitment commissions. In MLM this constitutes a pyramid scheme and Avalon Life fall foul of this universal regulatory compliance requirement.
With respect to the retail viability of Avalon Life's mining packages, clearly retail is not a priority for the company.
While a token effort has been made with retail customer hashpower referral bonuses, there's absolutely no information about Avalon Life's mining plans provided on their website.
Indeed retail customers aren't provided with any information until after they've signed up.
This is anti-consumer and wholly a discouragement of retail sales.
This is important, because without retail sales all Avalon Life is a closed-loop system of 100% (or close to) affiliate revenue.
Dash meanwhile is an altcoin that has increased in value considerably since January, 2017.
Whilst I don't doubt Avalon Life have mining facilities set up in Costa Rica and Switzerland, the secrecy surrounding the operations (and mining ROIs) leaves a question mark over what affiliates and retail customers can expect when they purchase mining packages.
For its part Avalon Life do state that the packages offer
indefinite mining duration, as long as the "mining" causes no losses for both sides (Avalon-Life S.A. and customer/license partner).
That seems to assert there are no losses (ROI guarantee?) but without specifics, or even an indication of how much of a ROI to expect, is impossible to quantify based on Avalon Life's representations alone.
All in all Avalon Life is better than what it originally launched with, but the secrecy and pyramid commissions leaves a big question mark over its legitimacy as an MLM opportunity.