Majesty Hash Pro Review: Collapsed Ponzi scheme reboot

A reader put in a request for a Majesty Hash review list month.
Shortly after, on or around July 25th, Majesty Hash collapsed and its website went down.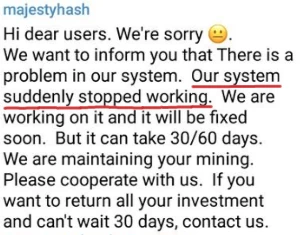 Majesty Hash affiliates were given the rather blunt exit-scam excuse of "our system suddenly stopped working".
Based on Alexa traffic estimates for Majesty Hash's now defunct website, the majority of victims are from India and Pakistan.
Since the collapse Majesty Hash has been stringing victims along on social media.
On Twitter, Majesty Hash is represented by a stock photo of a man's face photoshopped onto a stock suit image.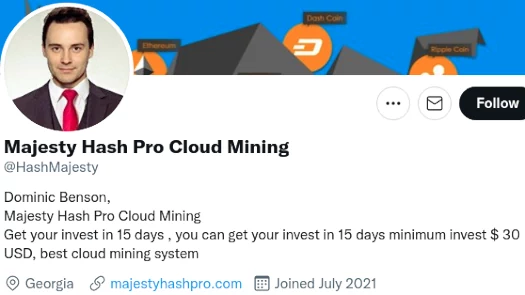 On July 28th Majesty Hash affiliates were told the company's
partner has been cheated with us and he stolen all BTC from my wallet.
On August 2nd Majesty Hash tried to con more money out of its victims with a recovery scam:

After stalling for a few weeks, earlier today Majesty Hash Pro was launched.
Majesty Hash Pro provides no verifiable information on its website about who owns or runs the company.
A selection of executives are provided, however these are fake names represented by obvious stock photos.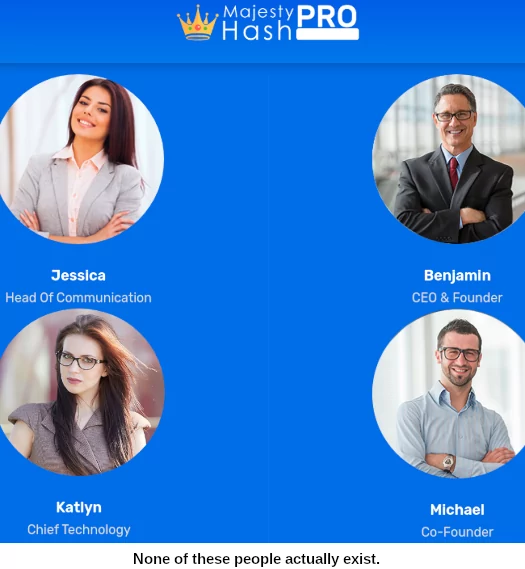 Majesty Hash Pro's website domain ("majestyhashpro.com") was privately registered on August 25th, 2021.
As always, if an MLM company is not openly upfront about who is running or owns it, think long and hard about joining and/or handing over any money.
Majesty Hash Pro's Products
Majesty Hash Pro has no retailable products or services.
Affiliates are only able to market Majesty Hash Pro affiliate membership itself.
Majesty Hash Pro's Compensation Plan
Majesty Hash Pro affiliates invest bitcoin on the promise of a 3.97% daily ROI.
Note that while the amounts below are quoted in USD, all payments within Majesty Hash Pro are made in bitcoin.
invest $30 to $1000 and receive a daily ROI for up to 60 days
invest $1000 to $10,000 and receive a daily ROI for up to 75 days
invest $10,000 to $100,000 and receive a daily ROI for up to 90 days
Majesty Hash Pro pays referral commissions on invested funds down three levels of recruitment (unilevel):
level 1 (personally recruited affiliates) – 6%
level 2 – 3%
level 3 – 1%
Joining Majesty Hash Pro
Majesty Hash Pro affiliate membership is free.
Full participation in the attached income opportunity however requires a minimum $30 investment in bitcoin.
Majesty Hash Pro Conclusion
Majesty Hash Pro represents it generates external revenue via "bitcoin mining".
No evidence of bitcoin mining taking place is provided.
That Majesty Hash Pro isn't using mining revenue (or any other external source of revenue) to pay withdrawals is evidence from Majesty Hash's collapse.
Putting aside the baloney about bitcoin being stolen, Majesty Hash collapsed when investment dried up. There never was any mining operations.
The same is true for Majesty Hash Pro.
Scammers copped a payday from gullible Majesty Hash investors. Now less than a month later they're looking to do it again.
As with all MLM Ponzi schemes, once affiliate recruitment dries up so too will invested funds.
This will starve Majesty Hash of ROI revenue, eventually prompting a collapse.
The math behind Ponzi schemes guarantees the majority of participants lose money.
For evidence of this one need look no further than all the Majesty Hash investors on Twitter crying about their losses.

Stop falling for this garbage.