Automated Matrix Review: 2×2 matrix bitcoin gifting

Automated Matrix provide no information about who owns or runs the business on their website.
The Automated Matrix website domain ("automatedmatrix.com") was privately registered on May 30th, 2017.
The official Automated Matrix Facebook group was created by Steve John less than 24 hours ago.
Steve John first popped up on BehindMLM's radar earlier this year as the admin of the 2×9 BitMax gifting scheme and BTC Madness Ponzi cycler.
Both company websites are still online today, although Alexa traffic estimates to both show a decline over the past few months.
The Steve John Facebook account has no content on it prior to December 2016 and is believed to be fake.
Back in March John announced he was starting a new downline feeder group called G.I.V.E. (Global Initiative Through Value & Experience).
Our aim is to choose best programs online, get in as a team & provide support 24×7 on all online income opportunities and make everyone grow along with us.
Read on for a full review of the Automated Matrix MLM opportunity.
Automated Matrix Products
Automated Matrix has no retailable products or services, with affiliates only able to market Automated Matrix affiliate membership itself.
Once signed up, Automated Matrix affiliates gift bitcoin to each other.
Bundled with each gifting payment are ad credits, which can be used to display advertising on the Automated Matrix website.
The Automated Matrix Compensation Plan
Automated Matrix affiliates gift bitcoin to each other via a 2×2 matrix.
A 2×2 matrix places an Automated Matrix affiliate at the top of a matrix, with two positions directly under them (level 1):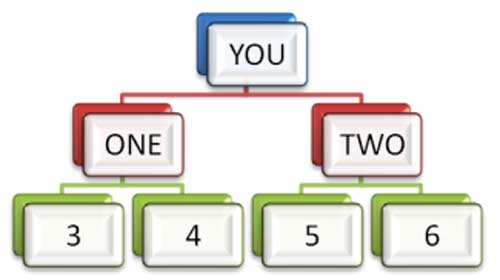 The second level of the matrix is generated by splitting these first two positions into another two positions each (4 positions).
An Automated Matrix affiliate signs up and gifts 0.1 BTC to the affiliate who recruited them. This payment in turn qualifies the affiliate to receive gifting payments from other Automated Matrix affiliates.
To begin receiving gifting payments, an Automated Matrix affiliate must recruit two new affiliates.
These affiliates both pay the recruiting affiliate 0.1 BTC each.
Thus the recruiting affiliate receives 0.02 BTC when the first level of their matrix is filled.
This 0.02 BTC is gifted into the scheme again, unlocking the second level of the matrix.
0.2 BTC in turn is then received from four affiliates placed into the second level of the matrix.
Joining Automated Matrix
Automated Matrix affiliate membership is tied to a 0.01 BTC gifting payment.
Conclusion
After widespread losses, the bitcoin gifting MLM underbelly niche has slowed over the past month. Thus it's unlikely Automated Matrix is going to gain any traction.
Still, that doesn't stop serial scammer Steve John and his G.I.V.E. group from trying.
Following on from 2×9 BitMax and BTC Madness, Automated Matrix is more of the same.
New affiliates sign up, gift funds to existing Automated Matrix affiliates and then proceed to receiving gifting payments from those recruited after them.
This business model is cash gifting, which guarantees that the majority of participants lose money to the few that start early.
This is realized when a gifting scheme collapses, which in MLM varieties occurs when affiliate recruitment dies down.
Being the third scheme Steve John has launched this year, Automated Matrix can be expected to collapse sooner rather than later.