AuBit Review: Freeway token "no risk" Ponzi scheme

AuBit operates in the cryptocurrency MLM niche.
The company is headed by two CEOs; Sadie Hutton and Graham Doggart. Mark Kearns works as AuBit's Chief Operation Officer.
Hutton, Doggart and Kearns co-founded Dynamic Abundance in 2012.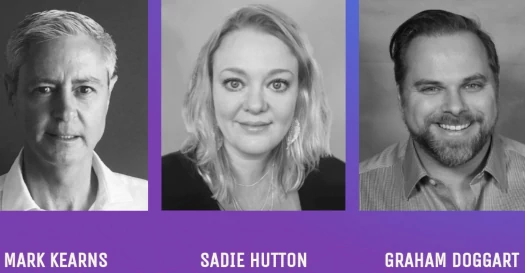 Dynamic Abundance claims to offer "fintech advisory" and "strategic services".
Although Dynamic Abundance's website is still up, the company appears to be defunct as of 2018.
As per their respective LinkedIn profiles, Kearns Hutton and Doggart are based out of Malta.
Malta is a scam-friendly jurisdiction with little to no active MLM regulation.
Despite its owners representing they are based out of Malta, Aubit provides a corporate address in Seychelles on its website.
Not withstanding Seychelles being another scam-friendly jurisdiction with little to no active MLM regulation, the provided address belongs to multiple businesses.
A third corporate address for AuBit International is provided on AuBit's website linked "legal document".
This is another virtual address in the Cayman Islands – yet another scam-friendly jurisdiction with no active MLM regulation.
The use of virtual addresses suggests AuBit exists, if at all, in Seychelles and the Cayman Islands in name only.
Interestingly enough AuBit's own LinkedIn profile states the company has been in operation since 2017. This aligns with AuBit's website domain, which was first registered in October, 2017.
Whatever AuBit's initial incarnation was, it appears to have collapsed.
In February 2021 Sadie Hutton published an article on Medium detailing AuBit's "relaunch".

This review is based on that relaunch offering.
Read on for a full review of AuBit's MLM opportunity.
AuBit's Products
AuBit has no retailable products or services.
Affiliates are only able to market AuBit affiliate membership itself.
AuBit's Compensation Plan

AuBit affiliates invest in the company's own Freeway token.
Once invested in, Freeway tokens are parked in AuBit on the promise of guaranteed annual returns.
AuBitised Bitcoin Supercharger – 33% annual ROI
AuBitised Ethereum SuperCharger – 20% annual ROI
AuBitised Binance Coin SuperCharger – 20% annual ROI
AuBitised USD Supercharger – 43% annual ROI
AuBitised Eurosmith Supercharger – 43% annual ROI
AuBitised Gold Supercharger – 20% annual ROI
AuBitised ADA Supercharger – 20% annual ROI
AuBitised DOT Supercharger – 20% annual ROI
AuBit also claims to offer non-supercharged investment plans. No specific details are provided.
Despite the names, AuBit's investment plans have nothing to do with their namesakes.
These base products simulate the performance of Bitcoin, Ethereum, and BNB respectively plus incremental growth in volume through AuBit revenue rewards.
AuBit arbitrarily determines ROI percentages.
Note that AuBit charges a "buy-in fee" on each investment but doesn't disclose the fee amount.
The MLM side of Aubit pays on funds invested by recruited affiliates.
Referral Commissions
AuBit pays a 10% referral commission on returns earned by personally recruited affiliates.
Referral commissions are paid in Freeway tokens.
Residual Commissions
AuBit's pays a 2.5% commission on returns earned by an affiliate's entire downline.
This downline is tracked via a unilevel compensation structure.
A unilevel compensation structure places an affiliate at the top of a unilevel team, with every personally recruited affiliate placed directly under them (level 1):

If any level 1 affiliates recruit new affiliates, they are placed on level 2 of the original affiliate's unilevel team.
If any level 2 affiliates recruit new affiliates, they are placed on level 3 and so on and so forth down a theoretical infinite number of levels.
AuBit's marketing states the 2.5% residual commission is paid on the "entire group".
Joining AuBit
AuBit affiliate membership appears to be free.
Minimum and maximum investment amounts, if any, are not provided.
Conclusion
AuBit is the culmination of years of failed blockchain bro project involvement by its founders.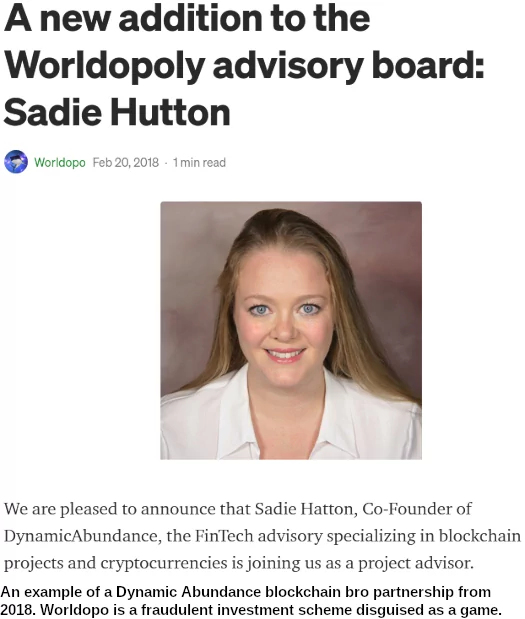 With Dynamic Abundance having run its course and gone nowhere, Sadie Hutton, Graham Doggart and Mark Kearns have launched their own "no risk" blockchain bro scheme.
The AuBit Freeway is a brand new asset management platform that provides a new route to the world's top investment products not previously available.

The platform rewards users with redistributed revenues for greater total returns with no additional risk.
In reality AuBit is your typical MLM crypto Ponzi scheme.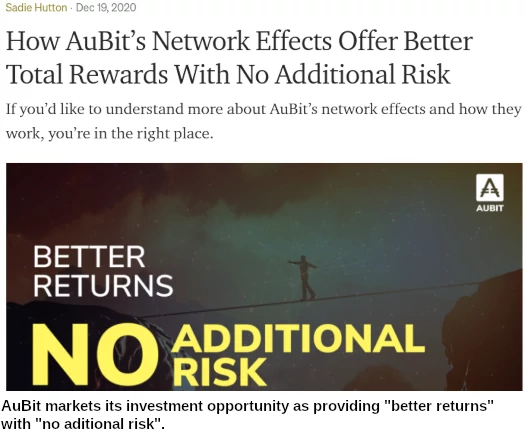 Aubit affiliates invest in investment plans through the company's own Freeway tokens.
Freeway token (FWT) was launched in late 2020 by AuBit. It is publicly tradeable but realistically holds no value outside of AuBit's investment scheme.
Said investment scheme sees affiliates park FWT with the company in various staking plans.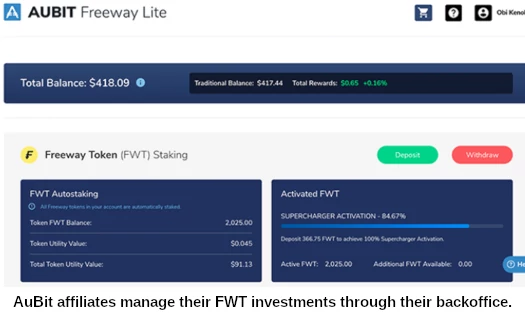 These plans, as detailed in the compensation section above, guarantee annual returns.
AuBit represents it generates external revenue through 'little-known but highly-powerful revenue and cash-flow generating sources.'
This is blockchain bro waffle for crypto trading, the ruse of choice adopted by MLM crypto Ponzi schemes.
AuBit's revenue comes from the trading of its own funding in quant-trading strategies.

Freeway has multiple revenue sources including fees, the quant-trading of its own funds, the growth of its own assets that grow on every trade, and more.
There is no evidence of AuBit trade being engaged in trading. Nor is there any verifiable evidence of AuBit using external revenue of any kind to pay affiliate withdrawals.
Being a passive investment opportunity, AuBit's scheme constitutes a securities offering.
This requires it to register with financial regulators in every jurisdiction is solicits investment in.
This legally required registration would also see AuBit file periodic audited financial reports.
These reports are the only way for consumers to verify AuBit isn't just recycling invested funds.
Both the choice to commit securities fraud and failing to provide audited financial reports lends itself to AuBit operating as a Ponzi scheme.
Aware that the US is the top regulator of securities fraud on the planet, up until recently AuBit was careful about openly soliciting investment from US residents.
On August 28th AuBit uploaded a video to YouTube titled "Freeway Lite US: OPEN NOW":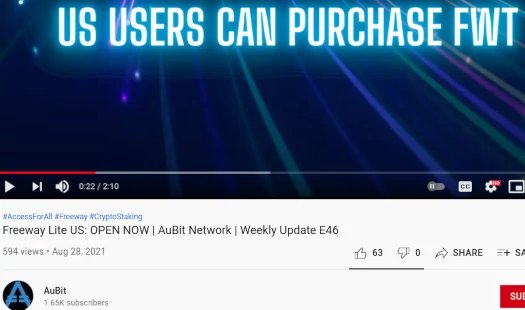 In the video Sadie Hutton reveals AuBit is now soliciting investment from US citizens and residents.
For some reason this is taking place on the secondary AuBit domain "freewaylite.us":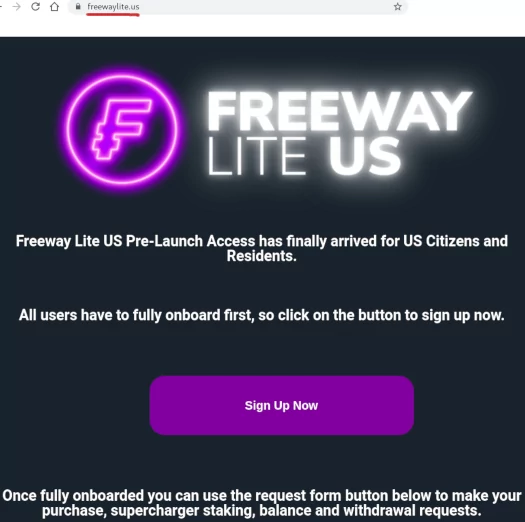 In the video Hutton goes on to touch on regulatory requirements;
[0:50] The timeline for access to Freeway Lite US has been affected by the most recent US legal advice.

Meaning there are significant additional requirements for the automated and freely accessible system, which include a dedicated US Telegram group and customer service team.
Just so we're clear, there is nothing about having to have a Telegram group or customer service in the Securities and Exchange Act.
If they were actually serious about satisfying regulatory requirements in the US, the first step is registering AuBit and its executives with the SEC.
A search of the SEC's public Edgar database reveals neither AuBit or its executives are registered with the SEC.
This means that in the US and everywhere else in the world, AuBit has and continues to commit securities fraud.
As with all MLM Ponzi schemes, once affiliate recruitment dries up so too will new invesmtent.
This will starve AuBit of ROI revenue, eventually prompting a collapse.
With respect to AuBit, the company states returns 'could be lowered at any time, or even removed entirely.'
That will be your first sign of a collapse, alongside withdrawal issues.
The math behind Ponzi schemes guarantees that when they collapse, the majority of participants lose money.
Update 9th January 2021 – Aubit has rebranded as Freeway.
Update 24th October 2022 – Freeway has collapsed.