Asia Formula Review: AsiaCoin Ponzi points

There is no information on the Asia Formula website indicating who owns or runs the business.
An address in Singapore is provided on the Asia Formula website, with further research revealing at least one virtual office space provider operating out of the same street address.
Whether or not Asia Formula has a physical presence at the supplied address is unclear.
The Asia Formula website domain meanwhile was registered on the 20th of November 2014. Lim Beng Hai is listed as the domain owner, with the same address provided on the Asia Formula website.
Possibly due to language barriers, I was unable to find any further information on this individual. As it stands, Lim Beng Hai's role within Asia Formula is unclear.
What I did find however was a number of recently set up websites, which appear to look set to support Asia Formula (likely as shell companies):
Bionics Global ("bionicsglobal.com") appears to be health and wellness related
SnB Garments ("snbgarments.com") looks like lingerie and
Esvara Global ("esvaraglobal.com") mentions "property investment" on the site
All three website domains were recently registered privately, with the sites uploaded to the domains currently little more than placeholders for a countdown timer.
Exactly how many of these satellite sites have been set up is unknown, with there being no mention of either Bionics Global, SnB Garments or Esvara Global on the Asia Formula website.
Ditto who's running the sites, why they were set up and their explicit relationship to Asia Formula.
As always, if an MLM company is not openly upfront about who is running or owns it, think long and hard about joining and/or handing over any money.
The Asia Formula Product Line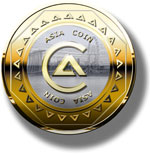 Asia Formula has no retailable products or services, with affiliates only able to market Asia Formula affiliate membership itself.
Once signed up, Asia Formula affiliates then invest in Asia Points, which are in turn converted into AsiaCoins.
As per the Asia Formula website:
Asia Coin grows in accordance to the growth of the company. You can redeem these points. These points are considered as good as money.
Asia Formula run an online mall over at "emarketplace.asia", through which Asia Formula affiliates can health & wellness and fashion items.
Whether or not the eCommerce platform accepts AsiaCoins is unclear, as prices quoted on the site are in dollars.
The Asia Formula Compensation Plan
The Asia Formula compensation plan sees affiliates invest up to $30,000 at a time. Invested funds are converted into points, which are given a value inside of Asia Formula.
Affiliates are also paid to recruit new affiliates into the company.
Asia Point Investment
Asia Formula affiliates are able to invest in Asia Points through six levels of investment as follows:
Bronze ($150) – 150 Asia Points
Silver ($500) – 500 Asia Points
Gold ($1000) – 1000 Asia Points
Platinum ($3000) – 3000 Asia Points
Diamond ($5000) – 5000 Asia Points
Crown ($10,000) – 10,000 Asia Points
VIP ($30,000) – 30,000 Asia Points
These points can then be converted into AsiaCoins, based on whatever the going price of the coins is at the time.
The price of 1 AsiaCoin is set by Asia Formula, with the current advertised price on the company's website quoting a 0.614 value. This is to say 0.614 Asia Points is equal to 1 AsiaCoin.
Various Asia Formula affiliate marketing presentations suggest that the price of Asia Formula is artificially inflated. According to one presentation, 'AsiaCoin price will always appreciate' and Asia Formula affiliates are 'not allowed to sell below the current price'.
The same presentation claims that AsiaCoins increase in value by $0.001 every time $10,000 is invested in the company.
Every so often, when Asia Formula feel the value of AsiaCoin has risen too much, they "split" the value of the coin. These splits artificially increase the number of AsiaCoins held by affiliates, whilst simultaneously reducing the value of a single AsiaCoin.
Recruitment Commissions (direct)
Asia Formula affiliates receive a direct commission each time they recruit a new affiliate.
How much of a commission is paid out is determined by how much the newly recruited affiliate invests, as well as how much they themselves invested:
a Bronze affiliate receives 7% of funds invested
a Silver affiliate receives 8% of funds invested
a Gold affiliate receives 9% of funds invested
a Platinum affiliate receives 10% of funds invested
Diamond and Crown affiliates receive 11% of funds invested
a VIP affiliate receives 12% of funds invested
Recruitment Commissions (residual)
Residual recruitment commissions in Asia Formula are paid out via a binary compensation structure.
A binary compensation structure places an affiliate at the top of two binary teams, left and right: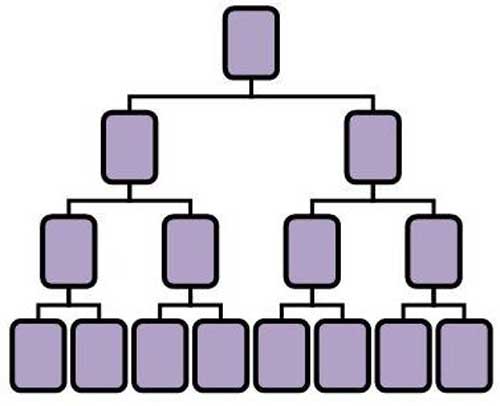 Positions in these binary teams are filled via direct and indirect recruitment of new affiliates, with a percentage commission paid on new funds invested in the weaker team.
This volume is matched against volume in the stronger team, with unmatched volume in the stronger team carrying over.
Binary commissions are calculated daily, with how much of a percentage paid out determined by how much an affiliate themselves has invested:
Bronze – 7% capped at $150 daily
Silver – 8% capped at $500 daily
Gold – 9% capped at $1000 daily
Platinum – 10% capped at $3000 daily
Diamond – 11% capped at $5000 daily
Crown – 12% capped at $10,000 daily
VIP – 15% capped at $30,000 daily
Leadership Bonus
The Leadership Bonus is a percentage bonus paid out on the earnings of recruited affiliates. It is available only to Asia Formula affiliates who have invested at the Gold or higher levels.
The bonus is paid out down ten levels of recruitment, with how many levels of recruitment an affiliate can earn on determined by how many affiliates they've recruited:
recruit 1 to 2 affiliates = 10% bonus down 2 levels of recruitment
recruit 3 to 4 affiliates = 10% bonus down 4 levels of recruitment
recruit 5 to 6 affiliates = 10% bonus down 6 levels of recruitment
recruit 7 affiliates = 10% bonus down 7 levels of recruitment
recruit 8 affiliates = 10% bonus down 8 levels of recruitment
recruit 9 affiliates = 10% bonus down 9 levels of recruitment
recruit 10 affiliates = 10% bonus down 10 levels of recruitment
Mandatory Reinvestment
30% of all commissions and bonuses paid to Asia Formula affiliates are paid out in Asia Points, which can only be converted into AsiaCoins.
Joining Asia Formula
Affiliate membership with Asia Formula is pegged to investment in Asia Points:
Bronze – $150
Silver – $500
Gold – $1000
Platinum – $3000
Diamond – $5000
Crown – $10,000
VIP – $30,000
Conclusion
As crowded as the MLM Ponzi points niche might currently seem, Asia Formula and their AsiaCoin are yet another entry into the space.
These guys are refreshingly a lot more blase about the Ponzi nature of the scheme, with the value of AsiaCoin openly advertised as being pegged to the rate of new investment into the scheme: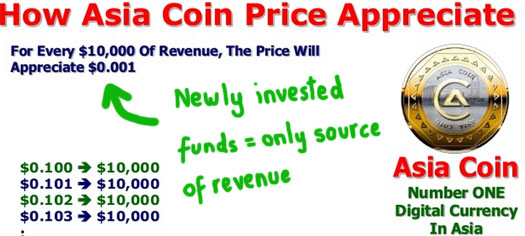 At the end of the day though Asia Formula and AsiaCoin are nothing we haven't seen before. It's the same old Zeek Rewards Points model, rehashed to operate as a pseudo-cryptocurrency.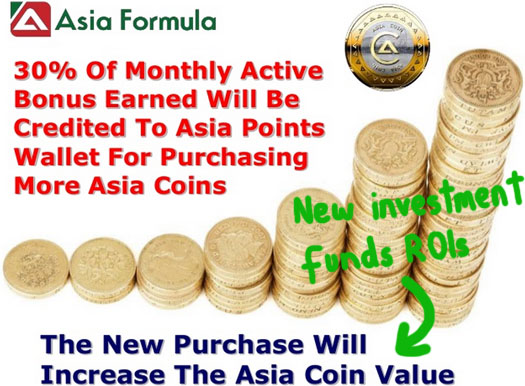 Blatant Ponzi fraud issues aside and as with all the other MLM cryptocurrencies, the problem with AsiaCoin is that nobody outside of Asia Formula is going to purchase them.
Again, aside from blatant Ponzi fraud issues, this is because the company itself is the sole issuer of Asia Points, which is always going to be more attractive than buying AsiaCoins outright.
This is due to the fact that Asia Formula artificially only ever increase the cost of AsiaCoins, over time creating disparity between funds invested in Asia Formula (the only thing backing the points) and the listed value of AsiaCoins themselves.
Leave alone the issue that real funds converted into points and then converted into coins is not how otherwise legitimate cryptocurrencies work, what Asia Formula affiliates will find when they wish to sell their AsiaCoins is that there are no buyers.
At present there's probably a mechanism in place where affiliates  can "sell" AsiaCoins back to Asia Formula at the going rate.
What happens is those who invested early and have large amounts of AsiaCoins raid the reserve over time with withdrawals. Then by the time a sizeable number of Asia Formula affiliates wish to do the same, everybody finds out there's no funds left to withdraw.
Such are the perils of investing with real money in points that hold imaginary value.
At that point Asia Formula collapses. Unfortunately due to the nature of the Ponzi points business model and encouragement of affiliates to keep reinvesting in Asia Coins (fear of loss should they cash out and miss out on the next artificially inflated price-hike), Ponzi points cryptocurrencies are particularly devastating on their victims.
In the end the outcome is always the same. Those who join earlier steal funds from later participants, who lose their money and are mathematically guaranteed to be the majority of investors.