AIM Global Review 3.0: Empowered Consumerism?

BehindMLM has published two reviews on Alliance in Motion Global (AIM Global).
Our initial review was published in 2013. We found a Philippine MLM company operating as a product-based pyramid scheme.
You know the deal; sign up as an affiliate, commit to a monthly spend and recruit others who do the same.
In our second AIM Global review, published in 2018, we revisited the company due to compensation changes.
While there were compensation changes, Alliance in Motion Global was still operating as a product-based pyramid scheme.
Although the payouts have slightly changed, Alliance in Motion Global is still very much a recruitment driven MLM opportunity.

Retail is a joke, as evidenced by Alliance in Motion still not fixing their website product page after five years.
A few months ago a reader got in touch to request a review of AIM Global's latest marketing campaign; Empowered Consumerism.
Apparently the AIM Global company name was toxic, prompting rebranding of the MLM opportunity.
When AIM Global came up for review two months ago, I noted website errors that I was hoping would be fixed.
They haven't, so we're pressing ahead with the review anyway.
Read on for a 2021 updated review of Alliance in Motion Global.
The Company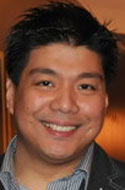 Alliance in Motion Global is still based in the Philippines.
The company is owned and run by CEO Eduardo Cabantog (right).
Other than the Empowered Consumerism branding introduced in early 2020, there hasn't really been any significant corporate changes since our last review.
AIM Global Products
There are two options provided in the "products" menu of AIM Global's website; AIM E-Store and Naturacentials.
Here's what the AIM E-Store looks like: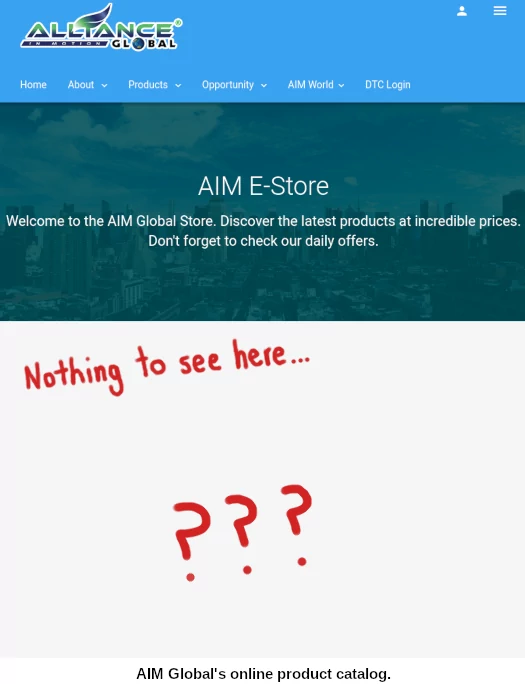 And here's what happens when you click Naturacentials:
Conclusion: AIM Global has no retailable products or services.
AIM Global's Compensation Plan
Alliance in Motion Global do not provide current compensation plan details on their website.
The only compensation information provided is an out of date video from 2018.
The following analysis is what I was able to put together from various "Empowered Consumerism" marketing presentations.
AIM Global is still paying commissions on affiliate purchases. These commissions are paid out via a unilevel and binary team.
The unilevel compensation is named "uni pay plan" and appears to pay on up to twenty unilevel team levels.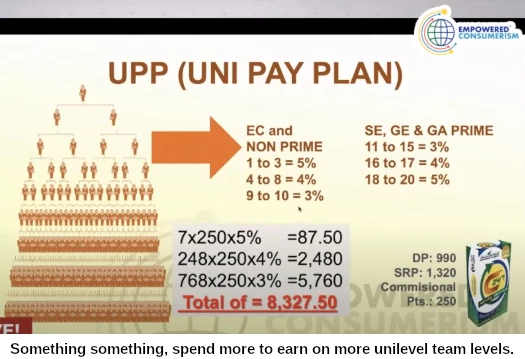 How many unilevel team levels an AIM Global affiliate earns on appears to be tied to how much they spend each month.
Residual binary team commissions appear intact as previously reviewed: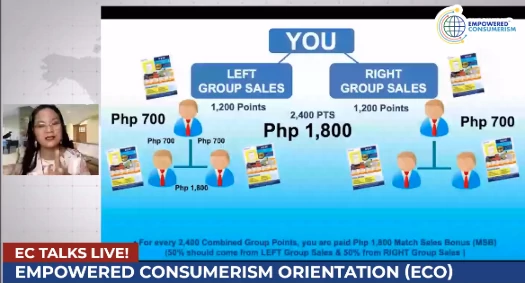 The Empowered Consumerism addition to the compensation plan appears to be a ten-level deep unilevel team.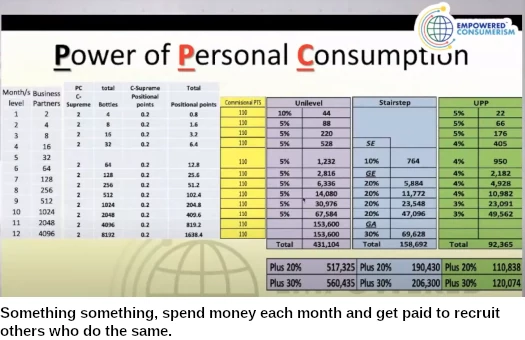 When an AIM Global affiliate is recruited and purchases products, the Empowered Consumerism unilevel team pays 10% on level 1 and 5% on the other nine levels.
These percentages are calculated based off of affiliate purchase volume generated across the unilevel team.
There's also a "Stairstep Bonus", that pays volume percentages to ranked Silver Executive (10%), Gold Executive (20%) and Global Ambassador (30%) ranked affiliates.
This again is volume generated by recruited affiliate purchases.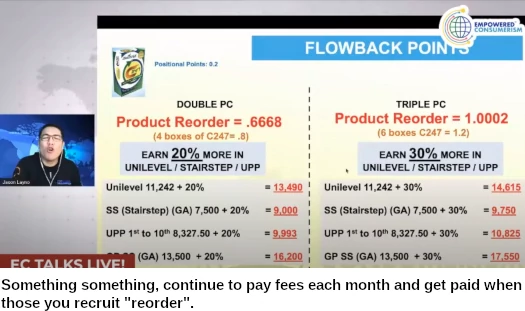 There might be other bonuses in AIM Global's compensation plan but I'm going to cut it short there.
Trying to further make heads or tails of AIM Global's unnecessarily complicated marketing slides is doing my head in.
Joining AIM Global
Here's what the Empowered Consumerism affiliate package page on AIM Global's website looks like: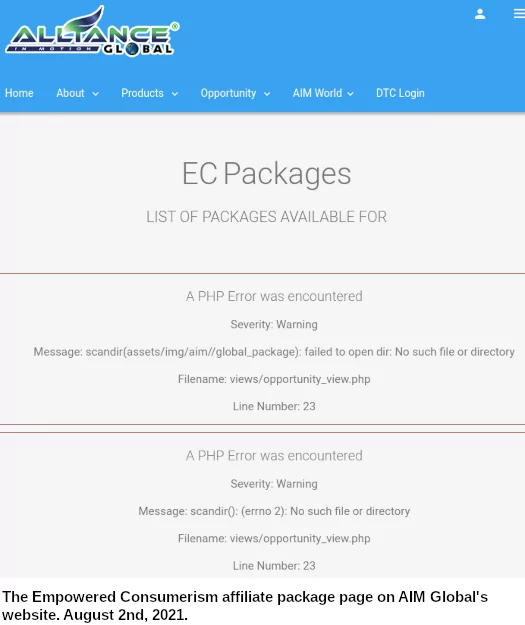 AIM Global Conclusion
If Empowered Consumerism was an attempt to relaunch AIM Global in the Philippines, it failed miserably.
AIM Global as an MLM opportunity is a confusing mess. It's the worst I've seen it since our original 2013 review.
Retail has never been a focus in AIM Global and it still isn't. AIM Global's broken website leads me to believe the only thing keeping the company alive is offline recruitment.
Alexa traffic analysis for AIM Global's website suggests that is primarily happening in India (35% of traffic).
Alexa doesn't cite any other country as a significant source of AIM Global website traffic.
The take-away is AIM Global collapsing in the Philippines.
Someone managed to recruit some Indians and they're spreading it. But when that inevitably collapses it's back to square one (what likely prompted the Empowered Consumerism reboot in the first place).
Last year a BehindMLM readers wrote in to share AIM Global was being pitched across Africa (namely Ghana and Nigeria). That doesn't appear to have gone anywhere.
Regardless of where it's being promoted; AIM Global is a pyramid scheme.
They've added another unilevel team, changed some terminology but it's still the same fraudulent business model:
Sign up as an affiliate, buy products and get paid to recruit others who do the same.
The problem with this business model is products are being purchased to qualify for commissions.
The argument from affiliates that they actually want the products, or that they provide value falls flat, owing to there being no retail focus within the model.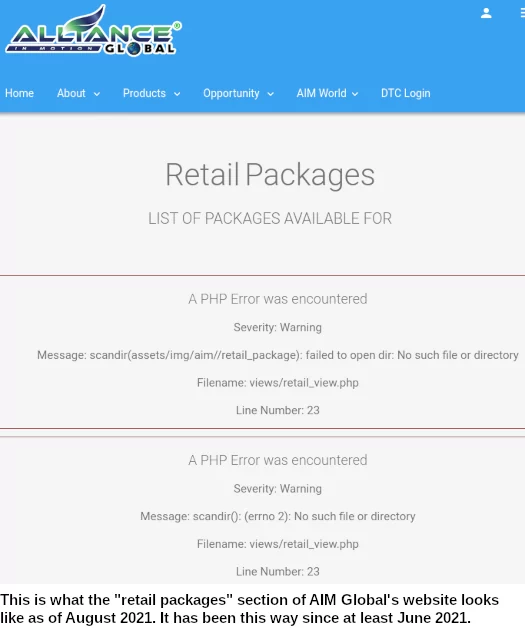 If AIM Global's products were worth a damn outside of the pyramid scheme, it never would have collapsed in the Philippines.
As with the Philippines, promotion of AIM Global elsewhere will inevitably result in the majority of participants lose money.
In simple-terms this is non-recovery of monthly spend, compounded into larger losses each month.
To summarize;
a broken website
no retail
abandoned in its home country
collapsed everywhere else except India
no attempt to address glaring compliance issues over fifteen years
I'm not usually this harsh in our formal reviews but there really isn't anything to salvage here. Avoid AIM Global altogether.
Update 4th August 2021 – As I learned after the fact, the reason AIM Global looks abandoned is because they went full hog on their Empowered Consumerism branding.
That too is failing and so now AIM Global is again rebooting with OrbiXVictus branding.