Advert-Force Review: $10 revenue-sharing & matrix cycler

There is no information on the Advert-Force website indicating who owns or runs the business.
The Advert-Force website domain ("advert-force.com") was registered on the 21st of August 2014, however the domain registration is set to private.
One particular question in the Advert-Force FAQ stood out to me, as it is answered in Russian:
What is the minimum withdrawal?

Минимальная сумма для вывода $1.
This suggests that whoever is running Advert-Force is based out of Russia.
As always, if a MLM company is not openly upfront about who is running or owns it, think long and hard about joining and/or handing over any money.
The Advert-Force Product Line
Advert-Force has no retailable products or services, with affiliates only able to market affiliate membership to the company itself.
Once signed up, Advert-Force affiliates are able to purchase a number of advertising options from the company. This service is used to display advertising on the Advert-Force website and to Advert-Force affiliates.
The offered advertising service are external to the Advert-Force MLM compensation plan.
The Advert-Force Compensation Plan
The Advert-Force compensation plan sees affiliates invest in $10 revenue-sharing and matrix positions.
$10 buys an affiliate one revenue-sharing and matrix position.
The revenue-sharing position pays out an advertised $15 ROI.
The matrix position is placed at the top of a 2×2 matrix, with two positions directly under it (level 1):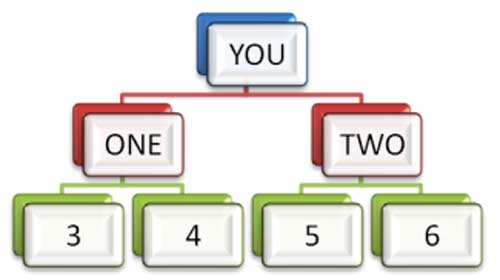 The second position of the matrix is created when the first two positions split out into two new positions each. This results in a total of six positions needing to be filled before a commission is paid out.
Position in the matrix are filled via the purchase of $10 positions, either by the affiliate themselves or those they or their upline and downline recruit.
Once all six positions in a matrix are filled, Advert-Force pays the affiliate $5.50.
Referral commissions are paid on $10 investments made by recruited affiliates, payable down ten levels of recruitment as follows:
level 1 (personal recruits) – 50 cents
level 2 – 20 cents
levels 3 to 10 – 10 cents
All Advert-Force affiliates are charged a $5 participation fee, payable every 90 days.
This fee is commissionable, serving as a recruitment incentive for Advert-Force affiliates.
Commissions paid out on the 90-day Advert-Force affiliate fee are as follows:
level 1 (personal recruits) – $2.50
level 2 – $1
levels 3 to 5 – $0.50
The Advert-Force compensation plan material also mentions "a leader bonus, matching bonuses, Jackpot and paid to click" bonus, however no further information is provided.
Joining Advert-Force
Affiliate membership with Advert-Force is $5, payable every 90 days (3 months).
A minimum $10 investment is required to participate in the Advert-Force compensation plan, bringing the total minimum cost of Advert-Force affiliate membership to $15.
Conclusion
The advertising side of Advert-Force serves as smoke and mirrors for the transfer of newly invested affiliate funds to existing investors.
That Advert-Force affiliates can purchase advertising is not up for debate, only that the service exists to prop up what is otherwise a blatant Ponzi investment scheme.
As per Advert-Force's Terms and Conditions:
All purchases are NONREFUNDABLE. We share the revenue from your purchase with all members, so we cannot afford to offer refunds.
Advert-Force affiliates invest $10 on the promise of a total $20.50 ROI, payable through a combination of revenue-sharing and 2×2 matrix cycler.
Both of those mechanisms see new affiliate funds used to pay off existing investors, with bonuses thrown in for the recruitment of new affiliates and encouraging them to also invest.
As with all Ponzi schemes, once new investment dries up Advert-Force will find itself unable to meet its ROI obligations. This will first manifest itself with the ROI shared out via revenue-sharing dwindling towards $0.
When that happens, one can expect the matrix cyclers to also stall.
At this point, anyone with funds still trapped in the system loses out.