Advduo Review: 4×5 matrix cryptocurrency gifting scheme

Advduo claim to be part of Duo Business Limited, an "advertising and marketing management company".
Duo Business Limited is owned by Samuel Sullivan an enthusiastic online marketer and an entrepreneur who has a lot of experience in managing marketing solutions.
No specific information about Sullivan is provided. There is also no third-party information linking Sullivan to either Advduo or Duo Business Limited.
Duo Business Limited was incorporated in the UK on July 17th, 2017. Samuel Director is listed as the sole Director of the company.
An address in London is provided, however this appears to belong to a supermarket.
It is unlikely Samuel Sullivan, as represented by Advduo and Duo Business Limited, actually exists.
As always, if an MLM company is not openly upfront about who is running or owns it, think long and hard about joining and/or handing over any money.
Advduo Products
Advduo has no retailable products or services, with affiliates only able to market Advduo affiliate membership itself.
Once signed up, Advduo affiliates deposit a minimum of $5 to participate in the attached MLM opportunity.
Bundled with each deposit are ad credits, which can be used to display advertising on the Advduo website.
The Advduo Compensation Plan
Advduo affiliates gift funds to each other via a 4×5 matrix.
A 4×5 matrix places an affiliate at the top of a matrix, with five positions directly under them: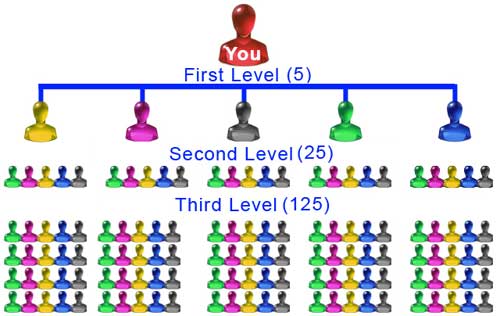 These five positions form the first level of the matrix. The second level of the matrix is generated by splitting these first five positions into another five positions each (25 positions).
Levels three and four of the matrix are generated in the same manner and house 125 and 625 positions respectively.
Each level of the Advduo matrix operates as an independent gifting tier, requiring a gifting payment be made before gifting payments are received.
Payments are received from newly recruited Advduo affiliates on the first level and existing affiliates on levels two to four.
Gifting amounts paid and received on all four Advduo matrix levels are as follows:
level 1 – gift $5 and receive $5 from five subsequently recruited affiliates
level 2 – gift $10 and receive $10 from twenty-five affiliates
level 3 – gift $75 and receive $75 from one hundred and twenty-five affiliates
level 4 – gift $450 and receive $450 from six hundred and twenty-five affiliates
Joining Advduo
Advduo affiliate membership is free, however affiliates must deposit at least $5 to participate in the attached income opportunity.
Full participation in Advduo costs $540.
Conclusion
Without even getting into the business model, your first red flag with Advduo is the company comparing itself to ZarFund and CrazeBTC:

ZarFund and CrazeBTC are gifting scams launched in 2016. ZarFund has been in decline for months and CrazeBTC collapsed back in April.
Advduo references ZarFund and CrazeBTC as "leading websites" within the MLM gifting niche, which inadvertently gives the game away.
And if that wasn't obvious enough, Advduo's business model is just a rehash of the cliched matrix-based gifting model.
New affiliates sign up, gift funds to existing Advduo affiliates and then proceed to steal money from those who join after them.
Or as Advduo put it:
You spend: $5

You receive: $290120
As with all gifting scams, once affiliate recruitment drops off so too will payments within Advduo.
This will eventually prompt a collapse, resulting in the majority of Advduo affiliates losing money.