AdGainBucks Review: $5 to $20 ad-credit Ponzi investment

AdGainBucks recently launched and operate in the ad-credit MLM niche.
The company provides no contact details on its website, however it does name Gennaro Avitabile as a major shareholder, Director and CEO.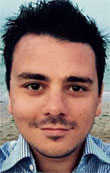 Avitabile (right) claims to be originally from Italy, but has "lived several years in United Kingdom". The UK is presumably where AdGainBucks is being operated from.
Possibly due to language barriers, I was unable to source an MLM history on Avitabile.
Avitabile does mention however that he didn't want AdGainBucks to be 'a cheap copycat like most of the revenue share company out there'. This suggests some familiarity with the MLM revenue sharing niche, which is typically populated with Ponzi schemes.
Read on for a full review of the AdGainBucks MLM business opportunity.
The AdGainBucks Product Line
AdGainBucks has no retailable products or services, with affiliates only able to market AdGainBucks affiliate membership itself.
Once signed up, affiliates can invest and participate in the AdGainBucks MLM income opportunity.
Bundled with each investment are a series of advertising credits, which can be used to display advertising on the AdGainBucks website.
The AdGainBucks Compensation Plan
The AdGainBucks compensation plan sees affiliates invest in three offered packages:
Silver Package – $5
Golden Package – $10
Diamond Package – $20
Affiliates must purchase 100 Silver Packages before they can purchase Golden Packages, and then 100 Golden Packages before they can purchase Diamond Packages.
Each package comes with an advertised ROI, paid out as follows:
Silver Package – 117% ROI over 15 days
Golden Package – 125% ROI over 32 days
Diamond Package – 136% ROI over 70 days
Residual commissions are also available on recruited affiliate investment, paid out down three levels of recruitment (unilevel):
level 1 (personally recruited affiliates) – 5%
level 2 – 3%
level 3 – 2%
Affiliates can also earn fractions of a cent are paid out on clicks of ads displayed on the AdGainBucks website. What with payouts so low however, they're not really worth getting into.
Joining AdGainBucks
AdGainBucks affiliate is membership is free, however free affiliates can only earn recruitment commissions.
Full participation in the AdGainBucks income opportunity requires investment in either a Silver ($5), Golden ($10) or Diamond Package ($20).
Conclusion
We are a rev-share that shares 90% of its profit.

It's very important that you understand that a rev-share company shares its profits and doesn't generate any profit outside from the platform.
The above, taken from the AdGainBucks website, spells out a Ponzi scheme.
This is backed by the AdGainBucks compensation plan, which pays affiliates an advertised ROI. As per AdGainBucks' statement above, that ROI is sourced from newly invested funds. This defines AdGainBucks as a Ponzi scheme.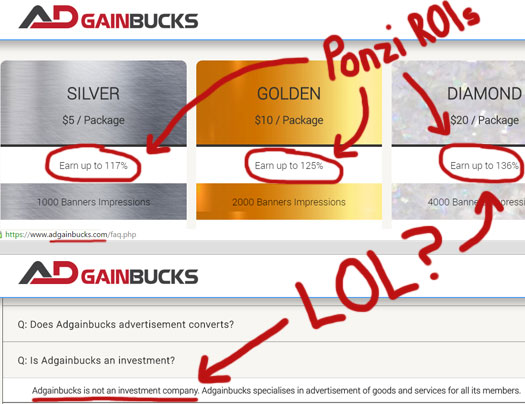 The recruitment commissions offered add an additional pyramid layer to the scheme, with constant new recruitment required to prevent AdGainBucks from collapsing.
Or as AdGainBucks put it, "a community that keeps buying packages."
Mathematically Ponzi schemes guarantee that the majority of participants lose money. AdGainBucks is no different, with the inevitable collapse leaving most investors out of pocket.