Ace Daily Profits Review: AI grift crypto Ponzi

Ace Daily Profits fails to provide ownership or executive information on its website.
Ace Daily Profits' website domain ("acedailyprofits.com"), was privately registered on June 12th, 2021.
Ace Daily Profits' official FaceBook page was renamed from "Cameron Erving Fans" in February 2022. This is assumed to be on or around the time Ace Daily Profits launched.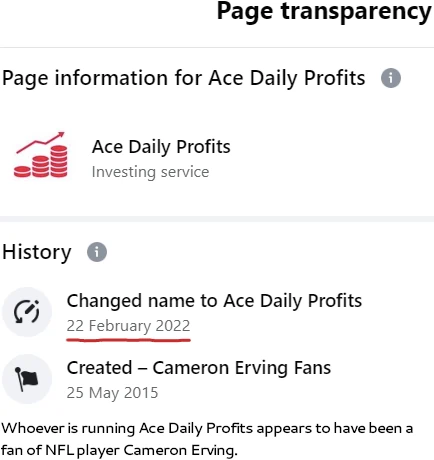 Cameron Erving is an NFL player. While not definitive, this suggests whoever is running Ace Daily Profits has ties to the US.
In an attempt to appear legitimate, Ace Daily Profits provides a corporate address in Delaware on its website. Incorporation details for Ace 14 Holdings LLC is also provided.
The provided corporate address is a random office block in Delaware. Ace 14 Holdings LLC is a shell company, also incorporate in Delaware.
Due to the ease with which scammers are able to incorporate shell companies with bogus details, for the purpose of MLM due-diligence shell incorporation in any jurisdiction is meaningless.
Over on Ace Daily Profits' unlinked official YouTube channel, we learn "Gary Wyatt" is purportedly founder of the company.
WELCOME TO ACE DAILY PROFITS MESSAGE FROM THE FOUNDER, GARY WYATT
Other than a LinkedIn profile filled with bogus information, Wyatt doesn't appear to exist outside of Ace Daily Profits' marketing.
Further supporting Wyatt not existing is Ace Daily Profits originally being run by fictional executives, represented by stolen profile photos: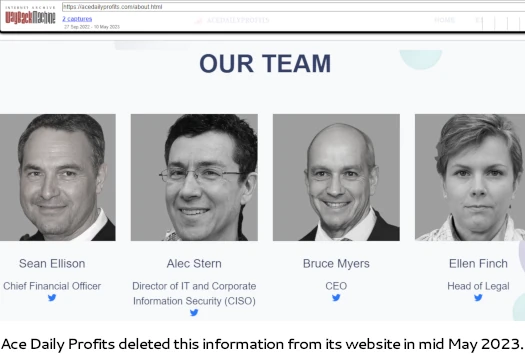 Whoever is running Ace Daily Profits also created fake Twitter profiles for the fictional executives: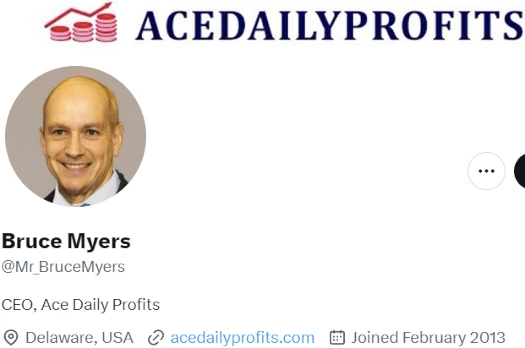 Ace Daily Profits' fictional executives were deleted from its website in May 2023.
As always, if an MLM company is not openly upfront about who is running or owns it, think long and hard about joining and/or handing over any money.
Ace Daily Profits' Products
Ace Daily Profits has no retailable products or services.
Affiliates are only able to market Ace Daily Profits affiliate membership itself.
Ace Daily Profits' Compensation Plan
Ace Daily Profits affiliates invest $50 or more worth of cryptocurrency. This is done on the promise of on the promise of a 1% a day passive return.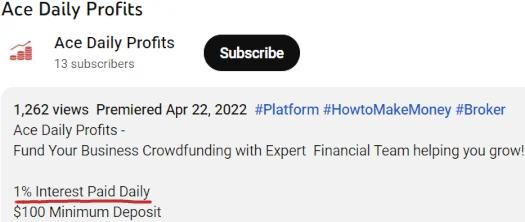 Note that the $100 minimum investment amount appears to have been reduced to $50 as per Ace Daily Profits' website.
Also note to qualify for a daily return, affiliates need to recruit ten affiliates who have also invested.
Business owners are required to refer a minimum of 10 active investors to the Ace Daily Profits' platform before fund raising begins.
Ace Daily Profits pays a referral commission on invested cryptocurrency down two levels of recruitment (unilevel):
level 1 (personally recruited affiliates) – 10%
level 2 – 5%
Joining Ace Daily Profits
Ace Daily Profits affiliate membership is free.
Full participation in the attached income opportunity requires a minimum $50 investment.
Ace Daily Profits solicits investment in various cryptocurrencies.
Ace Daily Profits Conclusion
Ace Daily Profits represents it generates external revenue via investment in third-party companies.
We invest in stocks of successful companies to yield mouthwatering profits. Companies in markets like Real Estate, Pharmaceuticals, Biotech, Agriculture, Artificial Intelligence, Gold, Blockchain and ESG can hardly go wrong and this guarantees safety of everyone's investment.

Once in a while we use extra profits made to trade the cryptocurrency market, invest in penny stocks and other high yield investments.

This helps as a backup investment to guarantee our investors 1% daily ROI on all our investment portfolios.
On its website, Ace Daily Profits misappropriates a bunch of well-known company logos and pretends they are part of its "investment portfolio".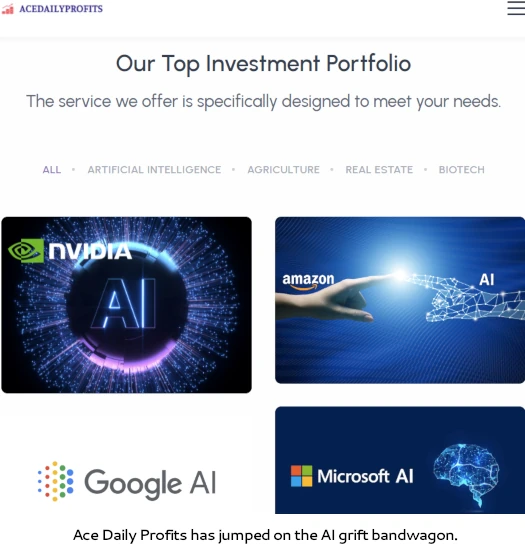 Shattering Ace Daily Profits' Ponzi ruse is simple.
The company offers a passive investment opportunity and represents it is based out of the US.
Signup, login to your dashboard, create a deposit and start earning automatically.
Offering securities from within the US requires registration with the SEC.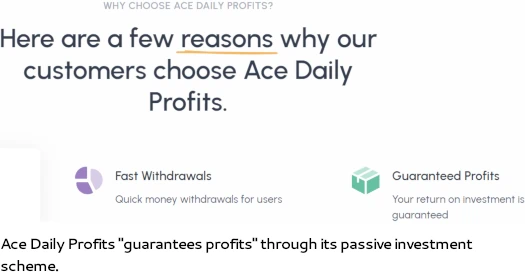 Ace Daily Profits is not registered with the SEC, meaning the company is committing securities fraud.
Securities fraud and Ponzi schemes go hand in hand.
As it stands, the only verifiable source of revenue entering Ace Daily Profits is new investment.
Using new investment to pay affiliate investors a 1% a day ROI makes Ace Daily Profits a Ponzi scheme.
As with all MLM Ponzi schemes, once affiliate recruitment dries up so too will new investment.
This will starve Ace Daily Profits of ROI revenue, eventually prompting a collapse.
Math guarantees that when a Ponzi scheme collapses, the majority of investors lose money.
A July 2022 Ace Daily Profits press-release suggests its exit-scam might be through "ADP Token".
Roadmap

1. Promoting the Ace Daily Profits platform until we have 500,000 registered investors

2. Release of ADP Token – All registered investors of the company would receive free airdrop of the coin

ADP Token would be available to trade on exchanges worldwide to increase the value

ADP Token would be available on staking platforms.
Although it doesn't exist yet, take the introduction of ADP token as a sign Ace Daily Profits is about to collapse.
Alternative, Ace Daily Profits could just go the traditional "withdrawals disabled" and/or "website gone" route.