BrixTrades Review: Binary options trading Ponzi scheme

BrixTrades provides no information on its website about who owns or runs the business.
The BrixTrades website domain ("brixtrades.com") was privately registered on November 4th, 2018.
A "sectional address" on BrixTrades website appears on a number of other websites; StockFX Pro, Apex Trade 247 and TradeOption 247.
These companies all use the same website template (Trade Option 247 is slightly varied), and are all investment related.
Website traffic to these websites is non-existent, suggesting each company has either yet to launch or already collapsed.
Further research reveals Denis Derkash promoting BrixTrades on his Instagram account.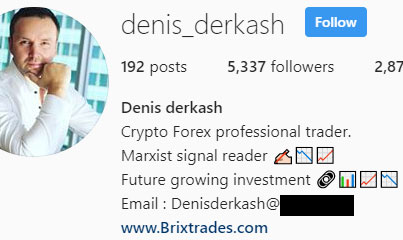 As far as I can tell, this is the only public promotion of BrixTrades that exists.
Persual of Derkash's social media profiles reveals that alongside BrixTrades, he is also involved in the BitClub Network Ponzi scheme.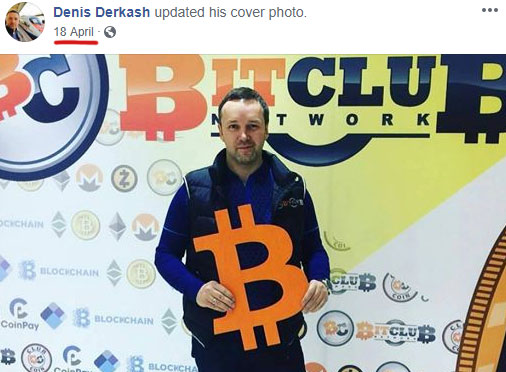 According to Derkash's Facebook profile, he's based out Chicago in the US.
I also found an "Edward C Baker" promoting BrixTrades on Instagram.

Outside of that account though I couldn't find any further information.
As always, if an MLM company is not openly upfront about who is running or owns it, think long and hard about joining and/or handing over any money.
BrixTrades Products
BrixTrades has no retailable products or services, with affiliates only able to market BrixTrades affiliate membership itself.
The BrixTrades Compensation Plan
BrixTrades affiliates invest funds on the promise of an advertised daily ROI:
Starter – invest $100 to $999 and receive a 50% daily ROI share
Bronze – invest $1000 to $2499 and receive a 70% daily ROI share
SIlver – invest $2500 to $4999 and receive a 100% daily ROI share
invest $5000 to $9999 and receive a 120% daily ROI share
VIP – invest $10,000 or more and receive a 120% daily ROI share
The daily ROI share is purportedly a percentage of revenue generated by an automated binary options bot.
BrixTrades claims to pay $50 per investing affiliate recruited, as well as ongoing "revenue base" commissions.
Details of revenue base commissions are not provided.
Joining BrixTrades
BrixTrades affiliate membership is tied to a minimum $100 investment.
Conclusion
BrixTrades claims to be 'a regulated Binary Options trading company offering multiple trading solutions to the Binaries community.'
No details of where BrixTrades has registered its passive investment opportunity are provided.
What I can confirm is neither BrixTrades, Denis Derkash or Edward C Baker are registered with the SEC.
This means that in the US at least, BrixTrades is an illegal unregistered securities offering.
This leads into whether or not BrixTrades actually has a binary options bot.
Our team of investment experts manage all the funds.
Surely if they were able to generate returns consistent enough to fund an MLM opportunity, BrixTrades would just run the bot and keep the profit.
Why share generated revenue with randoms over the internet (across multiple websites) for as little as $100 a pop?
Secondary red flags are the bogus testimonials featured on BrixTrades website (fake names, stock/stolen profile photos), and this amusing claim:
We won the 1st place in the customer satisfaction award for 3 years in a row. We are known for our diligence when it comes to quality and service.
BrixTrades won a customer satisfaction award three years in a row, when it's only existed for eight months?
Riiiiiiiiiiiiight.
As it stands the only verifiable source of revenue entering BrixTrades is new investment.
Using new investment to pay existing investors a daily ROI would make BrixTrade a Ponzi scheme.
As with all Ponzi schemes, once investor recruitment slows down so too will invested funds.
This will starve BrixTrades of return revenue, eventually prompting a collapse.
The math behind Ponzi schemes guarantees that when they collapse, the majority of investors lose money.