R2B Coin securities fraud emergency cease and desist issued in Texas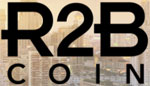 Texas continues to lead US regulation against MLM cryptocurrency fraud, with the latest an emergency cease and desist filed against R2B Coin.
Filed on January 24th, Texas' cease and desist cites R2B Coin as having a last known address in Hong Kong.
R2B Coin principals are identified as David Wu and Eddie Lo, with the Texas Securities Board pointing out that
the photograph used to depict Eddie Lo is the same photograph used to depict an individual named George Curry elsewhere on the R2B Coin website.
On the R2B Coin website, the company claims to be 'managed by Williams Corporation Limited, an entity purportedly domiciled in Hong Kong and Dubai'.
Williams Corporation Limited is represented as being a "licensed global firm", a "licensed and brokered" firm and a "licensed securities dealer".
These representations not withstanding, Williams Corporation has not been registered with the State Securities Board or with the Financial Industry Regulatory Authority … at any time material hereto.
Neither R2B Coin or its affiliates are registered to offer securities in Texas (or anywhere in the US) either.
BehindMLM recently reviewed R2B Coin and concluded it was yet another MLM ICO lending Ponzi scheme.
For those unfamiliar with the model, affiliates invest in points (R2B points in this instance), which are issued by the owners of the company.
The points are generated for little to no money and sold off in exchange for real money (typically bitcoin or another cryptocurrency).
It is represented that the points will increase in value, thus constituting a securities offering.
An internal investigation by the Securities Board revealed R2B Coin is being pitched to Texas residents via "USA conference calls".
The Securities Board is accusing R2B Coin of fraud, specifically in connection with
failing to disclose its assets, liabilities and other financial information necessary for investors to assess the risks associated with purchasing r2b coins (ie. proof of external ROI revenue generation)
failing to disclose the identity and qualification of its principals
not disclosing the basis R2B Coin uses to set the price of r2b coin
not disclosing the risk that any cryptocurrency exchanges or buyers and sellers on the free market may later set a price that is different from the price set by R2B Coin
R2B Coin is touting the safety of r2b coin, in part by recognizing that bitcoin, ethereum and litecoin "are constantly going up and (d)own in value" but that r2b coin,
if you study the history, only goes one way, and that's up.

We're only going up. We never go down in value.
The Securities Board alleges R2B Coin's statements "are misleading or otherwise likely to deceive the public".
A number of other representations R2B Coin has made in relation to their r2b coin offering are classified deceptive and materially misleading.
Ultimately the Securities Board conlcudes "investments in r2b coins are securities" and accuses R2B Coin of "violating the Texas Securities Act".
R2B Coin is engaging in fraud in connection with the offer for sale of securities.

R2B Coin is making offers containing statements that are materially misleading or otherwise likely to deceive the public.

It is therefore ordered that R2B Coin immediately cease and desist from offering for sale any security in Texas until the security is registered.
R2B Coin has thirty-one days to respond to the cease and desist, after which the order becomes "final and non-appealable".
R2B Coin and its affiliates who continue to promote and operate in Texas run the risk of a $5000 fine and two years imprisonment.
Following similar emergency cease and desist orders, USI-Tech and BitConnect shut down in the US.
With the US the primary source of investment for both companies, BitConnect promptly collapsed. USI-Tech is believed to be limping along by using funds invested by US and Canadian affiliates to prop up ROI withdrawals.
Despite failing to respond to its own Texas cease and desist, a few days ago USI-Tech management vowed to defy regulators and reopen in the US.
In the wake of BitConnect's collapsed, Davor has emerged as the prominent ICO lending Ponzi.
After pumping to $147, DAV dropped to below $40. It has been hovering around $50 for the last few days.
As I write this Alexa peg the US as the largest source of traffic to the Davor website (20%).
I imagine it won't be long before we see US regulatory action taken against the company.
In the meantime the Texas Securities Board seem pretty clued up on things, with federal action hopefully not too far behind.