2×4 Club Review: Four tier bitcoin-based cash gifting

There is no information on the 2×4 Club website indicating who owns or runs the business.
The 2×4 Club website domain ("2x4club.com") was registered on the 11th of October 2016, however the domain registration is set to private.
Alexa currently estimates that India is the largest source of traffic to the 2×4 Club website (30%). This strongly suggests that the admin(s) running 2×4 Club are also based out India.
Update 27th November 2016 – BehindMLM's The Dollar Sharing review has revealed Krzysztof Tymoteusz is the owner of 3×2 Core. /end update
As always, if an MLM company is not openly upfront about who is running or owns it, think long and hard about joining and/or handing over any money.
The 2×4 Club Product Line
2×4 Club has no retailable products or services, with affiliates only able to market 2×4 Club affiliate membership itself.
The 2×4 Club Compensation Plan
The 2×4 Club compensation plan sees affiliates gift funds to existing 2×4 Club affiliates.
These gifting payments are tracked through a 2×4 matrix.
A 2×4 matrix places an affiliate at the top of a matrix, with two positions directly under them: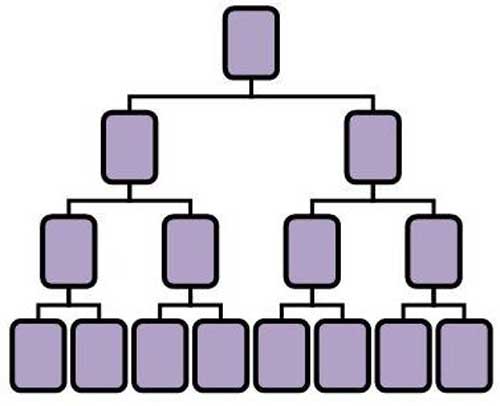 These initial two positions form the first level of the matrix. The second level of the matrix is generated by splitting each of the two positions into another two positions each (4 positions).
The third and fourth levels of the matrix are generated in the same manner, housing 8 and 16 positions respectively.
A complete 2×4 matrix houses a total of 30 positions.
A 2×4 Club affiliate signs up and gifts 0.1 BTC a month to the affiliate who recruited them.
This payment then qualifies them to receive monthly gifting payments from subsequently recruited 2×4 Club affiliates as follows:
level 1 – gift 0.1 BTC to the affiliate who recruited you and receive 0.1 BTC from two subsequently recruited affiliates
level 2 – gift 0.15 BTC and receive 0.15 BTC from four affiliates
level 3 – gift 0.5 BTC and receive 0.5 BTC from eight affiliates
level 4 – gift 1 BTC and receive 1 BTC from sixteen affiliates
Note that the above payments (both received and paid) are all monthly recurring.
Joining 2×4 Club
2×4 Club affiliate membership is tied to a minimum monthly gifting payment of 0.1 BTC.
Full participation in the 2×4 Club MLM opportunity costs 1.75 BTC a month.
Conclusion
2x4Club is a donation exchange platform where members voluntarily give donations and receive donations on monthly. 2x4Club is a Person to Person, Direct Funding and Donation Sharing Platform.
A donation, in the truest sense of the word, cannot be attached to an income opportunity.
Masquerading as a donation platform, 2×4 Club is a simple four-tier bitcoin cash gifting scheme.
You sign up as a new 2×4 Club affiliate, gift 0.1 BTC to the affiliate who recruited you and receive 0.1 BTC from two subsequently recruited affiliates.
The rest of the 2×4 Club compensation plan is just increasingly larger amounts of funds gifted in and received.
Through its four tiers, the net sum of the 2×4 Club compensation plan sees the majority of funds paid in stored in early positions.
These positions will be the first two reach the third and fourth matrix tiers, wherein they collect funds deposited in from the lower matrix tiers.
It goes without saying that the anonymous 2×4 Club admin(s) will have preloaded the company-wide matrix to the hilt.
This ensures that they and perhaps a few friends receive the lion's share of deposited in, leaving the majority of 2×4 Club affiliates with a loss.
That loss will be triggered when 2×4 Club collapses, which will inevitably happen once recruitment of new 2×4 Club affiliates slows down.
2×4 Club's use of bitcoin will also serve to maximize affiliate losses, with recovery chances being slim to none.