2by2 For You Review: $75-$2500 four-tier matrix cycler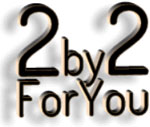 Identified as CEO and owner of the company on the 2by2 For You website is Doc Lett.
Doc Lett, Owner and CEO,  has been part of the Referral Marketing Industry since he was in college.

While working a minimum wage job during college, he was introduced to network marketing and soon found his passion.

He discovered that anyone with a desire to create their own path, could make a substantial income by referring others to opportunities.
Lett, real name Ken or Kenneth Lett first appeared on BehindMLM as the CEO and Founder of Phase 4 Global.
Phase 4 Global launched back in mid 2012 and saw affiliate pay $110 to enter a four-tier matrix cycler. Commissions were paid out as subsequent affiliates were recruited and also purchased matrix positions.
Phase 4 Global still appears to have been active early to mid last year, however Alexa traffic estimates reveal the opportunity has since collapsed.
Two years before Phase 4 Global, Lett launched Freeway to Success. Freeway to Success was another recruitment-driven opportunity similarly having collapsed before Lett went on to launch Phase 4 Global.
Now with Phase 4 Global all but over, we have 2by2 For You.
Read on for a full review of the 2by2 For You MLM business opportunity.
The 2by2 For You Product Line
2by2 For You has no retailable products or services, with affiliates only able to market 2by2 For You affiliate membership itself.
Once signed up, affiliates can then purchase $75 to $2500 matrix cycler positions and participate in the 2by2 For You income opportunity.
Bundled with these matrix position purchases is 'access to Savings Unlimited Travel Cards, Prescription Card and Direct Sales Products'.
The 2by2 For You Compensation Plan
The 2by2 For You compensation plan sees affiliates purchase positions in four 2×2 matrix cyclers.
A 2×2 matrix places an affiliate at the top of the matrix with two positions directly under them: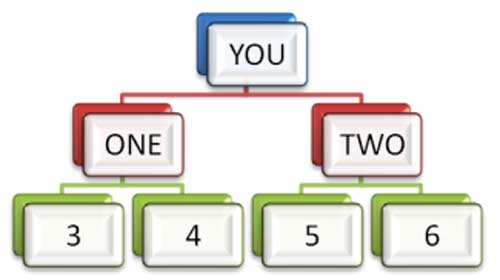 These two positions form the first level of the matrix, with the second level generated by splitting each of the two positions on level one into two.
This creates four positions on level 2 and six total positions in the matrix.
Commissions are paid out as positions in the matrix are filled, with how much of a commission paid out determined by what matrix tier a 2by2 For You affiliate has bought in at:
$75 matrix = $180 commission and re-entry into a new $75 matrix
$180 matrix = $480 commission and re-entry into a new $180 matrix
$500 matrix = $1000 commission and re-entry into a new $500 matrix
$2500 matrix = $6000 commission and re-entry into a new $2500 matrix
Joining 2by2 For You
Affiliate membership with 2by2 For You is $20 annually, plus the cost of any matrix positions purchased ($75 to $2500 each).
Conclusion
As with Ken Lett's previous schemes, 2by2 For You is yet another matrix-based recruitment scheme.
Affiliates buy in for between $75 and $2500, with commissions paid once a set number of new positions have been purchased.
If you want to get technical 2by2 For You operates as a Ponzi scheme, with investments of $75 to $2500 paying out $180 to $6000 initial ROIs.
Subsequent ROIs are paid without any new investment into the scheme on behalf of the investor, escalating the inevitable collapse once recruitment of new affiliates slows down and subsequently new investment dries up.
As to the random mish-mash of products and services attached to the purchase of 2by2 For You matrix positions, they are neither here nor there as it is investment in the positions themselves that generates commissions.
Furthermore there is no retail activity within the opportunity itself, resulting in 100% of the commissions paid out sourced from new and existing 2by2 For You affiliates.
Six years in and Lett is still out there scamming people, with schemes that closely follow the two year shelf-life rule of Ponzi fraud.
2by2 For You is likely to be stacked with those who got in early with Phase 4 Global and those who joined just before it collapsed. They'll be looking to you to fund their commissions, leaving you hoping for another opportunity launch to recoup your losses when the time comes.