Zeek Receiver sues Kevin Grimes for "legal malpractice"

Yesterday saw the Zeek Rewards Receivership file a request for permission to "file separate actions against" two of Zeek's attorneys.
Explaining the request, the Receiver wrote
After careful analysis of RVG's written and electronic records, extensive document review and numerous interviews with relevant witnesses, the Receiver has concluded that two attorneys hired by RVG (and their related entities) caused significant damages to RVG by their negligent and other wrongful conduct.
The order was granted on the same day in a North Carolina District Court, after which the Receiver went on to file his actions.
Named as defendants in the actions are attorneys Kevin Grimes and Howard Kaplan and their respective law firms.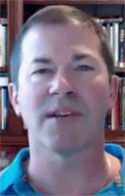 Kevin Grimes (right) is a well-known MLM attorney who runs the law firm Grimes & Reese.
From his "MLM Law" website:
As in-house counsel to the direct sales company Melaleuca, Inc., we learned the unique challenges faced by sales organizations utilizing multilevel marketing and party plan distribution channels.

We also determined that there was strong demand for a law firm that combined comprehensive, hands-on industry experience with a dedication to exceptional client service.

With this in mind, in 1996 we established Grimes & Reese to provide legal services to direct sellers, and were fortunate to quickly establish ourselves as the premier law firm servicing the direct sales industry.

Our experience as in-house counsel for Melaleuca, one of the most successful companies in direct sales. This gives you not just unmatched expertise in direct sales law, but an understanding of the nuances of its application that can affect your day-to-day operations.
Pertaining to that "expertise", the Receiver writes in his lawsuit
From January 2011 until August 2012, RVG operated a massive Ponzi and pyramid scheme through ZeekRewards, an internet based so-called "MLM" (multi-level marketing) program.

Kevin D. Grimes served as legal counsel to RVG from around January 2012 until August 2012, when RVG was placed into receivership.

By virtue of his knowledge of RVG and ZeekRewards and his legal expertise, Grimes knew or should have known that RVG was perpetrating an unlawful scheme which involved a pyramid scheme, an unregistered investment contract and/or a Ponzi scheme.

Despite this knowledge, Grimes actively encouraged investors to participate in the scheme by creating a so-called "compliance" program that provided a false façade of legality and legitimacy and knowingly allowed his name to be used to promote the scheme.

Grimes knew or should have known that insufficient income from the penny auction business was being made to pay the daily "profit share" promised by
ZeekRewards.

Grimes knew or should have known that the money used to fund ZeekRewards' distributions to Affiliates came almost entirely from new participants rather than income from the Zeekler penny auctions.

Further, Grimes knew or should have known that the alleged "profit percentage" was nothing more than a number made up by Burks or one of the other Insiders.

Rather than reflecting the typical variances that might be expected in a company's profits, the alleged profits paid in ZeekRewards were remarkably consistent, falling nearly always between 1% and 2% on Monday through Thursday and between .5% and 1% on the weekends, Friday through Sunday.

With RVG's and Grimes' knowledge, Affiliates regularly and openly touted the consistent payments in their recruiting of new participants.

For example, one leading Affiliate's email footer said:

"It has been going like clockwork for over 220 days, 7 days per week."…. "EVERYONE. . .GETS. . .PAID. . .FIRST. . .DAY!" . . . This works every time with just one minute per day!

If you're not getting paid every single day for 1 minute of work, . . . [sic] why not?" . . . "100 percent of our active members are paid daily 100 percent of the time within their first 24 hours without any referrals."

This fake consistency should have, at a minimum, caused reasonably diligent legal counsel to inquire further about the validity of the alleged profits.

Indeed, the program publicly advertised historical average returns of 1.4% per day, which no legitimate investment could accomplish.

But, Grimes deliberately turned a blind eye to these incredible claims and chose not to seek further information.

It was or should have been obvious to Grimes that ZeekRewards succeeded because it promoted this lucrative "compensation plan," offering large amounts of passive income to entice individuals to participate in the scheme.

Grimes knew that participants in the ZeekRewards scheme invested money in the scheme expecting that they would receive profits from the Zeekler penny auction or other Zeek efforts.

Thus, Grimes knew or should have known that RVG, with his assistance, was promoting an unlawful unregistered security.

Finally, Grimes knew or should have known that the ZeekRewards compensation plan was paying Affiliates to recruit other Affiliates in an unlawful pyramid-style payment system.

The Matrix pyramid was initially a "2×21" matrix in which Affiliates made multi-level marketing commissions for 21 levels down in their "organization." Later, ZeekRewards used a "2×5 forced-fill matrix".

To get bonuses through the Matrix, Affiliates just had to (1) enroll in a monthly subscription plan requiring payments of $10, $50, or $99 per month; and (2) recruit at least two other "Preferred Customers" (i.e., investors who also enrolled in a monthly subscription plan).

Once qualified, Affiliates earned bonuses and commissions for every paid subscription within their "downline" pyramid, whether or not they
personally recruited everyone within the matrix.

Simply put, Grimes knew or should have known that affiliates were rewarded merely for recruiting new investors without regard to any efforts by the Affiliates to sell bids or products or otherwise materially support the Zeekler retail business.
The Receivership could have just left it at that, letting Grimes' obvious gross-negligence speak for itself – but he continues on, completely eviscerating Kevin Grimes' professional conduct as an MLM attorney:
Grimes & Reese, P.L.L.C. and Kevin Grimes played an indispensable role in the scheme. Because of the lucrative, seemingly "too good to be true" claims being made by RVG and ZeekRewards, many potential investors were skeptical of whether the scheme was legal and legitimate.

So, RVG enlisted the aid of Grimes and other legal counsel to assist in promoting and legitimizing the scheme.

Grimes helped in several ways. First, despite his knowledge that ZeekRewards was a fundamentally flawed and unlawful pyramid and/or Ponzi scheme and was selling unregistered securities, Grimes offered to create and did create a so-called  "compliance course" specifically designed to encourage investors and potential investors to believe that if they satisfied the course then it would be a lawful enterprise.

Thus, Grimes knowingly allowed Zeek to portray a false appearance of legality through his bogus "compliance" course.
Bogus? Ouch.
Listed as clients on the Grimes & Reece website are MLM companies that include  Herbalife, FreeLife and Usana among others. Whether or not these companies have engaged and/or used Grimes' "bogus compliance course" however, and to what extent, is unclear.
Fraudulently contributing to the idea that the Zeek Rewards Ponzi scheme was legitimate via a "bogus" compliance course, here's where Grimes' gets nailed for being greedy:
Grimes profited personally from the compliance courses while allowing ZeekRewards yet another source of investor money. Upon information and belief, Grimes received payments from ZeekRewards not only for his legal counsel, but also for sales of his compliance course to Affiliates.

Upon information and belief, Grimes provided the compliance course to ZeekRewards for $5 per affiliate, while allowing ZeekRewards to charge affiliates $30 each for the course, personally profiting from it and allowing RVG yet another means of extracting money from unsuspecting Affiliates.
The Receiver also nails Grimes for gross-negligence. In a display of sickening collusion, the Receivership provides proof that Grimes had suspicions Zeek Rewards was fraudulent as early as February of 2012:
Very early in his representation of RVG, Grimes knew or should have known that ZeekRewards was an unlawful program that might change its terminology and surface appearance but would not change in substance.

Upon reviewing a beta version of Grimes' compliance course, Wright-Olivares wrote to Grimes on January 22, 2012:

"Seems we have you telling people to run from us in the RPP (Retail Profit Pool – where we share up to 50% of our daily net with the field). Let's discuss that tomorrow.

We can change our terminology but if you are actually warning people off of Zeek in the content – then we can't have that can we? :)"

Soon thereafter, in a February 2012 email, Grimes wrote to another RVG advisor:

"ZeekRewards is a very new, but rather large and fast growing client[].

I am still in the process of getting my arms around its program, but I have some SERIOUS concerns that it very likely meets the definition of an "investment contract."

It may have other issues as well, but I'm still reviewing their documents."
Yet despite these initial concerns, Grimes, in his capacity as an MLM attorney and compliance advisor to Zeek Rewards, did nothing. He continued to permit Zeek Rewards to use his name and compliance course to promote their $850 million Ponzi scheme.
In June of 2012, mere months before the SEC shut down Zeek, Grimes received at least one email from a concerned affiliate. When asked how they might confirm Zeek wasn't a Ponzi scheme, and despite his own evident initial concerns about Zeek's business model, Grimes didn't bat an eyelid.
One affiliate who had completed Grimes' compliance course wrote to him on June 8, 2012:

"I have completed your compliance course with Zeek and really loved it. I am a great advocate of Zeek and have signed up 31 people whom I feel responsible for.

. . . One of my downline is asking questions . . . there is a tremendous amount of income going into Zeek and he is concerned the profit share is coming from the new affiliates – which would make it a ponzi scheme.

Can you direct me as to what is the best way to confirm this is not a ponzi scheme[?]"

This email apparently gave Grimes no concern. He forwarded it to Dawn Wright-Olivares stating:

"Do you want me to forward these types of communications to you or anyone else, or would you prefer that I simply discard them?

I get several of these each week."
Grimes was receiving several emails from concerned investors each week, asking for his guidance in a professional capacity, and rather than act on their concenrs, some of which he apparently initially shared, he wanted to simply "discard" them.
And this from an MLM compliance attorney? What a disgrace.
Here's what happens when professional who should know better put dollar signs ahead of their ethics:
Nonetheless, Grimes took advantage of the situation, creating and marketing a compliance training course as window dressing for this illegitimate scheme,
allowing the course to be sold to the Affiliates for his own profit.

Also, beyond his "compliance courses," Grimes further enhanced the legitimacy of the scheme by allowing his name and reputation as a self-styled legal expert on MLM and direct selling programs to be used in connection with the promotion of the program.

For example, on January 21, 2012, Dawn Wright-Olivares forwarded to Grimes an email from one of Zeek's Affiliate leaders commenting upon Grimes' reputation:

"Actually, most of my more 'refined' marketers commented 'if this guy works with Zeek, we are in great hands and this company could stay around for years.' … praying for that for all of us."

Also, Grimes appeared on ZeekRewards "leadership calls" with Dawn Wright-Olivares on three separate occasions, promoting ZeekRewards to Affiliate leaders
and furthering the false impression that the scheme was legitimate.

And, Grimes knew these Affiliates were relying on his implicit endorsement of the program. In an email to Dawn and Paul, Grimes wrote:

"Because of my involvement in your conference calls, as well as the announcements on ZeekRewards News, quite a few of your affiliates and prospective affiliates have been attempting to contact me via email or phone.

Most of the inquiries have been about the legality of ZeekRewards' program."
Whether Grimes "discarded" these inquires or actually addressed them is unclear, but from the communication it's clear he wasn't forwarding them to Zeek to deal with.
In addition, Grimes edited and allowed his name to be used in a ZeekRewards promotional article that states, ". . . we knew we needed to be on top of it and way out in front – so we hired Kevin Grimes of Grimes & Reese . . . ."

Grimes also edited and allowed his name to be used in a ZeekRewards promotional article in the Network Marketing Business Journal, which upon information and belief was distributed to tens of thousands of Affiliates and prospective Affiliates.

As that article states: "Zeek hired . . . the leading direct sales law firm of Grimes & Reese as compliance attorneys."
In summary, the Zeek Receiver concludes
Grimes continued representing RVG and billing it for his services until at least August 16, 2012, the day before ZeekRewards was shut down.

Grimes' improper and negligent actions, which breached his fiduciary duties to RVG and assisted RVG's Insiders to breach their fiduciary duties, caused significant damage to RVG. Grimes is liable to RVG both for those damages and the profits he made from RVG.
For his efforts to willingly turn a blind-eye to, facilitate and indirectly promote the $850 million Ponzi scheme Zeek Rewards, the Receiver is suing Kevin Grimes for
legal malpractice
legal negligence
breach of fiduciary duty
aiding and abetting breach of fiduciary duty (by Zeek Rewards) and
benefiting from "unjust enrichment" (profiting)
Of note is that Kevin Grimes has thus far failed to pay back any of the money he made through Zeek, with the Receiver claiming
the Defendants have unjustly failed to repay RVG for their profit and the excessive benefits they received.
Meanwhile damages caused to Zeek Rewards by Kevin Grimes and his law firm are pegged at 'an amount in excess of $100 million'. The Receiver asks the court to
1. Enter Judgment against each of the Defendants jointly and severally for the losses suffered by RVG and the Defendants' unjust enrichment in an amount to be determined at trial.

2. Award the Receiver just and reasonable attorney fees, subject to Court approval, which are justified in light of the costs to the Receivership Estate in bringing this action.

3. Award prejudgment and post-judgment interest, costs and such other and further relief as the Receiver is entitled to recover.
The other attorney named in the Receiver's two lawsuits is tax attorney Howard N. Kaplan (see article on his separate lawsuit here), who was hired by Zeek Rewards to provide financial advice to the company and its affiliate investors.
Finally, it's worth noting that the Receiver informs the court that
this lawsuit is one of several steps the Receiver is taking pursuant to his court-ordered duties to the Receivership Estate to recover damages for the harms incurred by RVG.
From this, one can safely expect more lawsuits to be filed against the Zeek Rewards "you should have known better" professional collective. Gerry Nehra in particular must be shitting bricks.
[16:37] That's when we initially contacted Gerry Nehra. Nehra had done some legal research for me in the past with "Free Store Club" years ago.

Seven of our key players in Zeek Rewards had a relationship with him and wanted to get him involved, cuz he's, he's probably the number one MLM lawyer in the world.

Just having him on retainer and having him on our team, it goes a long way from keeping anybody from launching an attack. Because generally when Gerry Nehra is involved, the Feds know that he's cleaned up the act really well.
Stay tuned…
Footnote: Our thanks to Don@ASDUpdates for providing a copy of the Zeek Receiver's lawsuit.
Update August 7th 2014 – An amended complaint filed by the Receivership has revealed that Zeek Rewards paid Grimes $843,000.