Trudy Gilmond receives securities ban from SEC

The SEC's interest in pursuing Trudy Gilmond has come to an end, following acceptance of a tendered settlement offer.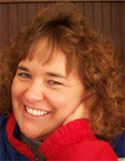 As per the accepted offer, Gilmond (right) is
1. barred from association with any broker, dealer, investment adviser, municipal securities dealer, municipal advisor, transfer agent, or nationally recognized statistical rating organization; and

2. barred from participating in any offering of a penny stock, including: acting as a promoter, finder, consultant, agent or other person who engages in activities with a broker, dealer or issuer for purposes of the issuance or trading in any penny stock, or inducing or attempting to induce the purchase or sale of any penny stock.
Having stolen over $1.7 million dollars from Zeek Rewards victims, Trudy Gilmond was one of the top net-winners in the Ponzi scheme.
The SEC sued Gilmond as an individual defendant in December, 2015.
In June 2017 the SEC obtained a $2.07 million final judgment order.