SEC granted default judgement against Trudy Gilmond

Trudy Gilmond's theft of over $2 million dollars from Zeek Rewards victims saw the SEC file legal action against her in 2015.
The case progressed throughout 2015 and in early 2016 Judge Mullen scheduled a trial for September, 2017.
Not much has happened since then, prompting the SEC to file for a suspension of the current trial schedule.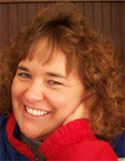 The SEC's January 27th filing claims that Gilmond (right) has consistently failed to participate in scheduled proceedings.
On February 16, 2016, Gilmond filed an Amended Answer at the request of undersigned counsel.

After answering the Complaint, however, Gilmond declined to participate further in this litigation.

She made no initial disclosures, as required by Rule 26 of the Federal Rules of Civil Procedure, nor did she respond to written discovery served by the SEC.

On September 28, 2016 the SEC served Gilmond with a notice of deposition for November 7, 2016.

Gilmond failed to appear.

Gilmond's refusal to participate in discovery has prevented the Commission from completing fact discovery, understanding her defenses, and preparing an expert report.
The court scheduled deadlines for the above span January 31st, 2017 to April 30th, 2017.
When he scheduled Gilmond's trial, Judge emphatically remarked that 'failure to comply with this deadline WILL result in sanctions.'
On March 8th, those sanctions manifested themselves by way of a court order directing Gilmond to 'show cause as to why default judgment should not be entered in favor of the SEC for her refusal to participate in discovery in this case'.
A deadline of March 20th was set, which uneventfully came and went.
By March 23rd, Judge Mullen had had enough and granted the SEC default judgement against Gilmond.
The Court entered an Order on March 8, 2017 directing Defendant Gilmond to show cause within ten days why default judgment should not be entered in favor of the SEC for her refusal to participate in discovery in this case.

Defendant Gilmond has failed to respond to the Court's Order.
The facts leading up to the order, as per Judge Mullen, are as follows:
Gilmond was one of the most successful and prolific promoters of ZeekRewards.

From at least September 2011 until ZeekRewards was shut down in August 2012, Gilmond worked closely with the company founders and served as a senior "field liaison" to promote the scheme, persuading scores of unsophisticated retail investors to buy ZeekRewards securities upon the promise of profit sharing.

Gilmond reaped more than $1.7 million in transaction-based commissions and bogus profit-sharing for her recruiting efforts.

Gilmond has utterly refused to participate in discovery.

She made no initial disclosures pursuant to Rule 26 and failed to respond to any written discovery.

After repeated attempts by SEC counsel to reach Gilmond by email and telephone, she responded, making it clear that she was aware of the planned deposition, and that she did not plan to attend or further contest this matter.

Based upon this conduct evidencing Gilmond's clear intent not to participate in this lawsuit, the Court finds that she has acted in bad faith.

The SEC has been prejudiced by her failure to produce any evidence relevant to her defense.

Moreover, this type of callous disregard for the rules of discovery and this Court's Discovery Plan must be deterred.

The Court further finds that no lesser sanction is likely to be effective.

Accordingly, default is an appropriate sanction.
The facts are presented in the SEC's original complaint "are taken as true" by the court, with Gilmond
prohibited from opposing the Commission's claims; her Amended Answer is stricken; and default judgment is entered against her.
The SEC have been directed to file a supplemental briefing on 'on remedies, including injunctive relief, disgorgement, and civil penalties'.
That was on March 27th, but as at the time of publication the regulator has yet to make any additional filings.
Bear in mind that whatever the SEC do eventually file for, will be on top of an existing judgement against Gilmond for $2.1 million.
Stay tuned…
Update 29th June 2017 – On June 21st the SEC was granted Final Judgement against Trudy Gilmond.
The Final Judgement order will see Gilmond pay back $1,752,673.47 in disgorgement, $169.084 in prejudgment interest and a $150,000 civil penalty.