SEC obtain Final Judgement against Trudy Gilmond in Zeek case

Back in April the SEC obtained default judgement against Trudy Gilmond.
As a top promoter who stole over $1.7 million dollars from Zeek Rewards victims, Gilmond was sued by the SEC in June, 2015.
The case had been progressing to trial, however Gilmond (right) failed to cooperate with the SEC on discovery issues from late 2016.
This, the SEC claimed, prevented them from 'completing fact discovery, understanding her defenses, and preparing an expert report.'
Despite a warning from the Judge and order to show cause as to why default judgement shouldn't be entered, Gilmond continued to ignore proceedings against her.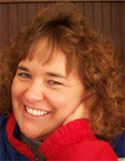 Default judgement was accordingly entered against Gilmond (right) in April. She was also barred from opposing the SEC's claims against her, which were deemed factual by the court.
On June 5th the SEC filed a motion for Entry of Judgement and Remedies.
As a consequence of Gilmond's conduct of "fraud, deceit (and) manipulation" as a top Zeek promoter, the regulator asked for disgorgement, prejudgement interest and a civil penalty.
On June 21st a Final Judgement ordered was entered against Gilmond.
The order prohibits Gilmond from committing any further violations of the Securities Act.
Gilmond will also pay back $1,752,673.47 in disgorgement, $169.084 in prejudgement interest and a $150,000 civil penalty.
Judge Mullen has given Gilmond thirty days to satisfy payment and provide evidence of such to the SEC.