"Don't blame me" – Burks breaks silence on Zeek

Harmless old small-town magician or devious mastermind behind the $600M Ponzi scheme that has devastated the MLM industry's reputation?
Despite a the secret recording of a detailed discussion with initial investors laying out in detail the history of the Zeek Rewards' Ponzi scheme, the debate surrounding the extent of Burks personal involvement and awareness he was running a Ponzi scheme has almost been as hotly debated as the opportunity being a Ponzi scheme itself.
Breaking his silence to the Associated Press for the first time since the SEC fined him and shut down Zeek Rewards, Burks had little to say to those that invested in Zeek.
Remorse and an apology?
Oh hell no. Fuck all y'all and the horses you rode in on!
Asked if he had anything to say to victims, he shook his head.

"I never told anyone to invest more money than they could afford," Burks snapped. "I didn't tell them to do that. Never."

He said if they lost money, "it's their fault. Not mine. Don't blame me."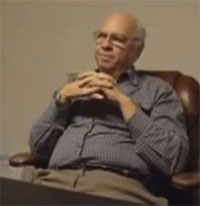 If there was any remaining doubt that Paul Burks (photo right) was ignorant of his own conceived business model, surely the above statement is the last nail in the coffin for any such arguments professing so.
Burks evidently knew exactly what he was doing and having fleeced millions from those that invested with him asserts that they only have themselves to blame.
If only Burks had been so candid in the many events and communications he engaged in with Zeek Rewards' affiliates before the SEC moved in.
Meanwhile the other ringleaders of Zeek Rewards remain MIA.
ex-COO Dawn Wright-Olivares and husband Alex DeBrantes (who was also involved in Zeek Rewards) are now focusing their efforts on selling e-cigarettes under the brand "Savage Smokes".
"Acting" COO Greg Caldwell, who infamously proclaimed 'all our critics (are) self-appointed with no standing in the professional community (and are) behaving unprofessionally by acting on false information' just weeks before the SEC moved in is MIA
Robert Craddock, self-described sidekick of Caldwell who managed to convince a bunch of investors to kick thousands of dollars in towards his own personal legal fund and that of 12 top Zeek Rewards earners (the "Craddock 12"), hasn't been seen or heard from now in months
Sales Director Darryle Douglas disappeared just weeks before the SEC shut Zeek Rewards down, he hasn't been publicly seen or heard from since
Unfortunately for the MLM industry, the fallout of the Zeek Rewards Ponzi scheme isn't contained within management circles of the company itself.
Well known MLM industry figure Keith Laggos boasted he was making "$40,000 a month" in Zeek Rewards just weeks before the SEC moved in. He hasn't been publicly seen or heard from since.
At the Association of Network Marketing Professional's (ANMP) annual 2012 convention held in March, they claimed Zeek Rewards' business model was ' the model of legal compliance'.
This was most likely due to the heavy involvement in Zeek Rewards by then Executive Vice-President, Peter Mingils. Whether Mingils is still involved with the ANMP is not clear.
Ted Nyuten's popular MLM blog, "BusinessForHome", ran a poll in 2012 that saw Zeek's ex-COO Dawn Wright-Olivares crowned the "Direct Sales Leader in the World" for that year.
I'm sure many regular BehindMLM will agree that in its heyday, Zeek Rewards created an environment within the industry that verged on the surrealy unbelievable. Not because of Zeek's business model but rather simply due to the sheer amount of people Paul Burks, his management team and figures many looked to as "leaders" within the MLM industry were able to suck into the scheme.
Somewhat indicative of the need of a review into how Ponzi schemes are investigated by US authorities at a local level, along with Burks response yesterday it was also revealed that the
In a Nov. 23, 2011, complaint filed with the North Carolina Attorney General's office, Wayne Tidderington of Florida called ZeekRewards an "illegal" Ponzi scheme. He said a relative had invested $8,000 and the company guaranteed a return of 125 percent every 90 days.

The attorney general's office can ask a judge to shut down a business because of deceptive trade practices. But it forwarded Tidderington's complaint to the secretary of state's office because it looked like it might involve securities.

The secretary of state's office, however, declined to take action because it didn't believe it had the jurisdiction, spokeswoman Liz Proctor said.

The complaint died.

"I put it all together," Tidderington told the AP. "I gave them the roadmap. I said, 'Here's a snake. Here's the gun. Here's the bullets. Shoot the snake.' But they ignored me."
Jurisdictional issues or not, even the lightest of due diligence should have revealed to any law enforcement agency the true nature of the Zeek Rewards beast.
It wasn't until July 2012, seven months after Tidderington's complaint, that the NC AG ordered Burks 'turn over all Zeek-related documents' by the end of the month.
An order Burks failed to comply with.
Amidst a vast sea of marketing bullshit, claims by ex-affiliates vowing the legitimacy of Zeek Rewards and participating in myself and moderating eleven months of furious debate here on BehindMLM, it's refreshing to see Burks come clean and tell the world what he really thinks.
Looking at the bigger picture, those who continue to participate in and promote "revenue sharing" MLM opportunities would do well to perhaps pause and take stock.
Too many MLM companies today are running compensation plans identical or near identical to that of Zeek Rewards and what's worse, far too many in the MLM industry keep falling for them.