Zeek Rewards top Ponzi winners named & shamed

You invested in the Zeek Rewards Ponzi scheme, you collectively ripped off millions of dollars from thousands of people and you got caught.
Not only that but in the aftermath of the Zeek Rewards SEC shut down, some sixteen months later, there are still those who feel they are entitled to the money they illegally obtained.
Back in August I raised the question of whether or not Zeek's top Ponzi pimps would be named and shamed. Specifically those who made the most money in the scheme and now refuse to pay back their victims.
Things certainly looked promising in the Zeek Receiver's third quarter report, filed October 31st:
As of September 30, 2013, the Receiver estimates that net winner Affiliate-Investors received over $283 million in fraudulent transfers from the Receivership Defendant.

The Receiver's litigation team continues to evaluate the most efficient and cost-effective method for pursuing fraudulent transfer claims.

As reported previously, the Receiver's clawback litigation is likely to be a combination of individual actions, group actions, defendant class actions, and other alternative dispute resolutions as approved by the Court.

Such proceedings will establish the key findings applicable to most, if not all, recipients of fraudulently transferred funds (findings such as the existence of a Ponzi and/or pyramid scheme).

The first clawback claims are now imminent, and a lawsuit against multiple named defendants along with a class of net winners will be filed during the fourth quarter of 2013.
December was almost half way through and I was beginning to wonder if the Receiver would come through. True to his word, on the 11th of December the Zeek Receiver filed a motion for "leave to file actions and setting of initial conference".
In the Receiver's motion, Zeek's top Ponzi winners who are still holding onto their money are named. Ladies and Gentlemen, courtesy of the Receiver, I give you the worst of the worst Zeek Rewards thieves: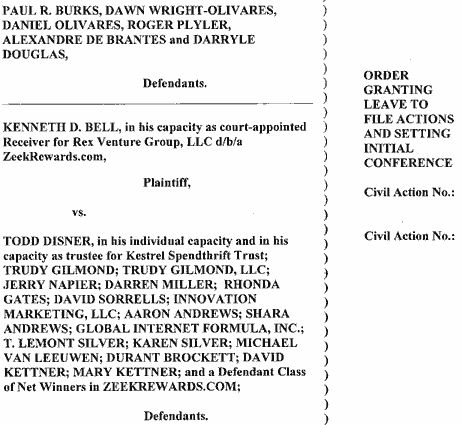 Paul R. Burks, Dawn Wright-Olivares, Daniel Olivares, Roger Plyler, Alexandre De Brantes, Darryle Douglas, Todd Disner (as himself and as trustee of Kestrel Spendthrift Trust), Trudy Gilmond, Trudy Gilmond LLC, Jerry Napier, Darren Miller, Rhonda Gates, David Sorrells, Innovation Marketing LLC, Aaron Andrews, Shara Andrews, Global Internet Formula Inc., T LeMont Silver, Karen Silver, Michael Van Leeuwen, Durant Brockett, David Kettner and Mary Kettner.
Additional Ponzi winners who earned less than the above individuals are collectively included under the defendant title "a Defendant Class of net-winners in ZeekRewards.com".
Most of the names the Receiver calls out are unfamiliar to me. I was kind of surprised to the Zeek Rewards executive management names pop up (Burks especially), seeing as I'd have thought it's a given they stand to face serious criminal charges after the civil side of the case is concluded.
Conspicuously absent are Robert Craddock and Keith Laggos, who presumably have already settled with the Zeek Receiver (I already suspected as much in the case of Craddock after he awkwardly gagged himself a few weeks ago).
T LeMont Silver I know is currently hiding out in the Dominican Republic, having fled the US rather than face the Receiver's litigation from within US borders. It'll be interesting to see how the Receiver's case against him progresses. Whether any of the other winner's named are overseas I'm not sure.
Meanwhile I can only wonder what it feels like to have trusted these people, invested money in Zeek Rewards under them and now find out they are trying to hold onto the money they stole.
Some of these individuals have even gone on to market subsequent MLM opportunities following the Zeek Rewards shutdown, I wonder what their new downlines will make of this.
The Receiver's motion requests an "initial conference" to be held in North Carolina be set sometime in January 2014. The named parties are not required to attend the conference in person, but do have to have someone there representing them (typically a lawyer).
Good luck guys, you're going to need it.
My thanks to ASDUpdates for the heads up.
Update 20th December 2013 – On the 19th of December the Receiver's motion was granted. The initial settlement conference date has also been set for the 27th of January at 2pm.