Xalo Review: An opportunity within an opportunity?
Xalo launched in October 2013 as an independent division of parent MLM company Xango. Both companies are based out of the US state of Utah.
On the Xalo website (hosted as a subdomain of the Xango website), the company explains
XANGO is the opportunity company. With the introduction of XALO Ageless, we've cultivated a unique new opportunity that incorporates the industry's most generous payment structures and maintains XANGO's unprecedented 50/50 split.

XALO compensation is a volume-based plan filled with bonuses and incentives as early as 5K. It creates multiple streams of income based on recruiting, customer base and residual income. It's got lifestyle bonuses, cash bonuses and a handful of other ways for you to earn more — and to learn it faster.

And the best part? You can work the XALO plan right alongside the XANGO plan.
In the absence of any executive management information provided on the Xalo website, it is assumed that the management structure of Xalo and Xango are one and the same.
For further information on the Xango MLM business opportunity (including company history and background information), head on over to the BehindMLM Xango Review (October 2013).
Otherwise, read on for a full review of the Xalo MLM business opportunity.
The Xalo Product Line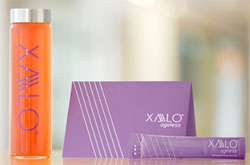 Xalo operate in the health and wellness MLM niche, targeting 'aging, combating muscle loss, enhancing mental stamina (and) sustaining cardiovascular performance'.
Ageless (right) – a "cellular regeneration blend" that Xalo claims supports 'healthy DNA function and cellular energy production'
Limitless – a natural energy boost formula containing 'mangosteen, Korean ginseng, taurine and green tea extracts'
Reload – muscle tissue repair and a reduction of muscle breakdown via d-Ribose (sugar), 'naturally sourced coconut water and mangosteen'
Ignite – oxygen and nutrient delivery, muscle growth and enhances cardiovascular performance via L-Arginine (amino acid)
No retail prices are provided on the Xalo website, with the company instead requesting customers "call to order".
The Xalo Compensation Plan
The Xalo compensation plan pays out retail commissions upfront (down 9 levels of recruitment) and residual commissions via a unilevel style compensation structure.
Xalo Affiliate Membership Ranks
There are six affiliate membership ranks within the Xalo compensation plan and, along with their respective qualification criteria they are as follows:
Rep – not provided
PR – not provided
1k – 100 PV a month (either Xango or Xalo volume) and a total monthly downline volume of 1000 GV (3 unilevel legs generating at least 100 GV each)
5k – mandatory 100 PV a month autoship order and a total monthly downline volume of 5,000 GV (3 unilevel legs generating at least 1000 GV each)
20k – mandatory 200 PV a month autoship order and a total monthly downline volume of 20,000 GV (3 unilevel legs generating 5000 GV a month each)
Premier – mandatory 200 PV a month autoship order and a total monthly downline volume of 50,000 GV
100k – not provided
200k – mandatory 200 PV a month autoship order and a total monthly downline volume of 200,000 GV
500k – not provided
Rank Advancement Bonus
Xalo offers affiliates a one time bonus for achieving certain affiliate membership ranks. These bonuses are paid out the first time an affiliate qualifies at any one of the following affiliate membership rank levels:
20k – $3000
Premier – "trip"
100k – $10,000
200k – $25,000
500k – $50,000
"Accelerated" bonuses are also provided, presumably if an affiliate qualifies at a certain rank within a specified period of time:
20k – $5000
Premier – "trip and cash"
100k – $25,000
200k – $50,000
500k – $100,000
No further information on the accelerated bonuses are provided in the Xalo compensation plan material.
Retail Commissions
Retail commission in Xalo are referred to as "customer connect" commissions, and are paid out down a total of nine levels. Affiliates able to earn a percentage of the retail customer orders placed with affiliates in their downline:
personal retail customer order – 15%
levels 2 to 5 – 3%
levels 6 to 9 – 2%
Unilevel Commissions
Residual commissions in Xalo are paid out using a unilevel style compensation structure. A unilevel compensation structure places an affiliate at the top of a unilevel team, with every personally recruited affiliate placed directly under them (level 1).

If any of these level 1 affiliates go on to recruit new affiliates of their own, they are placed on level 2 of the original affiliate's unilevel team. If any level 2 affiliates recruit new affiliates theya re placed on level 3 and so on and so forth down a theoretical infinite number of levels.
Xalo cap payable unilvel team levels at nine, with how many levels a Xalo affiliate is paid out on determined by their affiliate membership rank:
Rep – 2% on level 1 and 5% on level 2
PR – 2% on level 1 and 5% on levels 2 and 3
1k – 2% on level 1 and 5% on levels 2 to 4
5k – 2% on level 1 and 5% on levels 2 to 5
20k – 2% on level 1 and 5% on levels 2 to 7
Premier or higher – 2% on level 1 and 5% on levels 2 to 9
PowerStart
Xalo's PowerStart bonus pays out an affiliate on the first order placed by a newly recruited affiliate.
If a Xalo affiliate is generating at least 100 Personal Volume (PV) a month, they qualify for a 15% PowerStart bonus.
If a Xalo affiliate has a standing 100 PV a month autoship order, they qualify for a 25% PowerStart bonus.
The PowerStart Bonus is also paid to an affiliate upline, earning them 25% or 15% according to the recruiting affiliate's qualification respectively (15% means the upline gets 25%, 25% means the upline gets 15%).
In order to qualify for the upline component of the PowerStart bonus, a Xalo affiliate must have a standing 200 PV a month autoship order. Note this is not mentioned explicitly in the Xalo compensation plan material, but seeing as the PowerStart bonus features in the Xango compensation plan I'm assuming qualification is one and the same.
Car Bonus
Xalo offers 5k and higher ranked affiliates a monthly car bonus, paid out according to an affiliate's membership rank:
5k –  (mandatory 200 PV a month autoship order and 10,000 monthly GV additional qualification) – $400
Premier – $600
200k – $800
Although not explicitly clarified, I believe 100k affiliates are paid out at the Premier level and 500k affiliates are paid out at the 200k level.
iBonus
The Xalo website described their iBonus as
an additional way for 1Ks, 5Ks and 20Ks to participate in global bonus pools. Pools will pay out each month and you are paid based on your shares in the pool.
However no qualification criteria or how the iBonus pools are shares are allocated is provided in the Xalo compensation plan material.
Joining Xalo
No information is provided on the Xalo website indicating how to go about joining Xalo as an affiliate or what it costs.
Conclusion
To be perfectly blunt I'm not really sure why Xango have launched Xalo as a separate MLM opportunity. The products are new sure, but did they really warrant a separate compensation plan being run in tandem with Xango's?
Why not just integrate the four products into the wider Xango opportunity? And if Xango just wanted to split-test a new compensation plan, surely a simulation using actual Xango sales data applied to the new model in a virtual environment would have sufficed?
And what if Xalo's model takes off, does that mean the Xango compensation plan will ultimately be replaced (ditto vice-versa if it flops)?
I have no doubt that the launching and operation of two individual opportunities is just going to translate over into initial (and entirely unnecessary) confusion amongst prospective affiliates.
And as a standalone opportunity, for lack of a better word the Xalo definitely comes off a bit half-assed on the business presentation side of things (the product information and website in general is on par though).
I go through hundreds of MLM compensation plans every year and having just gone through Xango's, am relatively familiar with common terminology used.
How anyone not well versed in MLM compensation plan terminology is going to understand Xalo's compensation plan presentation I have no idea. There where times when even I had to stop and wonder what it was I was looking at.
No written explanations exist for any of the abbreviations used, and figures are just presented as is. I got most of it but as I said, I go through tons of plans every year – you're average prospective MLM affiliate does not, and an MLM newcomer most certainly wouldn't have.
That leaves me questioning exactly who Xalo is aimed at.
No information on how to join the company was another point against the opportunity. Do I join through Xango, does it cost anything…
Perhaps Xango fired the staff responsible for creative design when they let go 20% of their workforce back in July… if so, that probably wasn't the smartest move as Xalo totally gives off a "rushed out the door" vibe.
And it's not just in the presentation department either. In the compensation plan the order of Xalo's affiliate ranks is off (20k is last, behind 200k), with qualification criteria for the 100k, 500k, rep and PR ranks is missing altogether. Not to mention there's no explanation for the iBonus, which appear to be some sort of bonus pools as summarised on the Xalo website.
An explanation of the "accelerated" component of the Rank Advance Bonus is also missing.
And a glossary? Even though I can work out what half the abbreviations do based on the figures provided, I have no idea what most of the unique ones Xalo use stand for. The use of "ADR" for autoship is just one example…
Compensation plan wise the core issue of mandatory autoship and the building of a business around recruitment of affiliates on autoship I saw in Xango remain. This I think is due in a large part to the Xango PowerStart bonus making its way over to Xalo as is.
Basically you're paying affiliates commissions on newly recruited affiliate's first orders, based on how much an affiliate themselves has on autoship each month. With the upline commission requiring autoship as mandatory for qualification.
Not to mention the affiliate ranks also requiring standing autoship orders.
That said there does appear to have been some effort to boost the Xalo's retail offering, with commission paid down nine levels on retail volume a nice touch (retail is typically on paid out on a single level in MLM).
Will it be enough to stave off a culture of affiliate autoship recruitment though? Given that there's going to be some obvious overlap between Xango and Xalo affiliates, I'm going to have to say I'm doubtful.