We Find Ways Review: Recruiting & traffic exchange

The only reference to who is running the We Find Ways MLM business opportunity is the following blurb taken from the company's website:
We're an experienced team of professionals that have been working in the pay-to-click industry for a considerable number of years.
The We Find Ways company website domain ('wefindways.net') was registered on the 22nd of February 2012, however the domain registration information is set to private.
As always, if a MLM company is not openly upfront about who is running or owns it, think long and hard about joining and/or handing over any money.
The We Find Ways Product Line
We Find Ways has no retailable products or services. Instead, members sign up to the company and "purchase" website traffic or advertising.
On each purchase made by members, We Find Ways guarantee a 250% ROI. In offering a ROI on every dollar spent by members, effectively "purchases" made by We Find Ways are in actuality investments.
The We Find Ways Compensation Plan
We Find Ways offer members recruitment commissions as well as the option to participate in a traffic exchange and advertising investment scheme.
Recruitment Commissions
Using a 2×2 matrix, We Find Ways pay out commissions to affiliates based on their recruitment efforts.
A 2×2 matrix places an affiliate at the top of the matrix with six member positions under them which need to be filled with new recruits: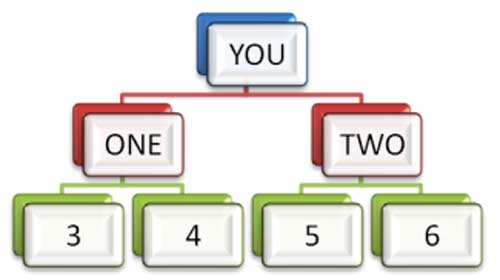 As per the We Find Ways compensation plan,
every time a total of six (affiliates) has joined you, you automatically earn $30.
Matrix positions can be bought by We Find Ways affiliates for $10 a pop.
Traffic Exchange
Dubbed "Liquid", We Find Ways traffic exchange program sees affiliates dump money into traffic exchange, with the company guaranteeing a 250% ROI on each dollar invested.
The minimum investment amount under the "Liquid" We Find Ways investment scheme is $1.
Advertising
Advertising options for affiliates within We Find Ways are called "elite ads", which appear to allow affiliates to publish affiliate linked advertising (We Find Ways own the affiliate accounts).
Elite advertising advertises third-party "hotels, car rentals, hosting, discounts and etc." offers to other We Find Ways members, with the idea being that '80% of the price paid by an advertiser will be shared between all members'.
Referral Commissions
Paid out on the earnings of personally recruited and any affiliates they recruit, We Find Ways pay out 5% and 1% respectively in referral commissions on any investments made into the "Liquid" traffic exchange investment scheme.
Joining We Find Ways
Membership to We Find Ways is free however affiliates are not able to earn anything unless they pump their own money into one of the company's schemes first.
New affiliates have the option of spending money on traffic exchange, elite ads, banner advertisements or participation in the recruitment scheme.
Conclusion
Our profits are based on advertisement sales, exchange fees, member-to-member transfers and Elite and Banner sales.

We have a daily maximum return cut-off set to 3% and a minimum of 1%. In other words, our earnings are based on actual returns with a maximum of 3% return, daily.
Although varied participation wise, the entire We Find Ways MLM business opportunity can be boiled down into the effective exchange of money between members, with those in longer reaping greater rewards.
In this sense the company maintains qualities of a Ponzi scheme (250% ROIs paid out) and those of a pyramid scheme (recruitment commissions via a 2×2 matrix).
Here's an analysis of each component of the We Find Ways compensation plan:
Liquid Packages (Traffic Exchange)
This is a straight up investment scheme where We Find Ways members invest in amounts equal or greater to $1 and earn a 250% ROI.
We Find Ways don't guarantee the timeframe within which members earn their ROI, however with no external revenue sources it's obvious that the more money being pumped into the company by members, the faster the ROIs will be paid out (an effective Ponzi scheme).
Elite Ads
We Find Ways' Elite Ads let affiliates buy "Elite Advertiser Spots" (up to a maximum of 5), with the company then claiming that
the program begins when advertisers choose to enter the Elite Program, and then provide their referral opportunities (which include discounts in hotels, car rentals, hosting purchases, or anything of that nature).

Three of these Elite Advertisement spots are randomly shown before all the surf advertisements begin; if Members such as yourself choose to buy an Elite Ad, it will first have to be manually approved by our system. Then, 80% of the price paid by an advertiser will be shared between all Members.
Making absolutely no sense from an advertiser viewpoint, the reality is most likely that We Find Ways will simply sign up to various travel related affiliate programs to provide ads for the Elite network, which affiliates then buy into.
Any affiliate commission revenue generated by members clicking on elite ads or purchasing anything is then pumped back into the Ponzi scheme side of things.
Recruitment Commissions
This one is simple and is a straight up pyramid/Ponzi scheme hybrid. You join We Find Ways, you pay $10 and after you convince newly recruited members of yours to make six new investments of $10 after you, you earn a 300% ROI ($30).
All investments under the matrix components of the We Find Ways compensation plan are done so with the expectation of a 300% ROI being paid out once six new investments are made following the initial investment. No products or services are sold.
Currency Exchange
Marketed as some sort of breakthrough, the owner(s) of We Find Ways has simply signed up to multiple e-currency providers and offers members the ability to "exchange" their money from one provider to another. For each transaction that takes place, We Find Ways take their cut and pump it back into the Ponzi scheme.
Oh and members can even send money to eachother (for yet another fee). Of course you'd want to do this in a legitimate MLM business opportunity because…?
All in all, if you slap together the dodginess of advertising and traffic exchange based Ponzi investment schemes with the obvious sustainability problems of a 2×2 matrix recruitment scheme… that's pretty much all We Find Ways is.
Throw in some anonymous company ownership operating out of who knows where and We Find Ways becomes an awfully large legitimacy pill to swallow.