Global Unity affiliates claim safety from SEC

When Phil Ming Xu became aware that the SEC was investigating his WCM777 Ponzi empire, he began to divert deposits made by investors to Hong Kong.
As noted by the SEC in their complaint against Xu,
Around October 2013, at the same time that state regulators began investigating the WCM777 offering, (WCM777) stopped depositing investor funds into their United States bank accounts, although the WCM777 offering continued.

Since October 2013, Defendants have raised more than $37 million from investors which has been deposited into their Hong Kong bank account.
Whether or not the appointed Receivership in the case will be able to recover the funds from Hong Kong is unclear, but that hasn't stopped affiliates in Global Unity from proclaiming their opportunity is safe from US regulation.
Posted in the Facebook group "Leaders Online", upon hearing about the SEC shutting down WCM777, Global Unity affiliates rushed to reassure affiliate investors that they were untouchable.
Global Unity affiliate investor Santi Fuentes writes,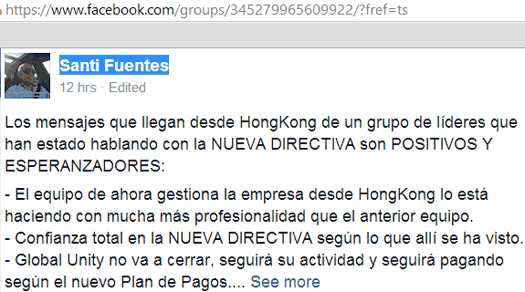 Messages that arrive from Hong Kong of a group of leaders who have been talking with the new directive are positive and promising:-the team now manages the company from Hong Kong is doing so with much more professionalism than the previous team.

Total trust in the new policy according to which there has been. -Global Unity will not close, will continue its activity and will continue to pay according to the payment Plan.

Important from Hong Kong:

1. confirmed that the Kingdomtrade will not operate, and that if you have points in is page, will return to the ewallets or unitycards of each.

2. SEC is only for USA. As already known the company not operating currently in USA. The rest of the world continues its activity.
Exactly who is running Global Unity from Hong Kong is a mystery, but if I had to guess I'd say it's the same Chinese backers Ming Xu was working with in WCM777 and its Kingdom777 predecessor.
On March 15th Ming Xu claimed to have "sold" Global Unity (WCM777's third incarnation) to a "new buyer". Other than some South American Ponzi pimps however, I haven't seen anyone specifically tagged to the company on the Hong Kong side of things.
Xu also claimed that his partner in crime, Zhi "Tiger" Liu ran off with $30M of WCM777 affiliate investor funds. Liu's whereabouts are currently unknown, however there's a very real possibility he's running or working directly with those running the Hong Kong backend of Global Unity.
If Xu is to be believed, Liu was obviously in control of a significant proportion of WCM777's assets. Given that the SEC revealed Xu 'is a signatory, either individually or as a co-signer, on all known bank accounts', I'm guessing Liu was in control of the company's Hong Kong accounts.
As was the case when Zeek Rewards was shutdown, it appears now we get to watch die-hard ex-WCM777 affiliates who, now that they've had a taste of fraudulent Ponzi returns, just can't let go of the business model.
It took around six or seven months post Zeek Rewards for their die-hard pimps to let go, and I imagine a similar timeframe will take place here.
Meanwhile it's interesting to note that the dialogue behind Global Unity has shifted from "we are not a Ponzi scheme" to "the SEC can't touch us".
When your biggest selling point is that you're running a fraudulent investment opportunity outside of what you believe to be the jurisdiction of US securities regulators, it's probably best to quit while you're ahead.
Yesterday Phil Ming Xu was issued a summons to appear in the case the SEC have filed against him. I'm sure once he's had time to digest the gravity of the charges laid against him he'll be all too willing to give up the goods on his Hong Kong backers.
Run Tiger run.