Wakaya Perfection Field Leader sentenced to prison for fraud

Andre Vaughn was a former Youngevity top distributor, who jumped ship for Wakaya Perfection in late 2015.
Wakaya Perfection cite Vaughn as a "Founding Ambassador", and list him first on the "Field Leaders" section of their website.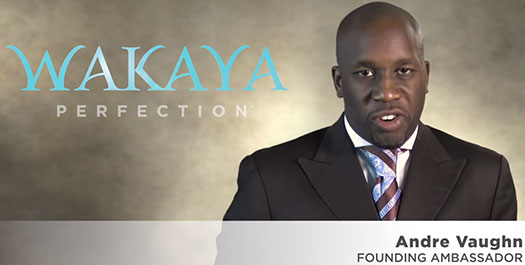 On June 18th, Vaughn was sentenced to ten months in prison for repeated instances of bankruptcy fraud.
Andre Vaughn popped up on BehindMLM's radar as a result of the messy spat between Youngevity and Wakaya Perfection.
In a nutshell, Wakaya Perfection was created by a bunch of former Youngevity executives and top distributors.
Youngevity wasn't happy about being gutted, cue multiple back and forth lawsuits.
Wakaya Perfection's counter lawsuit against Youngevity was stayed earlier this year. But the legal mess is far from over and still playing out.
Separately Vaughn is a named defendant in a $250,000 securities fraud lawsuit filed against Wakaya Perfection last December.
The lawsuit deals with secret backroom deals given to Wakaya Perfection distributors.
Vaughn is a defendant in the lawsuit, which was referred to arbitration in January.
During his time at Youngevity, Vaughn evidently also enjoyed secret backroom deal privileges.
As disclosed by Youngevity themselves in their lawsuit against Wakaya Perfection;
Andre Vaughn and Monique Vaughn are married, share their assets, and co-mingle their funds. Andre was a top distributor for Youngevity.

While both Andre and Monique maintained Youngevity distributor accounts, Andre was by far the more active in Youngevity business.

Over a period of approximately four years, Andreoli in his capacity as President of Youngevity, caused in excess of a dozen "forced qualifications" or automatic rank advancements to be bestowed upon individuals and entities who did not earn those advancements.

The effect was to cause the company to pay those individuals and entities higher than justified commissions, bonuses, and car bonuses.

Among those given these forced qualifications were Andreoli's parents, his wife and children, Andre Vaughn, and Monique Vaughn.

For example, as a result of Andreoli's forced qualification of Andre Vaughn, Youngevity paid Vaughn $40,000.00 in car bonuses and in excess of $600,000.00 in commissions and other bonuses over a four year period.
Unfortunately for Vaughn, he was also secretive in his financial affairs outside of Youngevity.
On July 18th, 2018, a Grand Jury indicted Andre Vaughn on several counts of bankruptcy related fraud.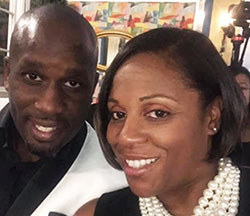 According to Vaughn's indictment, he and his wife Monique (right);
concealed property and knowingly made false declarations under penalty of perjury in separate April 2005, June 2012, July 2013 and April 2015 bankruptcy filings;
fraudulently concealed several bank accounts they owned and/or had an interest in during their various bankruptcy filings;
lied about separating from one another in their 2013 bankruptcy filing; and
concealed their "affiliation with various businesses and organizations".
Whether Youngevity was one of the businesses the Vaughns failed to disclose is unclear.
A Public Defender was assigned to the case and Andre Vaughn initially plead not guilty on August 7th, 2018.
On December 4th a plea agreement was filed.
As per the agreement, Vaughn agreed to plead guilty to Count Five of his indictment.
Count Five referred to Vaughn failing to disclose bank accounts he had an interest in, as well as his business affiliations.
In exchange the DOJ agreed to not bringing and further criminal charges, relating to the conduct detailed in his indictment.
On December 19th Vaughn filed a motion to withdraw his not guilty plea.
In January 2019 Vaughn's plea deal was accepted by the court.
Following several sentencing hearing reschedules, Vaughn was sentenced on June 18th to ten months in prison.
Upon release, Vaughn will be subject to supervised release for two years.
Monique Vaughn was indicted the same day as her husband.
She plead not guilty in August 2018, which was withdrawn in place of a guilty plea agreement at in early February.
Monique Vaughn is due to be sentenced on July 9th.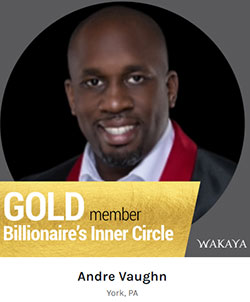 Considering Vaughn's former status in Youngevity and now Wakaya Perfection, certainly some immediate questions come to mind:
Namely how was Vaughn a top earner in Youngevity and simultaneously filing for bankruptcy every few years.
Vaughn is a Blue Diamond Ambassador in Wakaya Perfection, and top of their Field Leadership list.
In his Wakaya Perfection Field Leadership bio, Vaughn claims he's
experienced financial independence in network marketing on a level that has exceeded my initial dreams.

My financial independence has afforded me the ability to enjoy my favorite sport of Basketball on an entirely new level as a co-owner of a Semi-pro Basketball Team.

Winning is a lifestyle. It's this mindset that helped me to achieve the Blue Diamond Ambassador level so quickly and it's a mindset that will help me achieve my life goal of leaving an incredible legacy for my children.

As I look towards the future, in one year from now I will be a global leader in and a top money earner in the industry.
When weighed against Vaughn's repeated bankruptcy filings and fraudulent concealment of assets, none of that rhetoric really adds up.
Update 7th July 2019 – Monique Vaughn has been sentenced to three years probation.