Vitae Ponzi scheme shut down by Belgian authorities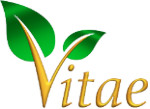 Belgian authorities have shut down the Vitae token Ponzi scheme.
Vitae Token launched as Vitae Coin back in early 2018. It was quickly renamed Vitae Token and promoted as part of a social network.
That concept flopped, prompting founder Michael Weber to add a Ponzi scheme.
BehindMLM became aware of Vitae Token through Vitae Rain Chat in August 2020.
Vitae Rain Chat was a standalone chat platform, announced after Discord shut down Vitae's official communication channels.
Vitae Rain Chat was an adcredit Ponzi scheme. Affiliates paid $14.99 a month for access and purchased adcredit positions for $25.
Vitae Rain affiliate membership funded a pyramid scheme.
Vitae Rain adcredit positions positions paid a return, funded by subsequent investment.
Vitae token has been publicly tradeable on dodgy exchanges since September 2018.
After the obligatory initial pump to just over $3, Vitae token dumped to around 60 cents.
From January 2020 Vitae token climbed to $1. it hovered there until Vitae Rain's launch in August.
The introduction of the Vitae Rain Ponzi scheme saw Vitae token pump to just over $12 in November 2020.
The inevitable dump followed, with Vitae token's value trending mostly downward since.
Right now Vitae token is sitting at 33 cents.
Not much is known about the Belgian investigation into Vitae, other than it is of criminal nature.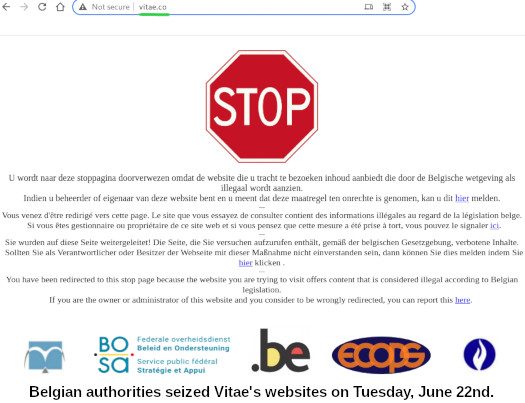 As reported by HLN, Belgian authorities seized Vitae's and Vitae token's website domain on Tuesday 22nd.
This happened on the orders of an investigating judge, the federal prosecutor's office reports.

A large amount of cryptocurrencies have also been seized.

For the time being, the federal prosecutor's office has not provided any further information about the file.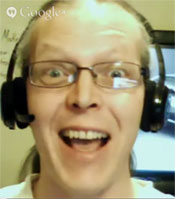 According to his Twitter profile, Vitae's founder Michael Weber (right) is based out of Colorado in the US.
The only Vitae connection to Europe I was able to find was Vitae Token's official Facebook page is managed from the Netherlands.
HLN notes
victims have been recruited during presentations in our country (Belgium) and in the Netherlands, among other places.
Whether the Netherlands are separately investigating Vitae is unclear.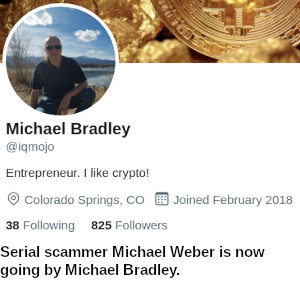 Despite going by Michael Weber for years, Weber is now going by "Michael Bradley" on Twitter and YouTube.
Weber was a top earner in the BitConnect Ponzi scheme. Weber launched Vitae token a few months after BitConnect collapsed in January 2018.
The SEC recently went after several top BitConnect promoters in the US. Weber was not a named defendant.
What happens next is unclear. Weber's last Twitter post is dated June 19th, three days before the Belgian seizure.
As founder of Vitae, Weber is currently booked to speak at a North American Blockchain Expo event in September: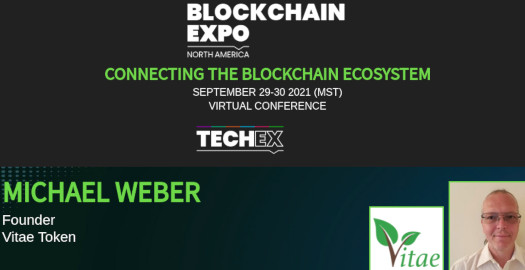 Vitae Token abandoned Facebook in December 2019. The last post on the official Vitae Token Twitter page is dated April 9th.
Pending an update from Belgian authorities (or any other law enforcement or regulator), stay tuned.
Update 25th June 2021 – VRT are reporting Belgian authorities conducted raids and have arrested five Belgian nationals.
The criminal gang behind the social media platform is largely of Belgian nationality.

On Tuesday, the dish invaded 17 different places in our country, mainly in Antwerp, East and West Flanders and Limburg.

Five people have been arrested and detained before the investigating judge.

They were charged with membership of a criminal organization, fraud and money laundering.

The investigation was also conducted in collaboration with Switzerland, as the gang used a company under Swiss law for their practices.
With respect to seizures;
Nearly 40% of the circulating cryptocurrency Vitae was seized.

More than 1.1 million euros in cash, almost 1.5 million in virtual currency, 17 luxury vehicles, various luxury watches and gold were also seized during the searches.
Michael Weber's current whereabouts and status are unconfirmed.
Update 25th June 2021 – Two of the arrested suspects in Belgium have been named as Vitae executives.