Tom Alkazin files reply to FTC's preliminary injunction motion

Following a court order issued a few weeks ago, Tom Alkazin has filed his response to the FTC's preliminary injunction request.
Alkazin was originally excluded from the preliminary injunction granted against Vemma. Last October the FTC sought clarification on the matter, which resulted in Alkazin being added to the injunction on June 30th.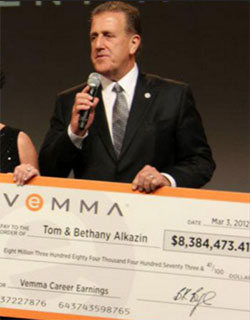 In his response, Alkazin argues he "lacked control over Vemma" and should remain excluded from the injunction.
The FTC did not prove that Mr. Alkazin helped create the Two & Go program, and there is indisputable evidence that he did not do so.

Moreover, the cases cited by the FTC make clear that Mr. Alkazin's conduct (even accepting as true the inaccurate assertions of the FTC) would be insufficient to make him responsible for Vemma's operation of a pyramid.
Alkazin also claims he never made "income representations" when marketing Vemma.
Mr. Alkazin did not focus on selling the business opportunity to affiliates to the exclusion of selling the product to customers.

Many of the presentations he gave in the 2013- 2015 period made no income claims at all.

He believed, and taught others, that customers are vital to the success of the company and its affiliates.

Consistent with this emphasis, he made substantial retail sales of Vemma products from his home office, selling about $130,000 in Vemma products (mostly in amounts of $75 or less) from his home in the 2.5 year period prior to August, 2015, when the FTC filed suit.
I feel compelled to point out that in a 2014 fluff-piece published by BusinessForHome, Alkazin was cited as making $400,000 a month in Vemma.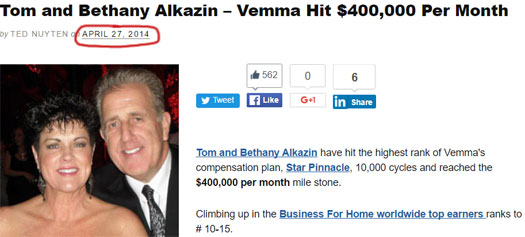 How does $130,000 in retail sales over 2.5 years when you're making $400,000 a month count as "substantial retail sales"?
Co-incidentally, Alkazin tries to dismiss another article published by BusinessForHome, in which he 'discusse(s) his success in Vemma, never mentioned selling a product, and instead, focused on recruiting others who want to participate in the business opportunity'.
BusinessForHome is described as an 'obscure third-party website which is not owned by or affiliated with Mr. Alkazin'.
Alkazin argues that because the BusinessForHome interview was published 2011, it can't be used to secure injunctive relief today.
Alkazin's response otherwise mostly seeks to distance himself from Vemma's day to day operations and the FTC's investigation and preliminary injunction motion.
At the preliminary injunction hearing, the FTC elected to focus its presentation on Vemma and Mr. Boreyko. It did not reference either of the two video/audio presentations involving Mr. Alkazin.

The FTC did not ask a single question about Mr. Alkazin of any witness.

The only witness who uttered Mr. Alkazin's name was Bonnie Patten.

Although the Court permitted testimony by declaration at the hearing, the Declaration of FTC investigator Mathew Thacker said little about Mr. Alkazin except to provide foundation for the limited materials that related to him.

Mr. Alkazin was present at the hearing, but the FTC did not call him to testify.

Because the FTC adduced no testimony about Mr. Alkazin, and in light of the hearing time constraints, he was not called to testify by his counsel.

It is undisputed that Mr. Alkazin was not an employee, officer or owner of Vemma.

He did not have access to Vemma's financial, sales and operational data or to management reports or other company-wide sales and commission data.

He was not involved in preparing Vemma's annual income disclosure statements. He did not author Vemma's marketing plans.

He did not structure or have control over Vemma's compensation model for affiliates.

He had no role in drafting Vemma's affiliate agreements.
Be that as it may, as the top earner in the company Alkazin was still instrumental in Vemma's operation and success as a business.
It would break new ground to hold Mr. Alkazin responsible as a "participant" for Vemma's purported status as a pyramid where he was not officer, director, shareholder, or even employee, and thus did not meaningfully participate in its operation.
Subjecting top earners in questionable MLM opportunities to preliminary injunctions is certainly not "new ground".
Sann Rodrigues, Faith Sloan, Scott Miller, Daniil Shoyfer, Santiago De La Rosa, Randy Crosby were all top earners in the TelexFree Ponzi scheme.
They are all currently subject to preliminary injunctions as part of the SEC's closure of TelexFree in 2014.
The FTC will file reply to Alkazin's response before Judge Tuchi makes a ruling on the matter. Stay tuned…
Footnote: Our thanks to Don@ASDUpdates for providing a copy of Tom Alkazin's "Response to the FTC's Motion For Reconsideration" (filed July 15th).