Vantel Pearls closing down, founder Joan Cabral retiring

Vantel Pearls has informed affiliates it is closing down.
The company maintains it is "thriving", but that founder Joan Hartel Cabral (below right) wants to retire.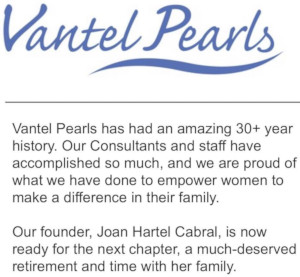 As per the announcement sent out to Vantel Pearl affiliates earlier this week;
Vantel Pearls has had an amazing 30+ year history.

Our Consultants and staff have accomplished so much, and we are proud of what we have done to empower women to make a difference in their family.

Our founder, Joan Hartel Cabral, is now ready for the next chapter, a much-deserved retirement and time with her family.

We are grateful that we can make this decision while the company continues to thrive so that we can end this journey on our own terms.

We are all sad to say goodbye but so happy for the legacy Vantel Pearls leaves behind.
Two thoughts come to mind:
Being able to spend more time with family is one of the core MLM marketing pitches directed at women. Shutting down an MLM company to spend time with family seems a bit… odd.
If Vantel Pearls is "thriving", why not keep the company running by promoting from inside? Surely that'd give Cabral (right) a chance to reduce her workload?
I was expecting Vantel Pearls' website traffic to show a decline but surprisingly it's seen an uptick over the past 90 days.
That's not a direct correlation with sales but does suggest Vantel Pearls wasn't doing too bad as a business.
Whether COVID-19 had an impact on Vantel Pearls' business is unclear. As I understand it Vantel Pearls was very much a party plan orientated company.
Vantel Pearls was founded in 1990 so they've certainly had a long run.
BehindMLM reviewed Vantel Pearls in September 2016.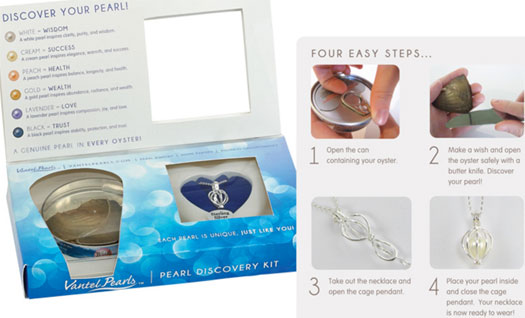 Once you got over the canned oyster marketing angle, we found Vantel Pearls to be a solid enough jewelry orientated MLM offering.
As of yet there's no official announcement regarding the closure on Vantel Pearls' website.
Vantel Pearls' official Facebook page is still marketing the MLM opportunity and company products.
Comments left on some of the posts suggest Vantel Pearls will be winding down over the next six weeks.