USI-Tech top investor is an Ass. Professor of Business at a US college

Predating the launch of their BTC package Ponzi scheme, David Frost was a prominent fixture in USI-Tech marketing.
Often appearing alongside Master Distributors Dan & Patti Hunt, Frost appeared in USI-Tech marketing videos and co-hosted company events.
Here's the thing though – in addition to being high up the USI-Tech investor chain, David Frost is also Associate Professor of Business at Bethany College.
And word on the street is Frost isn't above recruiting students into USI-Tech.
Bethany College is based out of Kansas and, according to their website,
is a small, private college that provides students personal attention within a caring community.
Bethany College is also "a College of the Evangelical Lutheran Church in America", which aligns it with the Lutheran faith.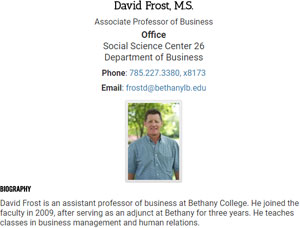 According to David Frost's bio on the Bethany College website, he's
an assistant professor of business at Bethany College.

He joined the faculty in 2009, after serving as an adjunct at Bethany for three years.

He teaches classes in business management and human relations.
When Frost signed up as a USI-Tech affiliate I can't say, but it must have been pretty early on for him to be regularly featured in marketing material put out by Master Distributors Dan & Patti Hunt.
The initial incarnation of USI-Tech was a pyramid scheme, which has since been replaced by a BTC package Ponzi model.
There's a lot more content of Frost promoting USI-Tech's earlier pyramid model, however if you dig deep enough you can also find him promoting USI-Tech's bitcoin Ponzi scheme.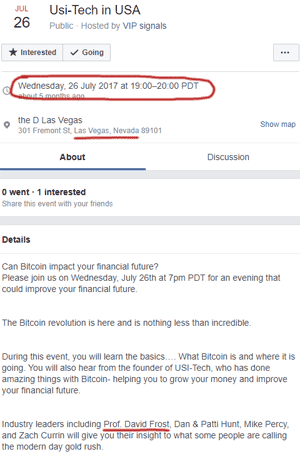 As the flyer on the right shows, Frost was promoting USI-Tech BTC packages shortly after they launched in June.
In one video uploaded to YouTube on July 20th, Frost explains why he began investing in USI-Tech BTC packages.
[0:36] It's one of the biggest reasons that this company stood out to me, because I've been investing for fifteen years.

This is the only company that I know of that I could go take fifty-five dollars roughly, put it into this bitcoin package and, there's no monthly fees, there's no fees for taking the money out, there's no fees all along the way – I simply watch my money grow.
For reasons unknown, much of the content featuring David Frost publicly promoting USI-Tech's bitcoin packages has disappeared.
The last known instance of Frost promoting USI-Tech that I was able to find was reference to his hosting of a conference on November 10th and 11th, 2017.
Reddit user Sky Basu, who claims to have been a USI-Tech "newbie" at the time, shared his experience on the private USI Dream Team subreddit;
I just returned from the Dallas Conference of USI Tech. I am a new member – with USI only for 2 weeks.

I met quite a few investors, small and large who are getting returns on a daily or monthly basis.

Dan and Patti Hunt with their partner David Frost, the master distributors for USI tech in the USA were the hosts for the conference.

Barry Hogan one of the leaders located in Dallas Fort Worth area organized the conference in Dallas.
Basu credits Frost with "spearheading" a paid legal opinion that claimed USI-Tech's unregistered securities offering was legal in the US.
More importantly the conference Basu attended was held in Forth Worth, Texas.
A month after David Frost hosted a USI-Tech event in Dallas, the Texas Securities Board issued USI-Tech an emergency securities fraud cease and desist.
To date there has been no indication that USI-Tech has or has any intention of responding to the Texas notice.
If they fail to do so by January 20th, promotion of USI-Tech will effectively be illegal in Texas.
Although not confirmed, the SEC are also believed to be investigating USI-Tech at a federal level.
Meanwhile we have an associate professor of business at a US college purportedly recruiting Bethany College students into a bitcoin Ponzi scheme.
If an associate professor of business can not identify a Ponzi scheme, what hope does his students have of avoiding being recruited into one?
Worse still, what if David Frost knows full well USI-Tech are operating a Ponzi scheme and has decided to recruit Bethany College students into it anyway?
The legal implications for Bethany College should USI-Tech collapse and students lose money should not be understated. Ditto if US authorities shut the scam down and/or take direct action against Frost.
Both Bethany College and the Kansas Office of the Securities Commissioner have been approached for comment.
Stay tuned…