USI-Tech drops crypto mining charade

Despite collapsing in April, USI-Tech has kept up the crypto mining charade in their affiliate backoffice.
Unfortunately for desperate investors still bothering to check their backoffice, on October 23rd they were informed the charade has been dropped.
USI-Tech launched their BTC Package Ponzi scheme on the premise of investing funds in cryptocurrency mining.
When US regulators came knocking and demanded proof, instead of providing it USI-Tech shut down.
In contrast to their investors collectively losing millions, USI-Tech owners are apparently driving around in Lamborghinis.
Citing a "rising hashrate", USI-Tech claims it is 'currently not profitable to keep the mining machines running.'
The electricity and maintenance costs have become too high, with the bitcoin price currently too low to afford the costs of the required computing power.
Accordingly the company has "temporarily stopped" its non-existent mining activities.
We will inform you once the situation improves and mining becomes profitable again.

Best Regards
USI-TECH
Electricity costs being brought up is kind of ironic in light of Horst Jicha blowing $1.5 million chasing magical free energy.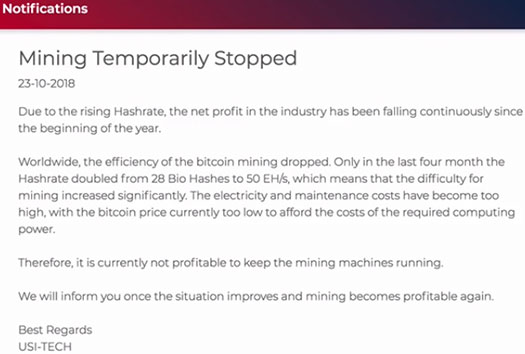 USI-Tech's purported mining difficulties meanwhile comes hot on the heels of BitClub Network and Kuvera Global making similar announcements.
Looks like "Hi there, we're turning off our equipment…" is the mining Ponzi exit-scam of choice.