Top USI-Tech promoter Justin Verrengia sends FBI after critic?

Justin Verrengia was one of USI-Tech's top US-based investors.
After USI-Tech collapsed in the US, Verrengia, who is based out of Florida, began scrubbing the internet of his association with the Ponzi scheme.
Most of Verrengia's promotion of USI-Tech, primarily through his "Crypto Alchemy" Facebook group, has since been made private or deleted.
I did however find one Nigerian USI-Tech affiliate claiming Verrengia
is the highest earner in usi-tech, he made about 51 BTC in just 72 days. Yes, I said 52 BTC.

I have known Justin for a while in other business online so this result is typical of him.
The video description of a deleted video, in which Verrengia and Mike Hobbs explain USI-Tech's Ponzi scheme business model, reads;
Mike Hobbs and Justin Verrengia were top leaders in another huge MLM company, and now they are making huge amounts of money in USI-Tech.

In this video, Mike and Justin explain the USI-Tech packages, how to buy them, how to get your first BitCoin, what and how USI-Tech pays, and how to reinvest your packages or withdraw them at the proper time.
A sales page for Verrengia's Crypto Alchemy Facebook group states that viewers who provide their email address will gain access to a
FAST START training where Justin Verrengia shows you how he has made over $500k in 60 days with USI Tech!
Jeff Sherwood is a former USI-Tech investor from Tennessee.
A since-deleted post on Sherwood's "Bitcoin Millionaire Journey" website suggests he got involved in USI-Tech in late December, 2017.
The place I began my research today was USI-Tech because I wanted to find out exactly what it is and how are they able to pay me back 140% on the Bitcoin I buy packages with.

I think that's pretty neat!

When I was doing my research this question kept coming up under all of the search results: Is USI Tech a scam?

What I found from most of the people who are saying that USI-Tech is a scam or a ponzi scheme is they don't actually know anything about the company and most of them are trying to promote scams themselves or have been unsuccessful with other money making opportunities so they just call everything a scam.

One thing that I have learned while building a successful online business is you have to listen to the right people.

For now, I'm off to try to buy more Bitcoin so I can buy more USI-Tech BTC Packages.

I'm going to stack as much Bitcoin as I can now, so that when the price goes up I'll be sitting in a good position!
Evidently one of the "right people" Sherwood listened to was Justin Verrengia.
Unlike Verrengia, who made "huge amounts of money", when USI-Tech collapsed in the US Sherwood lost money.
Realization of his losses and those he knew, eventually prompted Sherwood to start publishing videos on USI-Tech and promoters like Verrengia.
His efforts lead to a visit from three FBI agents.
In an April 16th video, Sherwood recounts his brush with the FBI.
[1:25] Earlier today I got a visit from three FBI agents that showed up at my front door, wanting to know about Justin Verrengia.
Sherwood claims this was in relation to his last YouTube video upload, which he states was "taken down for copyright violation".
Sherwood's video was on Justin Verrengia, who presumably who filed the copyright claim.
I'm not sure when the video in question was uploaded to Sherwood's YouTube channel, however he states that following its publication Justin Verrengia filed a complaint with the FBI.
[2:00] Apparently (Verrengia) was so embarrassed by the video and so mad that I was exposing him, that he made a false report to the FBI that I had threatened his life, and that I had threatened the life of his family.
Sherwood denies the allegation, stating his upload "was just one big funny video".
[2:30] Nowhere in that video, nor in any of my videos have I every threatened anyone related to USI-Tech.

I don't promote violence, I don't suggest that you guys go out and do anything to anybody.

This (making YouTube videos) is my way of trying to stick up for the little guy.

These videos I put together, I'm tired of the little guy getting screwed over by these big promoters, who drag you around from scam to scam to scam.

And then they claim, "Well how was I supposed to know it was a scam?"

Well you do it all the time. You've been in this scam and that scam, in this Ponzi scheme and that Ponzi scheme, haven't you learned how to identify them by now?

Obviously not, right?
Maintaining that Verrengia is embarrassed his promotion and profiting in USI-Tech is being exposed, Sherwood goes on to recount his visit by three FBI agents.
[3:41] The FBI was here for about thirty minutes to an hour, I'm not sure I kinda lost track of time.

And they wanted to know if I had any intentions of threatening or harming Justin Verrengia.

No, I don't. I don't have any intentions of threatening anybody.
Sherwood laments on his wish that the FBI
[4:17] took people getting scammed out of millions of dollars, as serious as they take videos that are created exposing these people.
The visiting FBI agents requested Sherwood play the YouTube video that was taken down.
Sherwood did and claims the FBI then asked him "several questions about Justin Verrengia", his "dealings with him", USI-Tech and how much money Sherwood lost in the scheme.
Sherwood speculates that while he himself didn't make any threats, footage from his video might have been attached to threats made against Verrengia on social media.
As part of his interrogation, Sherwood asked the FBI "what they were doing about USI-Tech?"
[18:44] Whenever I asked that agent what the FBI is doing about USI-Tech he said, as far as he knows, they're not… they don't have any reports here.
Sherwood confirms he's filed a report about USI-Tech with the SEC and intends to file another report with the FBI after recording the video.
Sherwood claims that he began "exposing" top USI-Tech investors because after USI-Tech collapsed in the US, the person who recruited him immediately tried to recruit him into a new scheme.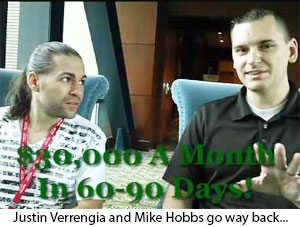 This, Sherwood states, "had to do with Mike Hobbs and Justin Verrengia".
[9:20] And that didn't sit with me very well.

Because they weren't trying to help you guys get your money back. They weren't trying to help me get my money back. Right?

So that's reason number one. It made me sick to my stomach what these guys were doing.

I said, "Somebody should stand up and do something about this."

And I said, "Wait, I'm somebody. And I'm gonna do something."

And that leads me into reason number two, why I started making all these videos about USI-Tech, and it's because I wanted to stick up for the little guy.

Ever since Empower Network happened I've watched these guys go from one scam to the next, to the next, to the next and dragging people along with 'em.

And I got sick and tired of it.
Much of Sherwood's video is dedicated to urging viewers to "file reports".
[11:11] If you were hurt by Justin Verrengia, report Justin Verrengia.

Report him to the Florida Securities Board, report him to the SEC, the FTC, the FBI, the local police.

Report him. That's the only way that you're gonna get to these guys.

Have the FBI show up at their house (and) question them about why they scammed people out of millions of dollars.
As a result of FBI agents showing up at his house and interrogating him in front of his four year old child, Sherwood states he's "not doing any more USI-Tech videos".
[12:03] I'm a single dad, three boys.

I don't have an explanations for them boys about what's going on. You can't explain this stuff to a four year old, a seven year old, a fifteen year old.

They're not gonna understand this stuff.

"Why is daddy being questioned by the FBI?"

Because he tried to stand up for the little guy. Because he tried to stand up for himself.
If getting Jeff Sherwood to stop making YouTube videos about his involvement in USI-Tech was Verrengia's intention, mission accomplished.