UniVideo2U Review – Indian scammers rip off Varolo

One would think when deciding whether or not to join a company, specifically if said company is a business opportunity, that those considering would be out there digesting every last bit of information they can find.
That way when the time comes they know that they're making as informed decision as possible.
Yet it still amazes me at the amount of people who join MLM opportunities without appearing to put even the slightest hint of research into their decision.
Especially when the company in question is so blatantly fraudulent.
Read on for a full review of the UniVideo2U MLM opportunity.
The Company
The UniVideo2U website does not state who is running or owns the company.
The domain registrations lists a Malaysian address:
1 Sentral Level 16,
Jalan Stesen Sentral 5,
KL Sentral, Kuala Lumpur
Malaysia,50470
With this appearing to back UniVideo2U's claim that it 'is a Malaysia based company'.
The UniVideo2U Product Line
UniVideo2U has no retailable product or services. Instead, it is the UniVideo2U opportunity itself that members market in an attempt to recruit new members to the scheme.
The UniVideo2U Compensation Plan
The UniVideo2U compensation plan claims to reward members for watching advertisements and recruiting new members.
Paid out in "reward points" (RP), with 1 RP equalling $1 USD, members can a maximum of 10 RP every 10 days by watching ads on the company website.
These ads are streamed via the company website through what UniVideo2U call an "AdStation".
In addition UniVideo2U members are also paid a commissions for recruitment of new members.
Each new personally recruited UniVideo2U member earns the recruiter 10RP in commissions.
A binary compensation structure is also used. With one person at the top, two legs branch out on either side forming two teams. From these two legs another two legs branch out and so on and so forth.
The first few levels of a binary structure look something like this: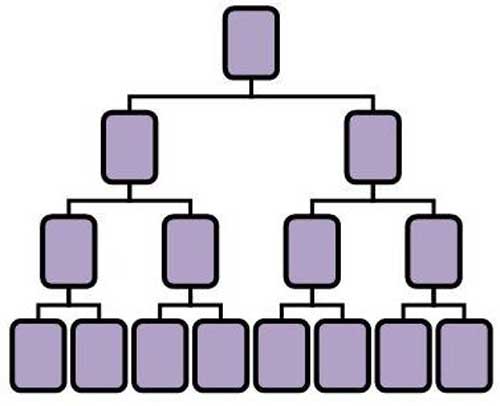 Tallied up each day, UniVideo2U pay out 10 RP per each new pair the system finds.
Note that in order to participate in the binary recruitment commissions, members must they themselves recruit at least two new UniVideo2U members.
Joining UniVideo2U
Membership to UniVideo2U is $10, with each AdStation costing $100.
Members are able to purchase up to 10 AdStations each.
Conclusion
Common to most 'watch ads and get paid' MLM opportunities is the fact that 100% of the revenue is generated by membership fees.
Typically, any advertisements shown to members are not sourced from advertisers but rather are just pulled from YouTube in an attempt to make what is essentially a Ponzi scheme look legitimate.
A Ponzi scheme is where member's invest money (the purchase of an AdStation) and earn a return on their investment over a set period of time ($30 a month for 12 months).
100% of the money paid out as a return is generated via new investments, which in UniVideo2U's case would be the purchase of new AdStations.
With members only able to watch one advertisement at a time, it makes absolutely no sense to allow members to purchase multiple AdStations, ten no less, other than to encourage members to invest $1000 (10 stations) into the scheme rather than a mere $100 (1 station).
The example advertisement that UniVideo2U use on their website to demonstrate an AdStation is that of US based company Dury's. This ad aired in mid 2011 with Dury's being a US based camera store.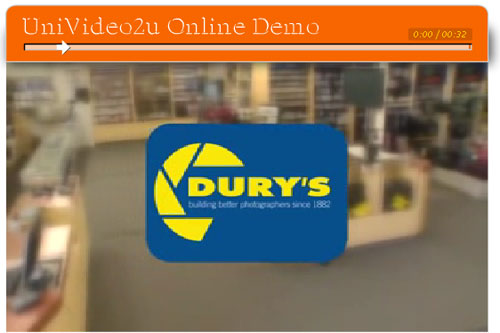 Not surprisingly, the same ad is readily available on YouTube (as I imagine all of the ads UniVideo2U are showing their members are).
The probability of UniVideo2U being a Ponzi scheme only increases when you consider that the only way to join UniVideo2U is to deposit your membership fee into 'any of the franchisee account'. Upon showing a scanned copy of your receipt to UniVideo2U, the company then will  create an account for you.
All of the franchisees listed on the UniVideo2U website are based in India and the company appears to only have business operations in India itself.
Why on Earth would Dury's, a Tennessee based camera store in the US be interested in advertising to members belonging to an allegedly Malaysian based company with 100% of its business operations in India?
Answer: They wouldn't and UniVideo2U just pulled some random video from YouTube to show its members.
Like the AdMatrix, which claimed to be headquartered in Holland but was run by Indian management as part of Seven Rings International, UniVideo2U most likely has a virtual office in Malaysia but is infact run by Indians from within India.
It's worth noting that the AdMatrix had a near identical YouTube advertisement business model to the one UniVideo2U uses. The AdMatrix collapsed within a year after management pulled the plug and disappeared.
And the AdMatrix isn't the only company UniVideo2U shares similarities with.
If you look at the UniVideo2U website, an interesting line of code appears towards the bottom in the footer code:
a href="http://www.varolo.com/contact.php"
Varolo, hmm wonder what that is?
A quick visit to the website reveals that Varolo is a Utah based company.
Here's what UniVideo2U's website looks like:

and here's Varolo:

As you can see, the design is identical.
Varolo's business model however, is not.
The key difference between Varolo and UniVideo2U is that Varolo is free to join and participate. Furthermore the commissions paid out by Varolo are in cents, as opposed to UniVideo2U's dollars.
With no membership fees it appears Varolo truly do have to generate revenue by attracting advertisers.
UniVideo2U on the other hand appear to have completely ripped off the Varolo website design (along with the copy that appears on the site and slapped a Ponzi scheme business model to it.
No advertiser clients, membership fees the only source of revenue, recruitment commissions and a website that is a blatant ripoff of another company?
Run away from this scam as fast as you can.