TronCase Ponzi collapses, smart-contract cleaned out

The TronCase Ponzi scheme has collapsed.
Two days ago TronCase's smart-contract was sitting at 38.99 million TRX (~$2.37 million USD). Today it's at 0.
Which TronCase's collapse earlier today might come as a surprise to some investors, anyone with a remote understanding of cryptocurrency should have seen it coming.
On June 23rd TronCase's smart-contract hit an all time high of 96.84 million TRX invested (~$5.8 million USD).
Courtesy of TronScan, we can plot TronCase's collapse over the past two weeks: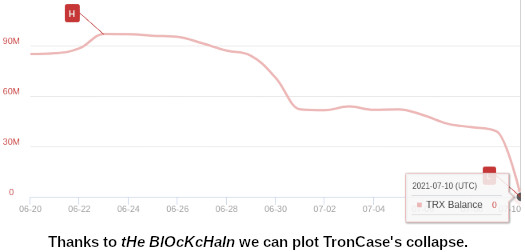 The long and the short of it is $5.8 million in tron wound up in someone's pocket. With TronScan being a Ponzi scheme, this is of course by design.
TronCase admins Martin Karus and Erik Nurm appear to have abandoned their social media accounts.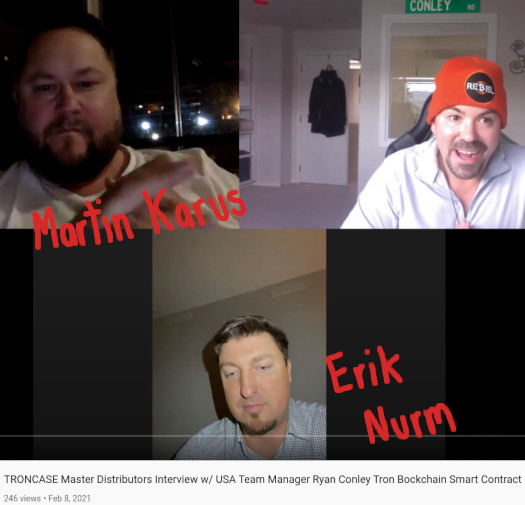 Karus hasn't posted on Facebook since February 25th. Erik Nurm stopped posting on June 25th.
As of yet a TronScan exit-scam excuse has yet to surface. At least not publicly.
We anticipate one will be pushed out soon enough. Sometime like "the smart-contract god COVID!" or "(insert random individual here) ran off with the money to (insert hidey-hole jurisdiction here), we can't do anything!" etc. etc.
BehindMLM noted in April 2021 that TronCase appeared to be on the road to collapse.
This was based on Eric Nurm promoting another CoinSwap, another smart-contract Ponzi at the time (see updates to BehindMLM's TronCase review).
Ryan Conley, who now goes by Ryze Conley, recently fled to Brazil.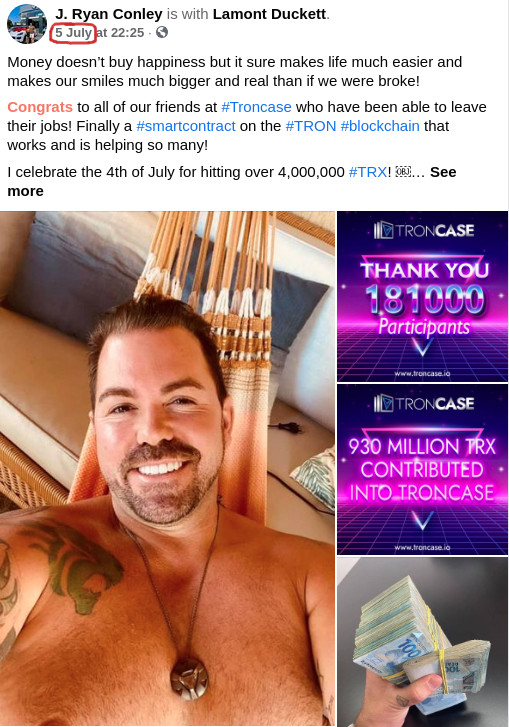 Conley is still promoting CoinSwap. He is also promoting Tag Protocol, a hashtag NFT smart-contract "sTaKe YoUr TaGcOiNs!" Ponzi scheme.
A week ago Conley was boasted on YouTube that one of his TronCase accounts had maxed out at 4 million TRX (~$243,000 USD).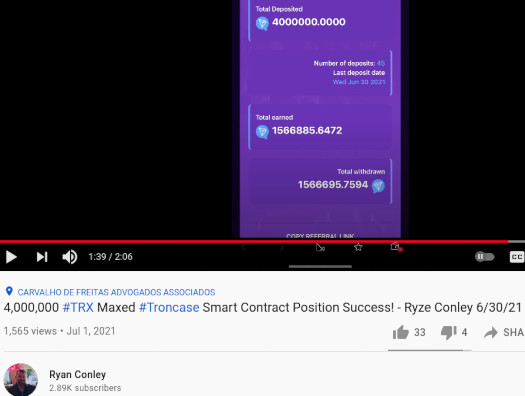 Two days ago Conley celebrated the purchase of a Porsche SUV on Facebook.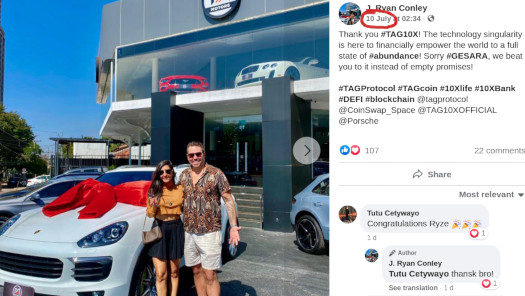 Based on Alexa traffic analysis, TronCase's victims are primarily from India, the US and Canada.
Update 14th July 2021 – TronCase has rebooted their Ponzi scheme with a new website domain.