Trideci Review: UltraXProject Ponzi relaunch

There is no information on the Trideci website indicating who owns or runs the business.
Trideci's website domain ("trideci.com") was registered on the 13th of June 2010, however the domain registration is set to private.
As always, if an MLM company is not openly upfront about who is running or owns it, think long and hard about joining and/or handing over any money.
The Trideci Product Line
Trideci has no retailable products or services. Affiliates join the company and then purchase positions in Trideci's various compensation plan components.
The Trideci Compensation Plan
The Trideci compensation plan is easiest explained if broken down into two parts, investment returns and matrix commissions.
Investment Returns
Upon joining Trideci, affiliates are able to invest $10, $30 or $100 with the company.
$10 = 200% ROI
$30 = 250% ROI
$100 = 300% ROI
Note that Trideci set a 100 day cap on investment returns, paying out either the guaranteed ROI or whatever they are able to pay over 100 days.
If new investment stops, that naturally equates to affiliates receiving $0 over 100 days.
Matrix Commissions
Trideci's matrix commissions revolve around affiliates buying a position in a 3×2 matrix and then cycling out.
A 3×2 matrix starts off with an affiliate at the top with 3 positions directly under them (level 1). Underneath these three positions are another three positions, which form level 2 of the matrix: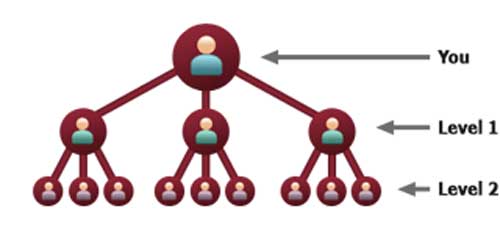 These positions are filled by the affiliate themselves or other Trideci affiliates purchasing matrix positions. Once full, the affiliate at the top of the matrix cycles out and is paid a commission.
Upon cycling out of a matrix for the first time (and every odd cycle thereafter), an affiliate is paid 5 times the position fee charged and re-entered into two existing matrices at the same level.
Upon cycling out of a matrix for the second time (and every even cycle  thereafter), an affiliate is paid twice the position fee charged and entered into a new matrix at the next level.
There are six matrix levels in total and along with their respective cycle commissions they are as follows:
Matrix 1 ($10 fee) – even cycle = $20, odd cycle = $50
Matrix 2 ($50 fee) – even cycle = $100, odd cycle = $250
Matrix 3 ($250 fee) – even cycle = $500, odd cycle $1250
Matrix 4 ($1125 fee) – even cycle = $2500, odd cycle = $6250
Matrix 5 ($6,250 fee) – even cycle = $12,500, odd cycle = $31,250
Matrix 6 ($15,357.50 fee) – even cycle = $30,715, odd cycle = $156,250
An activity bonus is paid to an affiliates direct upline, equal to 10% of the position fee paid. This 10% is split amongst an affiliates upline up 10 levels of recruitment (1% each).
Note that the activity bonus is not paid out on free positions given out when an affiliate cycles.
A matching bonus is also paid out, equal to 10% of the position fee paid. The matching bonus is paid to the upline of the affiliate who cycles, regardless of whether the position is free or paid.
Joining Trideci
Membership to Trideci is free, however members must invest or purchase a matrix position if they wish to earn anything.
Free members can earn a referral commission on their recruited affiliate's matrix commissions, however I believe they need to either purchase positions of their own or invest directly with Trideci if they wish to actually withdraw these earnings.
Conclusion
In conducting my research into Trideci I couldn't help but feel a sense of deja vu as I went over the compensation plan.
Sure enough, the compensation plan for Trideci was largely copied word for word from UltraXProject.
Here's Trideci's compensation plan page:

And here's UltraXProject's one:

There are some differences but by and large the two pages read the same. Oh and if that wasn't enough for you, the favicon icon for both websites are also identical:

UltraXProject has a near identical compensation plan to Trideci (Ponzi investment scheme coupled with 6 matrix pyramid scheme), and was launched around January 2012 by Sean Kelly.
Kelly has a history of launching short-lived recruitment driven matrix opportunities, with UltraXProject being his first venture into Ponzi schemes.
As all Ponzi schemes do, UltraXProject seems to have collapsed around November 2012.
An UltraXProject reboot was rumoured earlier this year by an affiliate:

And from the looks of it, Trideci has now been launched as Kelly's second attempt at running a Ponzi scheme.
Taken straight from the Trideci compensation plan page:
The more you put into it, the more you get out of it!

Our compensation plan encourages this in a very big way. The more you buy, the more you get – of everything.
The cold hard truth is that paying out ROIs reliant on new investor money coupled with a 6 matrix pyramid scheme didn't work for Sean Kelly the first time around with UltraXProject…
…and it's not going to work the second time around with Trideci either.