Scoville wants to take Traffic Monsoon appeal to the Supreme Court

Having been destroyed in two lower courts, Charles Scoville now wants to take his Traffic Monsoon Ponzi fight to the Supreme Court.
Yeah, not kidding. This is happening…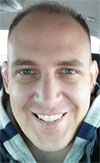 Fresh off an aggravated child sexual abuse conviction, Charles Scoville filed a motion requesting a stay of execution on the Tenth Circuit's appeal denial.
Having failed to prevent the granting of a preliminary injunction in District Court, Scoville had sought to overturn the decision in the Tenth Circuit.
The appeal process took just under two years and went against Scoville on January 24th.
Scoville's request for a stay was filed on February 8th. In the motion Scoville reveals his intent to file
a petition for a writ of certiorari in the Supreme Court of the United States and final disposition of the petition by that Court.
A petition for a writ of certiorari is Scoville asking the Supreme Court to review the preliminary injunction decision.
The decision itself is based on the conclusion that by using newly invested funds to pay existing investors a $55 ROI on a $50 investment, Traffic Monsoon was a Ponzi scheme.
Furthermore neither Traffic Monsoon or Charles Scoville were registered with the SEC, meaning both parties additionally violated US securities law.
Specific questions Scoville will present to the Supreme Court for consideration, as presented in his writ, are;
Question I. Whether the Dodd-Frank Act implicitly overruled
Morrison v. National Bank Ltd., 561 U.S. 247 (2010), which explicitly limited the extraterritorial application of Section 10(b) of the Securities and Exchange Act of 1934.

Question II. Whether a securities transaction is domestic when
foreign parties incur irrevocable liability to carry out the transaction outside of the United States.
Bear in mind if the Supreme Court takes up the case and if they overturn the injunction decision, the Supreme Court will effectively be giving permission to scammers to run Ponzi schemes from within the US, provided the majority of victims and fund transfers are/occur outside of the US.
Or as Scoville's attorney puts it;
The final resolution of this issue undoubtedly governs any number of cases in which the SEC seeks to enforce antifraud provisions with regard to foreign transactions, foreign customers, or foreign securities, and, thus, presents a substantial question of law.
Scoville wants a shot at asking the Supreme Court to clip the SEC's antifraud enforcement nuts.
The good news is if that if all of this doesn't sound absurd enough to you in principle, as I understand it 'the vast majority of petitions for certiorari are routinely denied without comment'.
And from the official US Courts website;
The Court usually is not under any obligation to hear these cases, and it usually only does so if the case could have national significance, might harmonize conflicting decisions in the federal Circuit courts, and/or could have precedential value.

In fact, the Court accepts 100-150 of the more than 7,000 cases that it is asked to review each year.
While I can't say for sure, I'd certainly be surprised if a "help legalize my Ponzi scheme" case was deemed important enough to make it through. 
Scoville has 90 days from the date the appeal decision was made, which creates an April 24th deadline.
In an order dated February 12th, the Tenth Circuit granted a stay on their decision until April 24th.
In the meantime, the district court preliminary injunction is to remain in effect.
Stay tuned…
Update 25th April 2019 – Charles Scoville has asked for a deadline extension, which was approved by the Supreme Court on April 16th.
Scoville now has until May 24th to file his petition for a writ of certiorari.
The order was filed on the SEC case docket on April 24th. It is assumed the SEC's case will be stayed till on or around May 24th.
Update 17th May 2019 – Scoville has been granted a second extension until June 21st.